Conor McManus clearly enjoys the International Rules series.
The Monaghan man will face the Aussies for a fourth time next month, having played so well in Ireland's facile win four years ago that he almost joined the ranks of exiles Down Under.
"Essendon got on to me back in 2013, after the first time I played International Rules," he recalls.
"They were looking for me to come out for two or three weeks but I'm not sure they knew that I was 24 or 25 at that time! Nothing really came of it.
"Maybe at 24 or 25 it takes that bit more time. The guys that are going out there (now) it takes 12 or 18 months before you even hear their name mentioned. It is an advantage to go down as early as you can.
"You certainly would have gone down and given it a rattle, see if something could have came out of it. It would be very hard to leave (home). I suppose you never really know until you're in that position what you would do but you'd probably have to think seriously about it anyway."
This time around, Ireland manager Joe Kernan has clearly signalled his intent to get quick ball in to the forwards and the two-time All Star should be one of the prime beneficiaries of that game plan.
"The game is a forwards' dream in that if you've movement inside and you get a good kick-pass and you catch it, which is what you're doing in the game anyway, it's a free-kick," McManus explains.
"Once you get a mark you have time to play with. Take a few steps back, take a look up. If there's something on great, if there's nothing on, keep the ball.
"Our tendency in the past has been to deliver 60 or 70-yard passes into the full-forward line, which isn't going to stick against the Australians.
"It's just keeping possession and trying to work the ball up-field to get as many three-pointers as we can. If we can keep the scoreboard ticking with three-pointers (overs), we'll be hard to stop."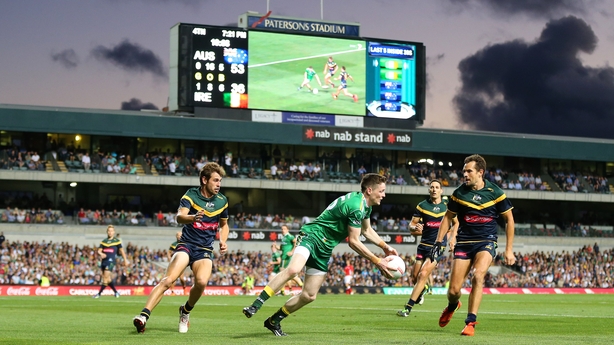 The Clontibret man will be Ireland vice-captain and is keen to pass on his experience of the differences between Gaelic football and compromise rules to the 12 debutants in the squad, including fellow forwards Paul Geaney, Niall Murphy, Niall Sludden, Enda Smith, Conor Sweeney and Shane Walsh.
"It's just a matter of getting used to the pace of the game and the skills. The mark is something that is hugely important in this game and something the Australians are very good at, kicking to a 20 or 30-yard mark.
"In Gaelic games, you get four steps where you can't be tackled. If you start to move in the Australian game you're there to be tackled so the whole idea in the International Rules is taking your steps and looking at your options.
"Maybe the tendency in our game is to always inject pace into the game and when you get the ball always look to go around your man or move the ball forward. That's something we'll have to get used to: dictating the pace of the game.
"We have the round ball but the Australians have the advantage of knowing the rules of the game, and when to move and not move.
"It takes time but when a travelling party get that bit wee bit of extra time together, things start to come together."
"It takes time but when a travelling party get that bit wee bit of extra time together, things start to come together."
International Rules contests may have lost some of their edge in recent years but McManus still expects some sledging from the Australian defenders, something he attributes to a fierce competitiveness.
"I can't understand what they're saying so it doesn't matter!" he jokes "There is a bit. I suppose that's where the professional comes out in them and they're competitive.
"Any time I've met the Australians before, they're gentlemen and great fellas off the field but when they're on the field you can really see that professionalism in them and that they're out there to win.
"We can't be any different in that regard. We can't take a step back at all."
UPDATE:
Manager Joe Kernan has added two more players to the International rules squad with Cork's Sean Powter and Armagh's Niall Grimley drafted in.
According to GAA.ie, the pair made the cut after impressing in a trial match in Croke Park on Wednesday evening.
The 20-year old Powter from Douglas made his senior debut in the 2016 championship and caught the attention this year with a marauding display from wing-back in Cork's unexpectedly narrow loss to Mayo in the qualifiers.
Grimley, a free-taking midfielder, shone brighter than most for Armagh during their qualifier run in the 2017 championship.
Australia v Ireland will be live on RTÉ Television on November 12 (5am Irish time) with the second test live on November 18 (8.45am). There will be a highlights show both evenings.