All-Ireland football champions Dublin have been rewarded for their efforts in 2017 with 12 nominations for the TG4 All Stars.
Cork, who lost out at the semi-final stage but were crowned Division One League champions, have nine on the list.
Beaten All-Ireland finalists Mayo have six nominations, including their veteran sharp shooter Cora Staunton who could earn a record-equalling 11th All Star award.
Ulster senior champions Donegal have been rewarded with five nominees, Munster winners Kerry have three players on the long list and there are two nominations each for Armagh and Waterford.
Cavan, Galway, Monaghan, Sligo, TG4 All-Ireland intermediate champions Tipperary and runners-up Tyrone each have one player nominated.
Seven players from the 2016 All-Star team are nominated for awards again.
The 2017 @TG4TV All Star Nominees have been announced with winners being selected at All Star Banquet on Nov 25th https://t.co/zQOovcFLzh

— Ladies Football (@LadiesFootball) October 2, 2017
Dublin quartet Leah Caffrey, All-Ireland senior final player of the match Noelle Healy, Carla Rowe and captain Sinéad Aherne are in contention for individual honours once more, along with Cork pair Ciara O'Sullivan and Orla Finn, and Mayo's Fiona McHale.
Dublin's other nominees are goalkeeper Ciara Trant, defenders Martha Byrne, Sinéad Finnegan, Rachel Ruddy and Niamh Collins, midfielder Lauren Magee, and forward pair Nicole Owens and Niamh McEvoy, who scored a first half goal against Mayo in the All-Ireland decider.
Cork captain Ciara O'Sullivan is joined by her sister Doireann on the list, while the Rebelettes are also represented by Finn, goalkeeper Martina O'Brien, defenders Emma Spillane, Róisín Phelan, Melissa Duggan and Shauna Kelly, and forward Eimear Scally.
As well as McHale and Staunton, Mayo have captain Sarah Tierney in contention, along with fellow defender Martha Carter, midfielder Aileen Gilroy, and forward Sarah Rowe.
Donegal's progression to a Division 1 final against Cork, an Ulster title win and a TG4 All-Ireland quarter-final appearance has been recognised with five nominees.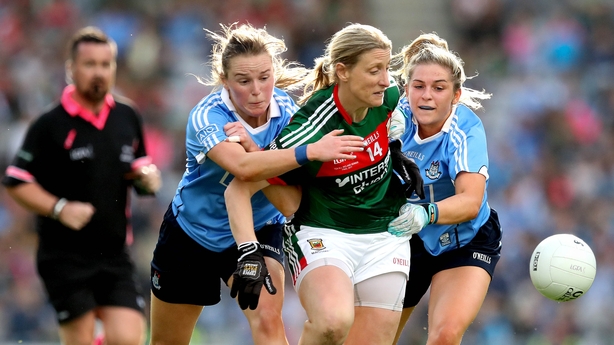 Ciara Hegarty is in contention for the centre half back position, Karen Guthrie is listed at midfield, with forwards Niamh Hegarty, Geraldine McLaughlin and Yvonne McMonagle also included.
Kerry's TG4 Munster title win, and All-Ireland semi-final appearance, sees defender Aislinn Desmond, captain and centre back Caroline Kelly, and midfielder Lorraine Scanlon nominated.
Waterford, meanwhile, beat both Kerry and Cork in the TG4 Munster senior championship, and they have Megan Dunford and Katie Murray on the list.
Armagh, who reached the TG4 All-Ireland senior quarter-final, have Caroline O'Hanlon and Aimee Mackin in the running for All Star awards.
Cavan's Aisling Doonan, Galway's Sinéad Burke, Monaghan's Sharon Courtney, goalkeeper Noelle Gormley from Sligo, Tipperary's Aishling Moloney and Neamh Woods from Tyrone complete the list of nominees.
Three players are nominated from the intermediate grade – Noelle Gormley, Aishling Moloney and Neamh Woods.
The 2017 TG4 All Star team will be announced at a gala banquet in Dublin on Saturday, 25 November, along with the Junior, Intermediate and Senior Players' Player of the Year award winners, the Provincial Young Players of the Year and the 2017 inductee into the Ladies Gaelic Football Association (LGFA) Hall of Fame.
Nominations:
Goalkeepers – Martina O'Brien (Cork), Ciara Trant (Dublin), Noelle Gormley (Sligo).
Right corner back – Emma Spillane (Cork), Martha Byrne (Dublin), Megan Dunford (Waterford).
Full back – Sinéad Finnegan (Dublin), Aislinn Desmond (Kerry), Sarah Tierney (Mayo).
Left corner back – Róisín Phelan (Cork), Rachel Ruddy (Dublin), Martha Carter (Mayo).
Right half back – Melissa Duggan (Cork), Caroline Kelly (Kerry), Neamh Woods (Tyrone).
Centre half back – Ciara Hegarty (Donegal), Niamh Collins (Dublin), Sharon Courtney (Monaghan).
Left half back – Shauna Kelly (Cork), Leah Caffrey (Dublin), Sinéad Burke (Galway).
Midfield – Caroline O'Hanlon (Armagh), Karen Guthrie (Donegal), Aileen Gilroy (Mayo), Lauren Magee (Dublin), Lorraine Scanlon (Kerry), Fiona McHale (Mayo).
Right half forward – Aimee Mackin (Armagh), Ciara O'Sullivan (Cork), Carla Rowe (Dublin).
Centre half forward – Aisling Doonan (Cavan), Doireann O'Sullivan (Cork), Niamh Hegarty (Donegal).
Left half forward – Nicole Owens (Dublin), Aishling Moloney (Tipperary), Katie Murray (Waterford).
Right corner forward – Eimear Scally (Cork), Sinéad Aherne (Dublin), Sarah Rowe (Mayo).
Full forward – Niamh McEvoy (Dublin), Geraldine McLaughlin (Donegal), Cora Staunton (Mayo).
Left corner forward – Orla Finn (Cork), Yvonne McMonagle (Donegal), Noelle Healy (Dublin).