There are moments as a sports journalist when it feels like you're invading a personal tragedy and the decent thing to do would be to look away.
This was one of those times.
To his eternal credit, Paddy Durcan came out of the Mayo dressing room to face the media inquisition. He didn't have to, it would have been easier to keep the head down and file onto the bus with his team mates.
No one would have blamed him.
But the job of a sports journalist at these times is to ask the questions, so the questions they were asked.
Durcan didn't bat anything away and made no excuses, though his voice betrayed the emotion of the occasion and it seemed at times that he was close to tears - hardly surprising considering his team had lost a second All-Ireland by a point to Dublin in less than 12 months.
"Disappointment I suppose," he offered. "We gave our best shot at it but in fairness we have to give credit to Dublin. They got over the line so credit has to go to them. It's disappointing but credit to them in fairness.
"Preparation went good, we prepared as best we could for the three weeks and we were really looking forward to it.
"There's always small margins between the teams and today proved that again. Just bitterly disappointing to come out on the wrong side of it, but that's life. We'll have to move forward.
"It's been such a quick turnaround since after the game, so lads are doing their own bits and pieces in different places so it will probably take a while to settle in. Just disappointment I suppose.
"I suppose you have disappointment for a bit, but you have to move on too. Life goes on and it will go on, we were in the same place last year and suppose it's a similar situation this year but the lads certainly won't quit in the ambition we have," said the talented 22-year-old defender from Castlebar.
"It will hurt for the while but we'll get the heads down and come back again."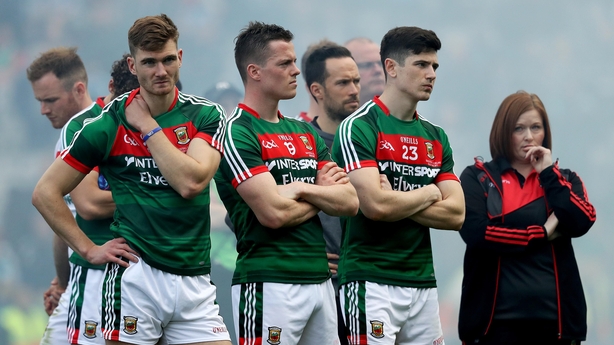 It's tougher to take when everything you have is put into a game. Mayo did put everything they had into this - they pushed Dublin, one of the greatest teams we've seen, all the way once again and came up just short.
That's four All-Ireland final defeats this decade, three by a point - we know how agonising it has been for their fans so we can only imagine how painful it is for their players.
Durcan was prepared for an intense battle and along with his team mates Mayo delivered a serious performance.
"It was intense, we knew it would be," he noted. "Both teams are similar, with pace and power in terms of attributes, so we knew it was going to be a fast game.
"That proved to be case and we gave as good as we got. We missed a few chances and that but it's small margins, we knew it was going to come down to that but we'll just have to look back on it and learn from it hopefully.
"We probably need to look back on tapes and stuff but we played some good stuff in the first half especially, possibly we maybe could have been a small bit further ahead but it's tough out there too.
"You are under high pressure to try and deliver, so sometimes you are going to miss chances and stuff like that. We were happy with the position we were in and stuff like that, but we just tried to drive it on and unfortunately it wasn't enough."
Interview wrapped up in little more than three minutes. It was enough to get a hint of the empty feeling that Mayo footballers must be wresting with at the moment.