Some Galway players could scarcely believe what was after happening when the final whistle blew in Sunday's All-Ireland final win over Waterford.
For others, it was entirely expected. Pádraic Mannion fell into the former camp while captain David Burke was in the latter.
"I fully believed at some stage I was going to be there and do the job," said Burke, the Tribesmen's skipper.
"That's what I was telling myself all year. It's all about belief. The top six inches.
"I was telling the lads; hurling ability they have is serious. The lads that came off the bench as well made a massive contribution to the game.
"That's really what they've been talking about since, the lads from 16 to 35 really got us over the line, even in the Tipp game as well. We'll really enjoy the week now."
It wasn't that wing-back Mannion didn't believe that Galway could win - it's just that he couldn't believe that they were actually after winning.
"I remember hoping the referee would blow it up, because I didn't want the ball to come back down," he recalled.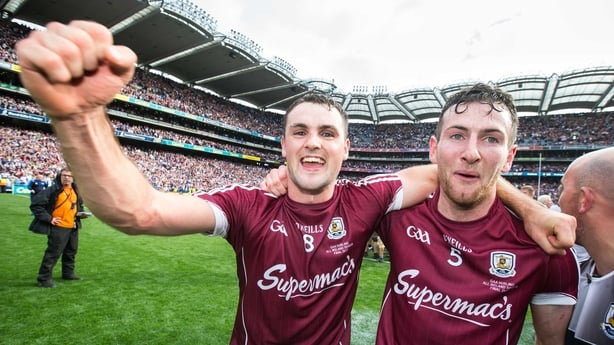 "I know how dangerous they were there with the high balls being landed in. I just couldn't really believe it and you're trying to register what's after happening.
"It's something you think about growing up all the time 'I'd love to win an All-Ireland'. Growing up I'd never seen Galway win an All-Ireland. It was before my time.
"It's unbelievable and I'm looking forward to going back to Galway and all the people just to see what it means to the county."
Seeing Liam MacCarthy heading across the Shannon for the first time since 1988 will mean a whole lot to the people of Galway.
They had to watch their teams head to Croke Park on All-Ireland final days on seven occasions since then and the best they managed before Sunday was a draw.
Burke, along with Johnny Coen and Joe Canning, was one of only three players who started against Waterford that took the field in the drawn 2012 All-Ireland with Kilkenny.
There has been a lot of Galway players who have come and gone without getting their hands on a Celtic cross medal and he was thinking about them in victory.
David Burke's captain's speech in its full 8 minutes of glory. Drink it in, Galway fans #RTEGAA #GalvWat pic.twitter.com/K3aQUmhNQD

— The Sunday Game (@TheSundayGame) September 3, 2017
He said: "Yeah I'm good friends with a lot of them, all the management teams as well going back from 1988 onwards, we got to finals over the years and just fell short.
"I just knew there was something special about these group of lads and I'm just thrilled to be a part of it and to be the captain of the team.
"I've been talking about it there, good experiences and bad experiences, you bottle that up and you use that at different times in games. There's serious leaders in that team.
It makes my job a lot easier when things need to be said. We've used that experience in the past and it got us over the line today."
While it was a big day for Galway, it was also a huge day for St Brigid's secondary school in Loughrea. Burke and Coen teach there while six of the Tribesmen's All-Ireland winning minor squad are pupils.
As a result there many not be too much teaching or learning done there this week.
"They'd a massive win as well," said Burke. "Obviously a huge performance from them as well so delighted. I just knew even during the week, you'd be nervous alright, but I just knew something good was going to happen."