Stephen Rochford has shrugged off the criticism that was fired at him following Mayo's All-Ireland semi-final draw with Kerry in the wake of their replay win at Croke Park on Saturday.
One particular newspaper headline in the Irish Independent said that 'tactically Mayo were lions led by donkeys'.
This was because Rochford chose to play Aidan O'Shea at full-back, away from his more usual home in midfield or attack, on Kerry target-man Kieran Donaghy in the draw with the Kingdom.
Rochford has never been shy of making big tactical calls, switching goalkeepers for the replayed All-Ireland final last year only to see Rob Hennelly have a nightmare evening after he took over between the posts from David Clarke.
In Gaelic games, winning managers are generally praised for their tactical moves, while the losing boss isn't spared the rod.
"I didn't lose any sleep about it," said Rochford.
"I had an engagement after the drawn game so I didn't see the papers, but I heard about a few of them. They are people's opinions. I don't do things with this team to seek outside approval – or disapproval for that matter.
"The players and the supporters concern me. I can't control what journalists write or editors put in headlines.
"It may not be the nicest headline I ever got but at the same time I didn't bat an eyelid at it.
"We control what we can, not headlines in newspapers. We are aware that if we don't deliver in three weeks' time there will be another headline coming but so be it."
O'Shea went to midfield for the first throw-in in the replay and won it - in fact he won the throw-in at the start of the second half too. He spent the early minutes of the game at centre-back before heading to the edge of his own square to mark Donaghy again.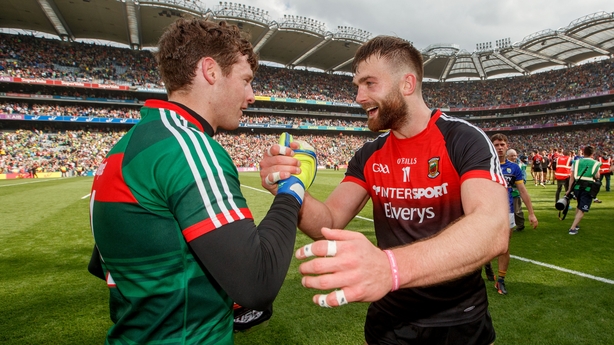 In contrast to the drawn game he continued to move out the field, forcing the Kerry attacker to follow him into areas of the field where he didn't want to find himself.
In the second half, after Mayo got their second goal in a 2-16 to 0-17 win, the Kingdom started heaving high balls into their full-forward, but O'Shea got his hand to most of them and the other defenders gathered the breaks.
It was a tactic that worked perfectly for Rochford, though he wasn't about to start blowing his own trumpet.
"You're only as good as your last game and there is another one coming up in three weeks that we will look to be better in and that's where our focus will be," he said
"It's satisfying that we won. I thought he (O'Shea) played well last week but others maybe thought different. I was delighted for him because he has sacrificed himself and his play for the betterment of the team. It says a lot about him."