SATURDAY 5 AUGUST
All-Ireland SFC quarter-finals
1600 Tyrone v Armagh, Croke Park
1800 Dublin v Monaghan, Croke Park
All-Ireland JFC final
1500 Kerry v Meath, O'Moore Park
All-Ireland MFC quarter-finals
1315 Kerry v Louth, O'Moore Park
1400 Derry v Sligo, Ballybofey
1400 Galway v Cavan, Páirc Seán MacDiarmada
All-Ireland Camogie quarter-finals
1700 Dublin v Wexford, Semple Stadium
1900 Galway v Tipperary, Semple Stadium
SUNDAY 6 AUGUST
All-Ireland U17 HC final
1200 Dublin v Cork, Croke Park
All-Ireland MHC semi-final
1400 Kilkenny v Galway, Croke Park
All-Ireland SHC semi-final
1600 Galway v Tipperary, Croke Park
MONDAY 7 AUGUST
All-Ireland SFC quarter-final replay
1400 Mayo v Roscommon, Croke Park
ONLINE
Live blog on RTÉ.ie and the RTÉ News Now App from 1530 on Saturday, 1400 on Sunday and 1330 on Monday.
TV
Saturday
Live coverage of Tyrone v Armagh and Dublin v Monaghan on Sky Sports from 1530.
Dublin v Wexford and Galway v Tipperary live on RTÉ2 from 1630.
Sunday
Kilkenny v Galway live on TG4 from 1330
Live coverage of Galway v Tipperary on RTÉ2 from 1445 and on Sky Sports from 1530.
Highlights of all the weekend's action on The Sunday Game on RTÉ2 from 2130.
Monday
Mayo v Roscommon (replay) live on RTÉ2 from 1330.
Irish language commentary also available on RTÉ live games. Click here for details.
All live games available on GAAGO.
RADIO
Saturday
Exclusive live commentary of Tyrone v Armagh and Dublin v Mayo on Saturday Sport on RTÉ Radio 1 from 1400. Regular updates also on the two camogie quarter-finals.
Sunday
Exclusive live commentary on Galway v Tipperary on Sunday Sport from 1400.
WEATHER
Saturday: Occasional showers but mainly dry and bright. Getting a little fresher with highs of 14 to 17 degrees in westerly breezes.
Sunday: Cloudy with rain at times. Highs of 14 to 16 degrees. For more info go to met.ie
Ulster rivalry reignited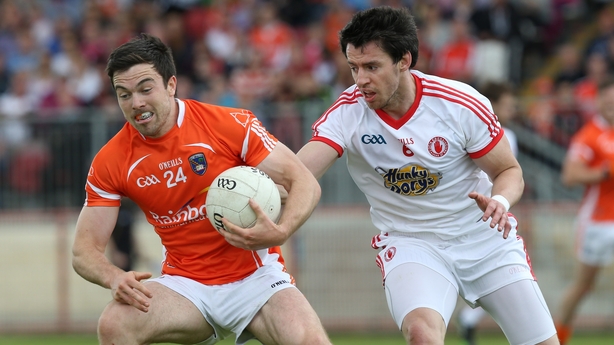 Cast your mind back a decade and clashes involving Tyrone and Armagh really caught the public attention. Former Red Hand star Philly Jordan, writing elsewhere on this site, speaks about Armagh winning an All-Ireland before Tyrone did and how determined they were to lower the Orchard colours when the sides met in the 2003 All-Ireland final.
In 2005, we got three encounters, as a somewhat bad-tempered Ulster final went to a replay, before the pair collided again in the All-Ireland semi-final. Peter Canavan's free late on sailed over as Tyrone gained revenge for their provincial final disappointment.
Since those days, Mickey Harte's side have remained near the footballing top table, while Armagh have fallen back somewhat in spite of them running Donegal close in the 2014 All-Ireland quarter-final.
Last Saturday's win over Kildare in the qualifiers has given hope that Kieran McGeeney has rediscovered the verve that made the Orchard a formidable force in the noughties. They certainly wont fear facing their neighbours in this last-eight tie.
Tyrone, for their part, made even more people stand up and take notice with their dismissal of Donegal in the Ulster semi-final. They didn't reach the same heights against Down in the Anglo Celt decider but they didn't have to.
After losing at this stage to Mayo last year, the Red Hand will be determined to clear the hurdle this time.
Tyrone have played in 13 quarter-finals, winning six, losing six and drawing one.
This will be their ninth appearance in the quarter-finals, having won three, drawn one and lost four of their previous eight appearances.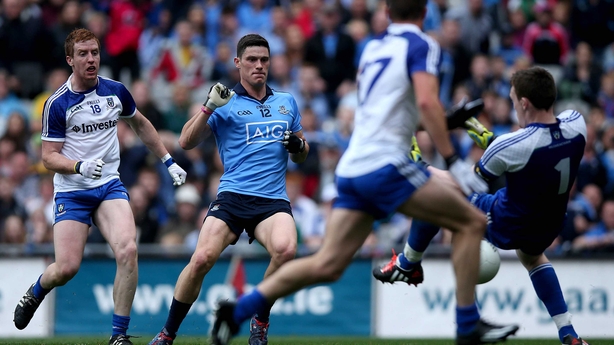 Dublin and Monaghan are set for a fifth championship meeting when they meet at GAA HQ on Saturday evening. Their last encounter was at this stage in 2014 which the Dubs won by 2-22 to 0-11.
Jim Gavin's side, as expected, completed a Leinster seven-timer in a campaign where the the likes of Dean Rock, Con O'Callaghan and Ciaran Kilkenny were to the fore. That said, some questions were raised after Kildare were able to make frequent surges through the heart of their defence in the Leinster final.
On paper, Moanaghan also have the firepower to cause the Dubs some problems as was evidenced by the displays of Conor McCarthy, Jack McCarron and Conor McManus against Down last weekend - a point picked up by Jim Gavin when he spoke to RTÉ Sport.
"They've probably added a little bit of a mix to their forward division," he said.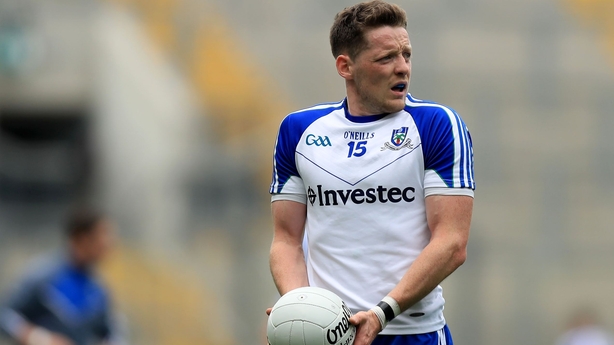 "Conor McManus has been one of the top forwards in the country for the last number of years but Jack McCarron scored 1-10 against us in the League, McCarthy is another young player, (Ryan) McAnespie that we'd know from Sigerson, Owen Duffy, and Fintan Kelly has got three goals in the Championship from corner-back.
"When you add in the two Hughes' at midfield it says 'this is a potent Monaghan team' and their defensive structure has always been solid."
Gavin, who has lost only one Championship game since taking charge for the 2013 campaign, admits expectations are sky-high but says the only way to deal with them is by blocking out everything except the next game.
"I suppose they (expectations) have gone up another step but there has always been a level of expectation on any Dublin team, no matter how their form is.
"We've just been very present with our preparations. We haven't looked too much in the past and don't even look past the Monaghan game.
"Every team has its strategy for the season and we do as well but our immediate focus is on Saturday at six o'clock.
The last competitive clash between Dublin and Monaghan was in this year's Allianz League when Dublin won by 2-15 to 1-15 in Clones on 2 April.
Monaghan led by 1-12 to 0-9 after 48 minutes before Dublin, for whom Bernard Brogan and Jack McCaffrey scored goals, staged a match-winning recovery. Jack McCarron scored 1-9 (1-5 from play) for Monaghan.
Dublin have played in 18 quarter-finals, winning ten, drawing three and losing five. The only year they didn't qualify for the quarter-finals (introduced in 2001) was in 2003 when they lost to Armagh in the qualifiers. Their last quarter-final defeat was against Kerry in 2009.
Monaghan have lost all four previous quarter-finals.
Camogie quarters
RTÉ cameras will be in Thurles as Dublin take on Wexford and Galway face Tipperary.
Wexford have lost many of the personnel that saw them land All-Ireland glory but John Kelly and Matty Flynn O'Connor have given some of the younger players their heads, with Chloe Foxe and Joanne Dillon among those to prosper, while the Leacy and Kehoe siblings still provide plenty of leadership.
Dublin have been threatening to step up for a while. Shane O'Brien brought about significant organisation and improvement. He also introduced David Herity to the set-up last year and the former Kilkenny All-Ireland-winning hurler took over the reins this year.
Faye McCarthy's long-range free-taking has been a feature of the campaign, while Aisling Maher is very accurate with placed balls closer to goals.
Galway will be looking to the likes of Namh Kilkenny, Lorraine Ryan, and Ailish O'Reilly to drive them towards a last-four spot, while Sarah Healy takes over in goal from the retired Susan Earner.
Tipperary's win over Offaly on the last day of group saw them squeeze into the last six and the return of Cáit Devane gives them more options up front alongside Orla O'Dwyer, Megan Ryan and Nicole Walsh.
Familiar foes eyes final berth
There has been little to choose between Galway and Tipperary at this stage of the championship in the last two seasons - one-point wins for either side bears that out.
It was different, however, in last April's league final as the Tribesemen cut loose early in the second half to leave their opponents reeling. Since then Galway went on to capture the Leinster title - a success that showed their dominance in that grouping. They are favourites with most to win a first All-Ireland since 1988.
After their capitulation in the spring decider, Tipp relinquished their Munster crown when Cork edged them in a Semple Stadium thriller on 21 May. While never reaching the heights of last season, Michael Ryan's men safely navigated the back-door route. However much of the talk was about a leaky defence and whether Cathal Barrett would return to the fray? Michael Ryan has ruled the latter out.
The Richie Power view
"There will come a time in this semi-final when Galway will put themselves in a position to win. It will be interesting to see what leaders step up at that juncture?
They have put themselves in positions in the past to win All-Ireland finals and guys just didn't grab it by the scruff of the neck and push on.
For experience alone, I think Tipperary will win on Sunday. It won't be by any more than two or three points but, as I said earlier I think they are coming to the boil at the right time.
Even after their loss to Cork, I felt they would still have a big say."
The Jackie Tyrrell view
"I have been edging towards Galway all year so I'm going to stick to my guns. I think they have the better backs and that's what it's going to come down to - which backs will perform better on the day?
"The Galway defence at three and six - Gearóid McInerney and Daithí Burke - that's a really strong spine.
"That will help to get them to get over the line in a very tight game."
Both Tipperary and Galway have won five and lost five of their last ten All-Ireland semi-finals.
Connacht pair back for another joust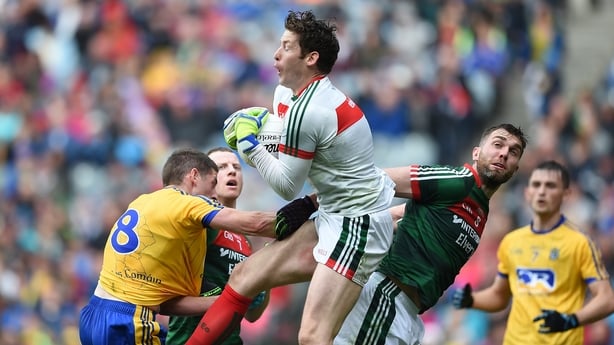 Roscommon and Mayo return to Croke Park to see who will face Kerry in the All-Ireland semi-final.
The drawn game at times may have lacked quality, but it certainly kept the 60,000 plus audience in Croke Park enthralled. Both sides had periods of domination. Crucially Roscommon started the second half on the front foot and by not letting Mayo get a few early scores ensured that they were right in the game.
It's hard to know who has the advantage going into a replay, though some observers that the Rossies had a greater perk in their step last Sunday evening.
In his preview for RTÉ Radio, Tomás Ó Sé expects Mayo to get the job done on Monday afternoon.
"They got 1-06 from the half-back line the last day, and outstanding half-back line, but need more scores from the forwards," he said.
"People say they're tired, but I don't buy into that. They probably did one field session this week, which won't be too touch on their players, and I think there's more room for improvement from Mayo."
This will be Mayo's fourth championship replay in four seasons. They lost to Kerry (after extra-time) in the 2014 All-Ireland semi-final and also lost to Dublin in the 2015 semi-final and the 2016 final.
Roscommon's most recent championship replay was last year when they lost the Connacht final to Galway.
Mayo have been in thirteen All-Ireland quarter-finals, winning eight, losing three and drawing two.
Roscommon have been in four All-Ireland quarter-finals, losing three and drawing one.