Derry manager Damian Barton admits that he expects the knives to be out in the county after their 11-point loss to Tyrone in the Ulster SFC on Sunday.
"You prepare to win matches, you don't prepare to compete. So we're down," he told RTÉ Sport.
"Obviously, we have our critics, some of whom are amongst our own folk, which is absolutely ridiculous.
"The begrudgery is quite incredible and there will we be a wee bit more after this.
"I can think of one pundit who suggested that Tyrone would be popping their champagne once they saw the draw. He might drink some with them tonight!"
There have been rumours of club versus county tensions in the county but Barton admits it is up to his panel to win over the fans, which he still believes they can do.
Following an identical margin of defeat to the same opposition at this stage last season, Derry went on to beat Louth, Meath and Cavan in the qualifiers before an eventual exit to surprise All-Ireland semi-finalists Tipperary.
"Derry clubs have been very successful at Ulster and All-Ireland level," said the Newbridge native.
"It is difficult because they invest an awful lot and we have four or five clubs that think they can win the championship every year.
"Everybody wants to win. At the end of the day, they're all Derry people and I know that if we give them something to support, they will be supportive.
"We're not fantasy footballers but the depth of character is how we respond to this"
"We'll regroup. We did well in the qualifiers last year, we were a kick of the ball away from the quarter-finals and that has to be our expectation again this year.
"There were four guys who made their debuts there today and our age profile is quite young. It can be very positive but it is a harsh learning environment.
"We have to pick ourselves up, dust ourselves off and be realistic about where we are.
"We're not fantasy footballers but the depth of character is how we respond to this.
"We have a group of players and we'll build on this group of players of people who want to move Derry forward."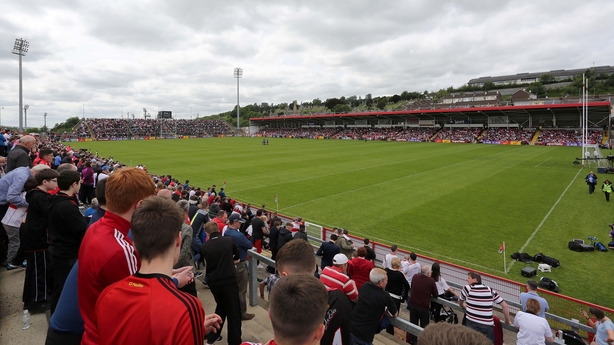 The 1993 All-Ireland winner admitted his team had been second-best at Celtic Park, however.
"We had a poor start. 10-5 at half-time. We brought it back to 11-8 and once it got to that we needed the next score.
"They got the next two scores and a five-point deficit against a team like Tyrone and you're on the slide.
"We were a kick of the ball away from staying in Division 2 and Tyrone are one of these 'hot' teams shall we call them.
"They deserved their victory but I'd like to acknowledge the effort our guys made. They gave it everything.
"Tactically, we were a bit naive. We've been trying to get rid of that lateral play, because it's so easy to mark against, we just didn't have the runners down the channels or get enough people ahead of the ball.
"They did it and did it effectively. We didn't concede any goals but 22 points is a lot."