Did you hear the one about the Roscommon footballer who ran away to join the circus?
It's a true story and belongs to Ronan Brady, who went from winning a Connacht medal to performing in his pants in front of crowds at the Dublin Fringe Festival in barely five years.
The 29-year-old from Elphin was part of Fergie O'Donnell's panel when the county won their most recent provincial title back in 2010.
Shortly afterwards injuries intervened, Brady's love of football waned and he started out on a different path.
Now he is a freelance performer specialising in trapeze and Cyr wheel - something we will come to later.
"I would have grown up playing football all my life - I followed that path because I wanted to be the big inter-county footballer and I wanted to make progress along that path," he recalled.
"I would have played with Roscommon all the way through and thinking back I totally set my life up to be an inter-county footballer.
"Even going to college I was going to be a secondary school teacher and wherever I was going to end up I was going to have my summers off so even if I was a distance away I'd have time to travel to training.
"Everything growing up was geared towards football because that's all that I had done - playing for Roscommon was the goal, the dream, I guess. Things went wrong when injury happened."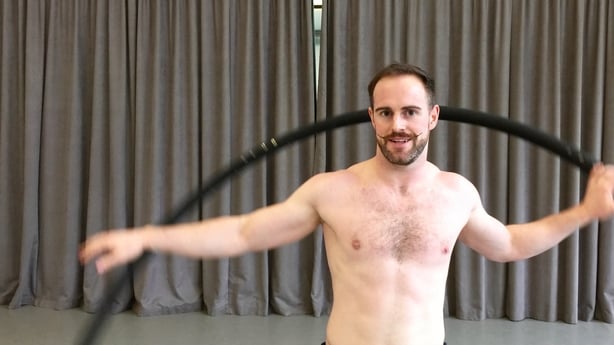 First Brady was diagnosed with osteitis pubis, an overuse injury in the pelvis, and then an arthritic ankle.
He spent a year out of football and, as he says himself, he dabbled in aerial acrobatics - hanging out of ropes and silks hung from a ceiling as a way to develop a core strength that might see him pull on the Roscommon jersey again some day.
But when he pulled on the boots again his relationship with football wasn't the same any more, something partly prompted by the realisation that continuing with the game he had loved might leave his body a broken wreck long before time.
During this time he kept up his involvement in aerial acrobatics, never realising that it might become a career and replace the day job as a secondary school engineering teacher in Swinford, County Mayo.
He enjoyed it, but he wasn't that good because he had no background in dance, gymnastics or diving, which all help with flexibility and body awareness. Then he found the Cyr wheel - a giant metal hula hoop big enough to fit a person which the artist uses to perform stunning tricks and feats of strength and balance.
Today you are you! That is truer than true! There is no one alive who is you-er than you!

Dr. Seuss#becomeyouranomaly pic.twitter.com/zHqUuriDgc

— AnomalyPerformance (@AnomalyRonan) December 5, 2016
"I went to went to the Irish Aerial Dance Festival in Donegal and that's where I came across it, which was around 2013," explained Brady.
"I didn't necessarily look that good in the apparatus, I was just doing it and having fun. Then I saw the wheel and saw that I didn't necessarily need flexibility to be good at it.
"You need determination - the first time I tried it I was terrible at it and that's why I loved it because I'm competitive.
"In Gaelic football you're always in a battle against somebody else and now it was me versus the wheel. It wasn't even me versus the wheel - it was me versus myself and how I could control the wheel and what I could do with it. I loved it - every day was a fight or a battle.
"As I was training and starting to improve I was asked to be part of these shows and one-off events and I was being asked before I felt I was ready. So I just had to get ready.
"To perform and to influence an audience is fantastic. It was funny because then someone said to me 'you played football in front of a crowd - you were competing, but essentially you were performing because you got a reaction out of the crowd.' It's the same thing in a sense - I was already a performer in a way."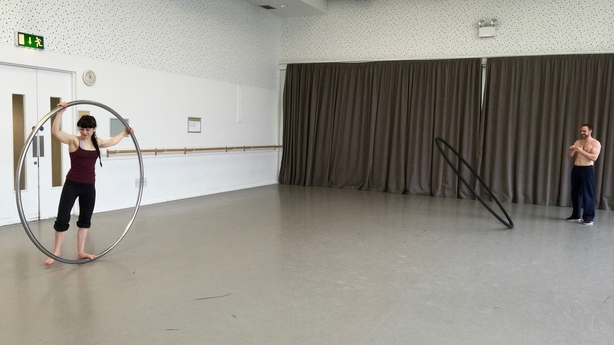 A refused request for a career break form teaching prompted him to hand in his resignation 18 months ago and he's been going it alone ever since.
Brady tried to combine his art with a sideline in personal training, but that didn't last long as he preached consistency to his customers and then struggled to fulfil his commitments to them because of his performance and training schedules.
He spends much of his time honing his craft in Canada, with the French speaking province of Quebec the home of these modern circus disciplines, and he'll travel where the work is along with his aerial trapeze performance partner Aisling Ní Cheallaigh.
Through all of this his girlfriend Michelle, or Saint Michelle as he affectionately refers to her occasionally, has been the rock that has allowed him to pursue his dreams.
"My family are fantastic - at the drop of a hat they'll help out any way they can. They're very supportive, they come to shows and they're very open minded," said Brady.
"You might get from the conversation that they're apprehensive or wary, but I am still that way even now - I'll question what am I at. Where do I see myself? I'm really not sure where it's going, but it seems to be getting better and better.
"I can only do that with the help of the people around me and my girlfriend is a star because I have leaned on her so much over the last 18 months. Despite things being tough she believes in me. It's great to have that backing and without it I wouldn't be able to continue.
Playing for Roscommon was the goal, the dream, I guess. Things went wrong when injury happened - Ronan Brady
"Sometimes I think could I go back and do a nine-to-five, have my money come in, watch the soaps in the evening and go to the pub on a Saturday.
"Everything is so uncertain, you don't know what's going to happen, but that's what's so exciting and the potential is massive. You could have nothing on and in the space of three days six months of your calendar could fill up.
"You have to keep working and if you have a day off you work on something so that when someone comes along and asks about doing a project you can say 'hey, I've got something for this'. You need to be ready to go all the time."