Mayo 2-14 Fermanagh 1-12
Cillian O'Connor scored 1-05 as Mayo came back to see off the tricky test of Fermanagh with a 2-14 to 1-12 victory in Round 2B of the qualifiers at MacHale Park in Castlebar.
Mayo had not contested a qualifier since 2010 and they trailed 1-10 to 1-04 at half-time. Sean Quigley got the Fermanagh goal after Alan Freeman scored for Mayo, and Cillian O'Connor settled it with a second-half penalty.
Fermanagh beat Antrim and lost to Donegal in Ulster this year and despite beating Wexford and further progress under Pete McGrath they face an early exit from the championship.
Stephen Rochford will have further time to boost his credentials as Mayo manager while they go in search of their first All-Ireland crown since 1951. 
Mayo chose to play against the breeze in the first-half and it back-fired early on as Fermanagh raced into a 0-04 to 0-01 lead.
Diarmuid O'Connor scored Mayo's opening point after Aidan Breen got Fermanagh's first in the second minute. Barry Mulrone, Quigley and Tomas Corrigan were then all on target for Fermanagh.
But Mayo hit 1-01 in a minute when they needed it badly, with Freeman striking the goal, after Keith Higgins went close and Cillian O'Connor followed that up with a point.
Fermanagh then went one better, Tomas Corrigan sent over a badly needed point from the sideline, and Quigley found the net in the 16th minute when he collected a Ryan Lyons delivery.
Tomas Corrigan added to that and Mayo looked to be in trouble but Cillian O'Connor scored two points in a row.
Fermanagh needed more than a two-point lead at half-time and Breen kicked an inspirational score. And he made it three points for the day shortly after.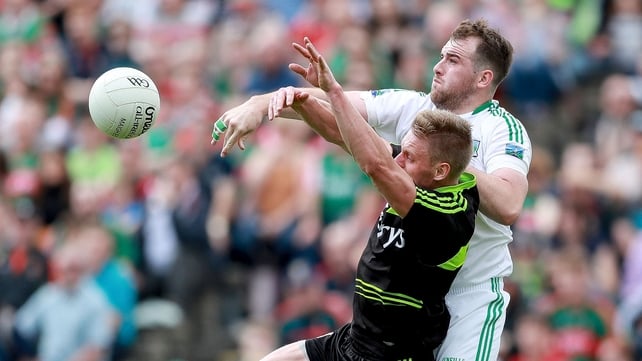 Eoin Donnelly and then Lyons were both on target and Mayo trailed 1-10 to 1-04 at half-time.
Mayo required a fast start to the second-half and with points from Cillian and Diarmuid O'Connor it was the ideal opening two minutes for them.
Mulrone halted Fermanagh's demise, but it was only momentarily as Mayo kicked into gear again, with five points in a row, before Tomas Corrigan edged Fermanagh back in front.
But all of the pressure was coming from the Mayo side as they piled forward in waves, and when Kevin McLoughlin passed a ball into the square Aidan O'Shea was taken down by Che Cullen. Cillian O'Connor stepped up to score the penalty and Mayo were on their way to victory.
Fermanagh didn't score again, and instead Mayo exploited their fatigue, and Keegan popped up with his second point to give Mayo a three-point lead.
Aidan O'Shea fisted a point when there was a goal chance on and Alan Dillon rounded off the scoring after a fine second-half display.
Mayo: D Clarke; B Harrison, K Keane, K Higgins; L Keegan (0-02), C Boyle (0-01), P Durcan; S O'Shea, A O'Shea (0-01); K McLoughlin, S Coen, D O'Connor (0-02); E Regan (0-01, 0-01f), A Freeman (1-00), C O'Connor (1-05, 1-00 pen, 0-03f, 0-01 '45).
Subs: D Vaughan for Durcan (34), A Dillon (0-02) for Freeman (47), B Moran for Coen (53), A Moran for Regan (61), J Doherty for A O'Shea (71).
Fermanagh: C Snow; M Jones, C Cullen, M O'Brien; D McCusker, D Kelly, A Breen (0-03); E Donnelly (0-01), R O'Callaghan; B Mulrone (0-02), R Jones, R Lyons (0-01); R Corrigan, S Quigley (1-01, 0-01f), T Corrigan (0-04, 0-02f).
Subs: P McCusker for Lyons (47), J McMahon for O'Brien (57), K Connor for D McCusker (65), C Flaherty for O'Callaghan (66), P McGovern for Breen (73).
Referee: Joe McQuillan (Cavan).