Clare manager Davy Fitzgerald has said that scrapping the current Allianz Hurling League structure and expanding the top division would be a "no-brainer" and should happen immediately.
His side won promotion back to the six-team top tier after beating Limerick today, but despite that success the Banner boss feels the current system does nothing for the stronger teams in the second division.
Under the structure in place, the top four sides in Division 1A and 1B contest the league quarter-finals with the bottom two in each division contesting relegation play-offs. The 1B winners are promoted to 1A.
The GAA's Central Council voted last summer to retain the structure despite repeated criticism from counties in 1B.
"I do think the whole structure should be changed," Fitzgerald told RTÉ Radio 1's Sunday Sport. "I don't think ourselves and Limerick should be down there.
"I'd love to see more (teams) in Division 1A. I think we need to do it. It's a no-brainer.
"We've won and we've gone up but I would encourage them to really look at that. Let's have more teams up there. I really believe we should."
Fitzgerald was happy with his team's display in their 1-19 to 0-18 victory but insists the 2013 All-Ireland champions are still some way off their best.
"To perform in our own house in Ennis was very important today," he said. "We did what we had to do. I'd be happy with the blocking and tackling.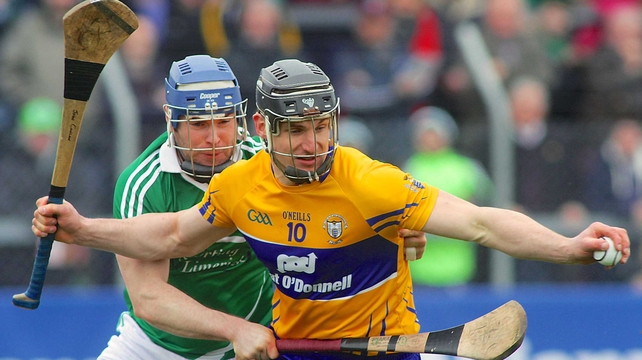 "They tried to do the right things all the time and held possession well at times. We've a few things to work on.
"I don't think our enthusiasm over the last two years has been the same. We need to work really hard and that's one thing I'd like to see us getting back to.
"We're far from the finished article. I don't think we're near the top three or four teams in 1A. But we've two or three months now to work on that.
"The championship is what counts and that's what we all have to get ready for."
Barry Nash's sending off on a second yellow card gave Clare a man-advantage for the entire second half but Fitzgerald didn't think the decision altered the flow of the game.
"I thought we were well in control before the sending-off came," he said.
"I think refs are being told to watch the high tackle. Barry Nash is a lovely hurler but Fergal (Horgan) was probably left with no option.
"We would have loved to see him stay on the field but that's the guidelines."