When Johnny Martyn began to feel dizzy during an FBD League game in January, a worrying sense of déjà vu sank in.
The Sligo player was due to come on as a substitute against Leitrim, but a few strides of a warm-up resurrected symptoms that made him despair.
With his face sloping to one side and pins and needles enveloping his body, memories of an ill-fated evening in 2014 came rushing back.
After a pitch-side assessment, the team Doctor ordered Martyn to go to hospital where it was confirmed that the Sligo player had suffered a stroke - his second in two years.
"I wasn't expecting him to say it and I just thought - 'this can't be happening.'''
In truth, Martyn anticipated the news and the only comfort he could salvage in that moment was that the symptoms were comparably less painful this time around.
''I got that feeling again that I got previously and I knew that something wasn't right. I had the same symptoms as before and I was just thinking 'ah here not again.'
"It wasn't near as bad as the first time. I was totally aware and I was able to bring myself around but I still kind of expected the doctors to tell me it was a stroke.''
Sligo were just a few days away from a championship qualifier game in 2014 when Martyn had his first encounter with a stroke.
The team assembled for a training session in Markievicz Park but within the first few seconds of the warm-up, Martyn felt unwell. His condition worsened as the session progressed and noticing his distress, team-mates rushed to his side.
Similarly to his most recent health scare, Martyn's mouth was drooping on one side, but on this occasion, the symptoms rendered the then 33-year-old speechless. Words of concern from those around him were greeted with silence.
"I physically couldn't speak and I dropped to my knees. It was very scary at the time. I can still remember everything but it's a funny feeling to try and explain. I was panicking a lot because I had no idea what was going on.''
Martyn was transferred to Sligo General Hospital where a team mate who accompanied him conveyed the symptoms to the nursing staff on Martyn's behalf and he was admitted.
"I was shouting in my head and I knew what I wanted to say but I couldn't physically get the words out. I remember at the time that people were coming to visit me and I nearly didn't want them there because I couldn't talk to them.''
He was discharged a few days later but despite showing the classic signs of a stroke, the diagnosis suggested it was something viral. An MRI, carried out the following week, finally uncovered the horrifying cause.
''I met the neurologist the following week for the MRI and after some more tests they found a hole in my heart and they knew it was a stroke. I wasn't expecting him to say it and I just thought - 'this can't be happening.'''
Martyn was booked in to meet a surgeon in the Mater Private the following September and during the interim, Martyn was forced to temporarily quit football.
He was captain of his St Mary's team and was a respected full-back for Sligo, which compounded the frustration of adjusting to a spectator's role.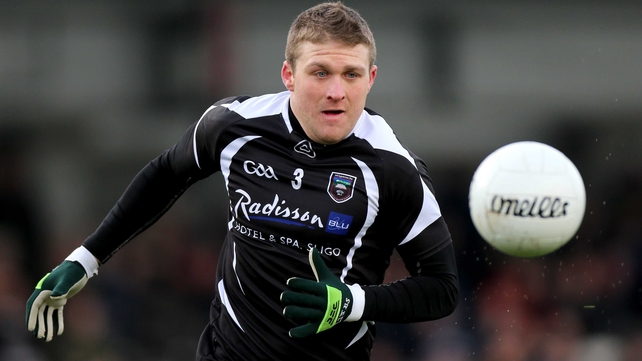 And more hardship was to follow. After successfully undergoing heart surgery in early 2015, Martyn's patience appeared to have been rewarded when he was given the medical support to rejoin the Sligo squad.
But his return was short lived when he ruptured ligaments in his ankle, condemning Martyn to the sidelines once again for the remainder of the inter-county campaign.
"I'm not 44, I'm 34 so I still feel physically able for it"
''Missing out on the club games was hard because we were going well at the time and when you've trained with these guys it's hard watching on but beating Roscommon in the Connacht semi-final last year was great for the county.''
It's difficult to fathom how an inter-county player could suffer a stroke but Martyn's experience is not an isolated case in the wider world of sport. The Sligo veteran joins an elite band of professional athletes who have been struck by this severe heart problem, including rugby players Chris Henry and Richardt Strauss.
And in the NFL, strokes are rare but not unheard of. Former linebacker for the Jacksonville Jaguars, Russell Allen, was forced to retire due to a stroke in the 2013 season and Tedy Bruschi who once played for the New England Patriots, also suffered a stroke in 2005.
Martyn, explaining the science behind how strokes manifest, said: ''From talking to doctors, there's several reasons why you can get a stroke.
"I got surgery when it happened the first time to deal with the cause and we presumed that was the end of it but there are different reasons it can happen so we just have to figure out what caused it this time.''
The scars of the strokes have yet to heal for Martyn. His speech continues to slur at times, which has been the case since his first stroke episode in 2014. But still invigorated with youthful energy and motivated by his love for the game, Martyn is not ready to prematurely end his football career if he can help it.
''This doesn't happen too often and the doctors want to get to the bottom of it. Going back playing football is a good distance away at the moment and if I do go back, the fear will always be there.
"But if there's a chance I can go back I think I'd have the heart to do it because I'm playing football from a young age and it's hard to just walk away. I'm not 44, I'm 34 so I still feel physically able for it.''