Cora Staunton has handed Mayo a massive boost by committing to a 22nd successive season of inter-county fare – but admits that she agonised over her decision. 
The Carnacon superstar, a ten-time All Star, returned to training with the westerners last Friday night and is available for selection ahead of Sunday's Lidl Division 1 opener against champions Cork in Mallow.
Staunton, who made her Mayo debut in 1995, isn't the only vastly-experienced player back on board this year as goalkeeper Yvonne Byrne, defender Helena Lohan and versatile Martha Carter have also vowed to continue.  
In addition, Mayo boss Frank Browne has welcomed back a host of young players who were absent last year back into his squad. Sarah Rowe, twins Clodagh and Ciara McManamon, Carol Hegarty, Amy Bell, Leona Ryder have all returned and Aileen Gilroy has fully recovered from a cruciate knee ligament injury. 
"I know that if I wanted to go back, I should go back now rather than the middle of the League"
Staunton considered her own future since Carnacon exited the club championship last October but the 34-year-old attacker believes that the time is right to return. 
The four-time All-Ireland senior medalist reflected: "It was definitely a tough decision and played on my mind.
"Since we got knocked out of the club, I was very 50-50 but management didn't put any pressure on me at all. 
"I know that if I wanted to go back, I should go back now rather than the middle of the League. 
"You're either in or you're out and the longer I stayed away, I'd probably have asked myself what's the point going back in March or April but now I can get a good League campaign under my belt.
"The body is still in good shape but I have other commitments in life and it's getting more difficult.
"There's a few of us at that age, around a good while, and while any decision is very individual and based on your own life, we considered what each other was doing as well."
Claire Egan has yet to confirm whether or not she is returning to Mayo but as things stand, there are no official retirements from the camp.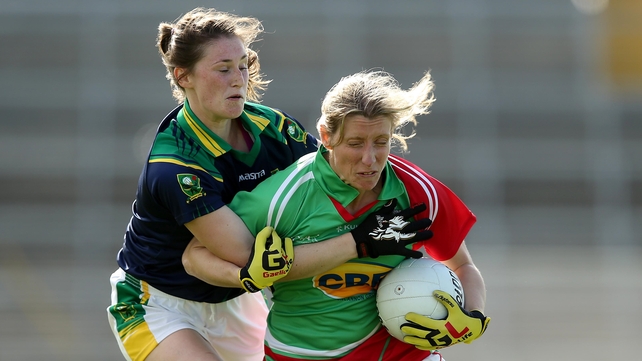 And Staunton is pleased with the return of Browne for a second year at the helm.
She added: "Again, it's consistency. We have the same management team as last year and quite a few more into the backroom staff to make us stronger.
"There was a long winter to get a long of things in place, a lot quicker than last year, as Frank was only appointed in January. 
"A lot of girls took a break last year too, going on J1s and other sports might have taken priority but the panel is a lot stronger and the management too."
Staunton has noticed the rate of flux in other top counties, with fellow Division 1 big-hitters Cork, Armagh, Monaghan and Galway beginning the season with new managers. 
And Staunton also reacted to the news of Eamonn Ryan's departure in Cork, describing the ten-time All-Ireland winning boss as a "genius." 
She said: "With Eamonn gone, you can look at it in two ways.
"There could be a massive drive to achieve without him but on big days, All-Ireland semi-finals and finals, he's made massive decisions and every one of them has worked out.
"That's not luck, that's down to his genius in the last number of years.
"It will be unsettling for Cork for the first while but with the calibre of player they have and a winning mentality, you could never write them off.
"If they lost a few more players with Eamonn, you'd be thinking this could be your year but we'll have to wait and see.
"It's very sad to see him go, he did a lot for ladies football but maybe this is the chink of light that perhaps Cork can be beaten? Who knows?"