GAA director general Paraic Duffy believes that restricting the Association from negotiating with subscription broadcasters would lead to "greatly reduced income" from TV rights.
The GAA came in for strong criticism after agreeing a deal with Sky Sports in 2014 that has seen the subscription platform show 14 exclusive games per season, including two All-Ireland SFC quarter-finals.
That agreement runs until the end of this year but several motions, including one from Kerry, are set to go before Congress in Carlow next month seeking to ensure that games will only be shown on free-to-air TV from 2017.
"Any restriction that prohibits the GAA from engaging with all interested parties, including subscription TV providers, would seriously reduce our negotiating power"
Duffy insists that there will be no reduction in the number of games shown free-to-air but warns that barring GAA management from considering bids from the likes of Sky or Setanta would drive down the price that could be agreed with terrestrial broadcasters.
"It is crucial that we do not hamper ourselves in our approach to our upcoming broadcast negotiations," he wrote in his annual report, which was published today.
"The Association has traditionally adopted a policy of free-to-air availability in the Irish market for the vast majority of its major competitions. In 2015, 114 games were shown live, or on full deferred coverage on terrestrial TV.
"This policy will remain central to the next set of rights agreements - there will be no reduction in the number of live senior championship games shown free-to-air.
"However, any restriction that prohibits the GAA from engaging with all interested parties, including subscription TV providers, would seriously reduce our negotiating power and thus our ability to achieve the true worth of our assets, and would inevitably lead to a greatly reduced media-rights income.
"In what is already a small pool of potential broadcast partners, we must ensure the existence of a genuine market for our games and maintain the option of engaging with all interested parties, regardless of whether they are free-to-air or subscription providers.
"This flexibility and freedom is crucial if we are to nurture a competitive tender process and thus ensure that the GAA achieves the proper value for its rights.
"Ultimately these broadcast revenues represent an important funding source for the work of the Association and its units."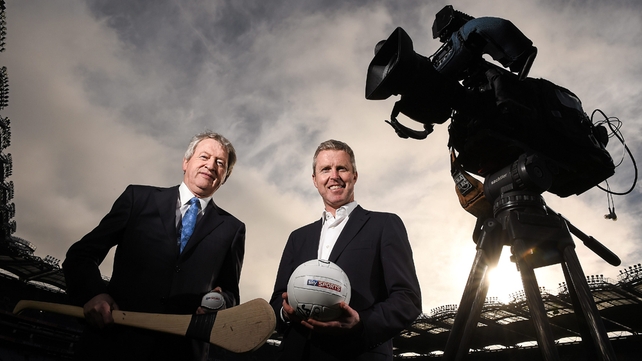 Duffy added that the Irish soccer and rugby federations' access to pooled income from international competitions such as Euro 2016 and the Six Nations, which significantly exceeds what they could hope to earn in the domestic market, makes it even more essential that the GAA earn the maximum value possible from the sale of their broadcast rights.
"Other sports bodies are becoming increasingly sophisticated in their exploitation of their broadcast rights, so the work to maintain the GAA presence on television intensifies accordingly," said Duffy.
"In recent years international representative bodies of other sporting organisations in Europe have established centralised rights-pooling and revenue-sharing agreements for their major tournaments.
"As a result, national federations share the globally generated media-revenue pot and are likely to see a significant increase in their incomes, irrespective of the size of their domestic market.
"These international changes will have a knock-on effect on sport in Ireland, as they will significantly alter the balance of resources among the major Irish sporting bodies.
"Irish sports bodies whose codes represent globally-traded sports rights now benefit from an international marketplace, generating a windfall income simply not available to the GAA.
"The strength of this collective international revenue generation is compounded by the fact that major sports-rights inflation will never be a feature of the Irish sports broadcasting market.
"The larger the territory, the greater the number of competitors; Ireland is small, has relatively few television broadcasters, so there is little competition and barely a market at all."
Listen to Dublin v Kerry live on RTÉ Radio 1 from 6.55pm on Saturday and watch highlights from the first round of Allianz Football League action on 'League Sunday' at 7.30pm on RTÉ2 and RTÉ Player.