Castlehaven 0-10 Nemo Rangers 0-10
The sides couldn't be separated in Páirc Uí Rinn as a 58th-minute Dylan Mehigan point ensured that the teams will have to meet again in the coming weeks to decide the Cork SFC title.
The first half saw Nemo power into an early lead as Castlehaven struggled to find their shooting boots but, as the half wore on, Brian Hurley's accurate frees and Mark Collins points helped to give them a 0-07 to 0-05 half-time lead.
The second half saw Paul Kerrigan and Barry O'Driscoll point to put Nemo in front, but Hurley's accurate shooting put Haven ahead and were it not for Micheál Martin's accurate shooting the game would have been out of sight.
However, Nemo kept on going and accurate shots from O'Driscoll and Mehigan ensured the replay.
Nemo, who last won back in 2010, scored the first point on six minutes via Luke Connolly's 45.
Nemo, enjoying the opening minutes of the game, then scored two frees courtesy of James Masters. This was in contrast to a Castlehaven side guilty of poor shooting, hitting nine wides in the opening half.
Mark Collins opened their scoring on 13 minutes to make it 0-03 to 0-01 before O'Driscoll pointed at the other end to extend Nemo's lead to three points.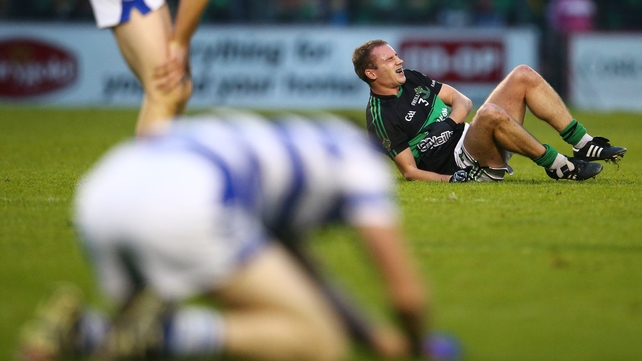 However, on 22 minutes Hurley kick-started Haven's recovery as he pointed two frees along with brother Michael to level the game at 0-04 apiece on 25 minutes.
A Shane Nolan point gave Haven the lead and further points from Collins and Damien Cahalane cancelled out Jack Donovan's point to see the half end 0-07 to 0-05 in favour of Castlehaven.
Nemo burst out of the blocks in the second half with Paul Kerrigan (2) and O'Driscoll scoring to put them 0-08 to 0-07 ahead after 40 minutes, but Hurley's free tied the game for a third time.
Hurley pointed as Castlehaven tried to power clear and Nemo needed Martin to tip Collins' pile driver over to remain in the game with 10 minutes to play.
O'Driscoll pointed to narrow the gap to one but Martin again pulled off a great save to deny Hurley from close range.
A Mehigan point set up an exciting final few minutes as Nemo's Kerrigan was sent off for a second yellow on 59 minutes.
But both teams failed in the final minutes to get a winning score leaving us with a first replay in Cork since 1999 when UCC and Nemo drew.
Castlehaven: P Hurley; J O'Regan, D Limrick, T O'Leary; R Whelton, Damien Cahalane (0-01), C Hayes; M Collins (0-03), S Dineen; S Collins, S Hurley, S Cahalane; S Nolan (0-1), B Hurley (0-4,0-3 frees), M Hurley (0-01).
Subs: D Hurley for Collins (40), Darragh Cahalane for S Hurley (47), D Hegarty for Nolan (54)
Nemo Rangers: M Martin; A O'Reilly, C O'Shea, A Cronin; J Donovan (0-1), T O'Sé, K Fulignati; D Niblock, A O'Donovan; C O'Brien, B O'Driscoll (0-03, 0-01 free), L Connolly (0-1 '45); J Masters (0-02 frees), P Kerrigan (0-02), D Mehigan (0-01).
Subs: C Dalton for Connolly (16 injured), C Horgan for Masters (48), D O'Donovan for O'Reilly(54), S Martin for J Donovan (56), B Twomey for Mehigan (58)
Referee: C Lane