Sarsfields 0-17 Athy 1-12
Sarsfields produced a strong final-quarter flourish to deny Athy and get their hands on the Dermot Bourke Cup for the first time since 2012.
Athy, who were last champions four years ago, were in control as they led by three points with 12 minutes remaining and still had two in hand approaching the end of normal time.
Brian Cardiff's men could not withstand the Sarsfields onslaught though and despite being down to 14 men for the last 20 minutes, the Newbridge men scored four consecutive points to claim the honours.
Alan Smith was restricted to a late cameo role due to injury but the Kildare forward made it count with a big point and a generally effective contribution as the Sash fought back.
It was bitterly disappointing for Athy, who established an early advantage thanks to James Eaton's penalty goal.
It was an advantage they held until the very end but that will be no consolation for the southern Reds.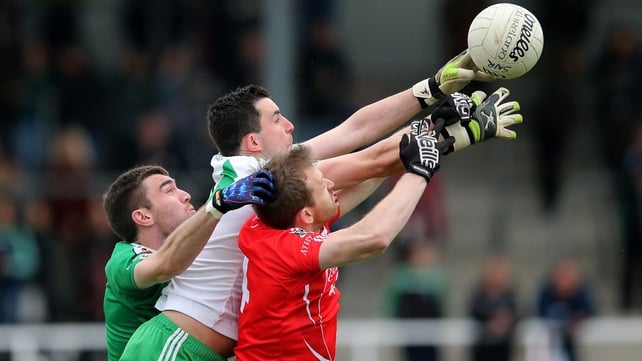 They were the better team in the first half as they burst out of the traps in electric fashion with a goal and four points in the opening quarter.
Niall Kelly was fouled inside the square in the ninth minute and Eaton made no mistake from the spot, sending Andy O'Brien the wrong way.
Points from Eaton and Kelly stretched the margin to five but Athy could not shake John Crofton's crew off and Con Kavanagh started a run of five points in a row for the winners.
Hugh Mahon and Tony Gibbons made it 1-06 to 0-07 at half time in Athy's favour but even when Conor Tiernan received his marching orders in the 40th minute following an off-the-ball incident, Sarsfields remained in touch.
Smith came on in the 48th minute and Sarsfields drew level.
However, when Darroch Mulhall and Liam McGovern raised white flags, Athy appeared to have done enough.
Man of the match Ray Cahill kicked two points to restore parity though and Smith pushed Sarsfields ahead before Cahill kicked his ninth point with the final kick of a thrilling encounter.
Scorers - Sarsfields: R Cahill 0-9 (4fs); A Smith 0-2; S Campbell, B McCormack, C Tiernan, G White (45), M Byrne, C Kavanagh 0-1 each
Athy: J Eaton 1-2 (1-0pen); L McGovern 0-3 (2fs); N Kelly 0-2; D Mulhall, R Bell, T Gibbons (f), K Feely, H Mahon 0-1 each .
Sarsfields: A O'Brien; S Lawlor, S Campbell, A Scully; C Tiernan, G White, D McDonnell; M Byrne, C Kavanagh; B McCormack, R Cahill, R Fitzgibbon; D Nea, S Dempsey, C McInerney-Aspell. Subs: C Hartley for Dempsey (39), A Smith for McCormack (48), C Scanlon for Nea (53), B Coffey for Fitzgibbon (57); C Duffy for McInerney-Aspell (57)
Athy: S Davis; T Foley, M Hyland, K Mulhall; R Bell, M Foley, D Holligan; D McGovern, D Hyland; T Gibbons, K Feely, H Mahon; N Kelly, P Dunne, J Eaton. Subs: L McGovern for Gibbons (40), D Mulhall for Dunne (47), P Connell for D McGovern (53), D Holligan for Bell (53), B Kelly for Delahunt (57), C Ronan for Foley (60)
Referee: L Herbert (Sallins)