DUBLIN
31 May: Croke Park
Leinster quarter-final: Dublin 4-25 Longford 0-10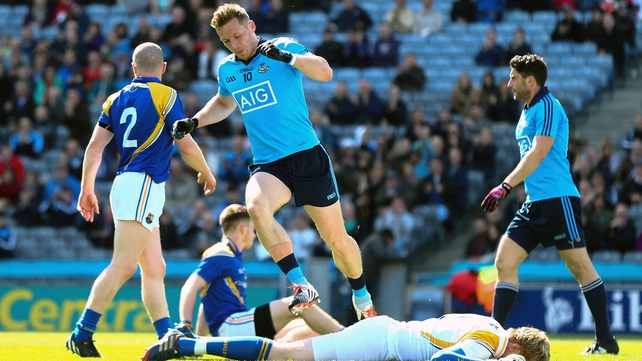 Holders Dublin sent out a serious statement of their Championship intentions with a 27-point Leinster SFC demolition of Longford at Croke Park.
The four-in-a-row provincial champions were at their ease throughout with goals from big guns Diarmuid Connolly, Paul Flynn, Dean Rock and Bernard Brogan.
Longford were admittedly without two key forwards who had provided the bulk of their scores in recent championship campaigns; Paul Barden and Sean McCormack.
But even with them they may have struggled to live with a firmly focused Dublin side that oozed class and efficiency in front of 33,544 at Croke Park. The one-sided nature of the game prompted a debate from The Sunday Game panel on the structure of the championship.
Brogan claimed an impressive 1-06 tally before being replaced by Alan Brogan, his first competitive action since last year's All-Ireland semi-final.
Rock, Kevin McManamon and Flynn were terrific in attack too as the Allianz League champions cruised into the semi-final.
28 June: Croke Park
Leinster semi-final: Dublin 5-18 Kildare 0-14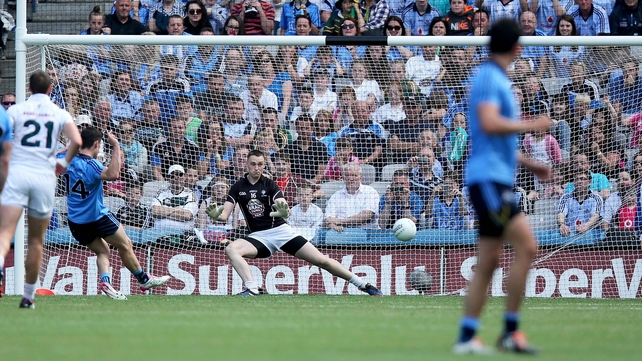 Bernard Brogan and Diarmuid Connolly combined for 4-06 at Croke Park as holders Dublin returned to the Leinster football final with a typically ruthless display against the Lilywhites.
Jim Gavin's five-in-a-row chasing Dubs hit luckless Kildare hard and early in front of 50,324 to keep their five-in-a-row provincial ambitions perfectly intact.
First-half goals from Dean Rock, Bernard Brogan and Diarmuid Connolly put Dublin into a winning position and Connolly and Brogan found the net for a second time late on.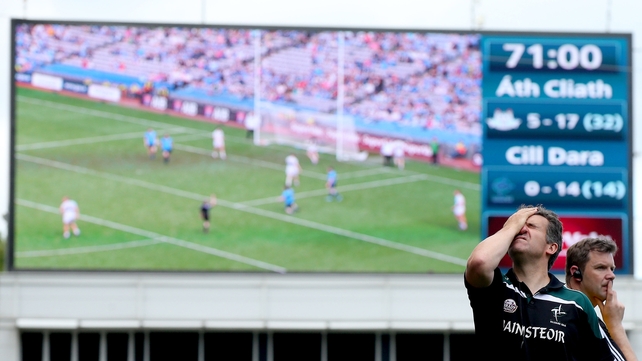 Kildare had suggested with a storming second-half performance against Laois in their Leinster quarter-final replay that they could meet Dublin's challenge head on.
But it proved to be yet another provincial mismatch involving Dublin who beat Longford by 27 points in the quarter-finals and will be big favourites facing Westmeath in next month's final.
With just 17 minutes on the clock, Dublin led 2-07 to 0-02 and it was hard to envision any way back even at that stage for the Lilies.
12 July: Croke Park
Leinster final: Dublin 2-13 Westmeath 0-06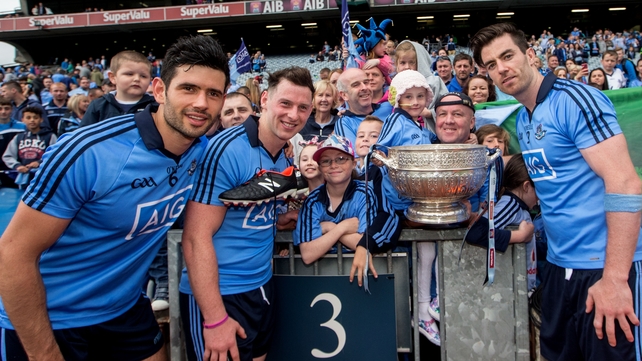 Dublin won their tenth Leinster title in 11 years at Croke Park as a two-goal burst just after half-time broke the resistance of a dogged Westmeath side.
The Sky Blues only led by four points at the break but when Bernard Brogan palmed home in the 40th minute and Jack McCaffrey blasted home at the near post following the kickout, their grip on the Delaney Cup was never in doubt.
Westmeath set up to frustrate the reigning provincial champions in the first half and were largely successful in that strategy, Dublin kicking seven wides as they were forced to shoot from wide angles.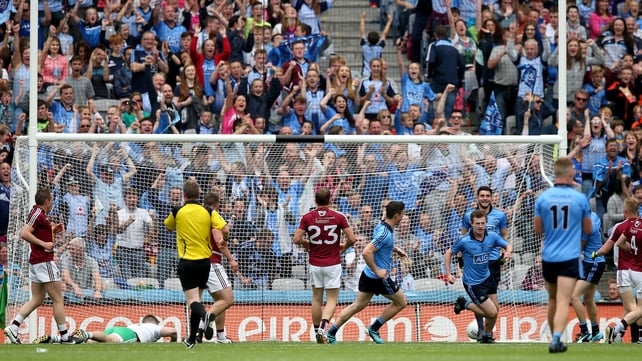 The Lakemen did commit men forward when in possession but were guilty of repeatedly dropping shots short as Dublin took a 0-08 to 0-04 lead into the interval.
The Dubs raised the tempo briefly in the second half, however, and Westmeath just couldn't handle them.
The goals gave Dublin an 11-point lead and with Westmeath struggling to get out of their own half and scoring just 0-02 in the period, the game fizzled out to its inevitable conclusion.
2 August: Croke Park
All-Ireland quarter-final: Dublin 2-23 Fermanagh 2-15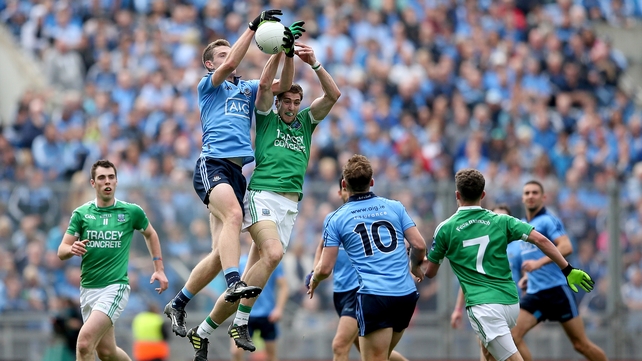 Fermanagh made their exit from the All-Ireland SFC despite a courageous effort, losing their quarter-final to Dublin by 2-23 to 2-15.
Bernard Brogan's 1-04 and three Ciaran Kilkenny points helped Dublin to a 1-13 to 0-06 lead, with Sean Quigley, Barry Mulrone and Tomas Corrigan hitting two Erne points each.
Quigley and Tomas Corrigan pulled back goals, while Paul Flynn palmed home Dublin's second as the Metropolitans eased to an eight-point victory over the battling Ernesiders.
A crowd of 58,630 watched a highly entertaining contest that won Fermanagh many admirers for their adventurous approach.
They battled to the end and were rewarded with two goals, but never looked like causing an upset.
30 August: Croke Park
All-Ireland semi-final: Dublin 2-12 Mayo 1-15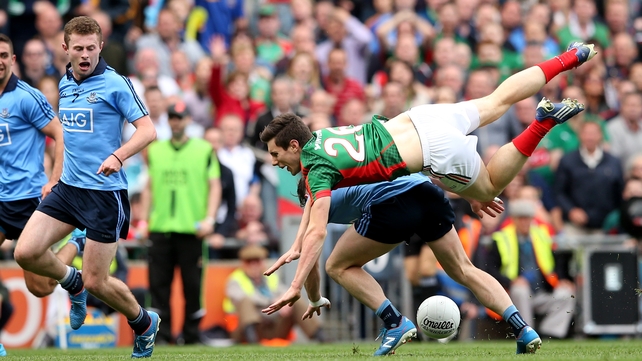 Andy Moran emerged as Mayo's super substitute at Croke Park with a dramatic injury-time equaliser that capped an incredible comeback, securing All-Ireland football semi-final replay.
The five-in-a-row Connacht champions looked down and out when they trailed the Dubs by six with 63 minutes on the clock but staged a thrilling recovery in the closing minutes to force a second date.
Veteran Moran was their inspiration as his first point began a scoring blitz of 1-03 without reply from the westerners and he also booted that crucial leveller at the end of the frenetic period.
The goal came from the boot of Cillian O'Connor who expertly converted a 69th minute penalty following a foul on Colm Boyle and finished with 1-09 in total.

The result means Mayo will contest a replay at this stage for the second successive year though Dublin will kicking themselves for not closing it out.
Jim Gavin's side got the perfect start when Diarmuid Connolly netted after just five minutes but couldn't shake off Mayo despite leading throughout the game.
Connolly was eventually red carded in the 74th minute for an incident involving Lee Keegan, while Dubs midfielders Michael Darragh Macauley and Denis Bastick were both black carded in the second-half.
5 September: Croke Park
All-Ireland semi-final replay: Dublin 3-15 Mayo 1-14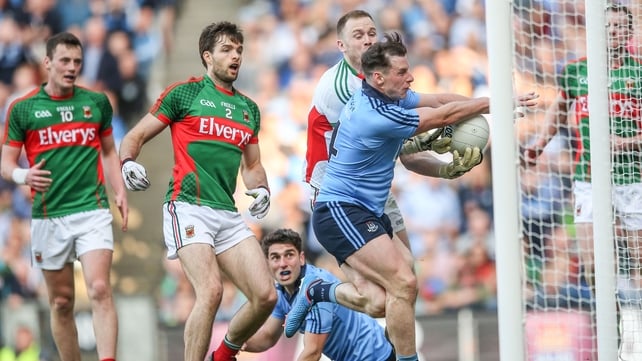 Three goals in the final fifteen minutes at Croke Park saw Dublin come from behind in thrilling fashion to edge out Mayo and book their All-Ireland final spot.
The 2013 champions trailed by four points with 55 minutes on the clock and looked in serious danger of missing out on a 20 September Sam Maguire showdown with Kerry.
But having been held to a draw last Sunday, the Dubs summoned all of their character, and no little quality, to speed past Mayo in the closing minutes.

Bernard Brogan tied the scores with his 56th-minute goal before a second from corner-back Philly McMahon - who finished with 1-02 - shortly after.
Mayo had no response and super-sub Kevin McManamon grabbed Dublin's third goal with three minutes remaining, taking his tally to 1-01 by full-time.
It was a stunning display of firepower from Dublin
KERRY
14 June: Semple Stadium
Munster semi-final: Kerry 2-14 Tipperary 2-08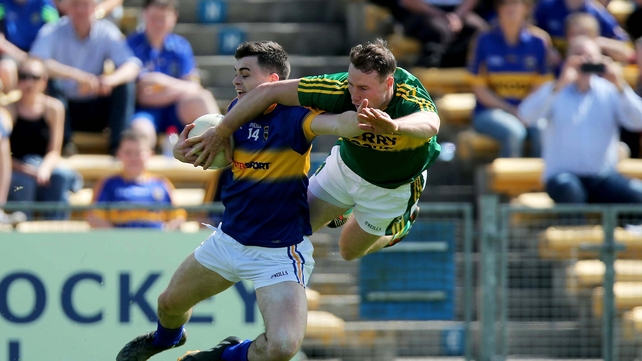 Kerry beat Tipperary by six points in the Munster SFC semi-final in Thurles.
The hosts put up a spirited showing against the Munster and All-Ireland champions but paid the price for a tally of 13 wides, including eight in the second half.
On a day when Colm 'Gooch' Cooper marked his return to championship action, the Kingdom turned up the heat in the second half to set up a Munster final with old rivals Cork on 5 July.
Kerry led by just two points at the break but reeled off five unanswered scores to effectively kill the game, before Tipp scored their first point of the second half in the 51st minute.
"We've a lot of improving to do but it's great to be on the road, great to have a game under our belt and great to be in a Munster final" - Kerry manager Éamonn Fitzmaurice
Kerry won the second half by 0-08 to 0-04 and that was good enough on a day when 'Gooch' scored 0-03, including two from play.
And the depth of Kerry's panel was illustrated by the subs they brought on in the second half, with Fitzmaurice introducing the likes of James O'Donoghue, Darren O'Sullivan, Donnchadh Walsh and former AFL star Tommy Walsh.
But Tipp will look back on this one with regrets after racking up a total of 13 wides, compared to just five from Kerry.
5 July: Fitzgerald Stadium
Munster final: Kerry 2-15 Cork 3-12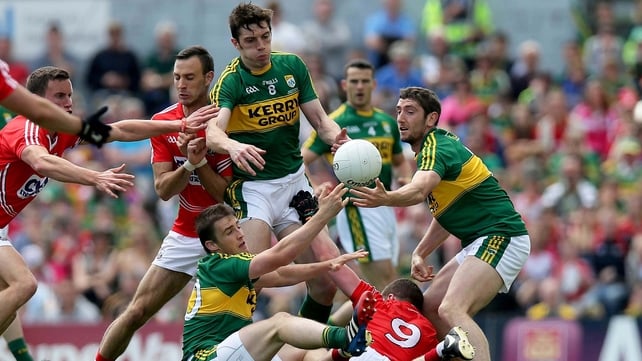 Kerry corner-back Fionn Fitzgerald was the unlikely hero as his added-time equaliser saved the All-Ireland champions from their first defeat to Cork in a Munster Football Championship final since 2008.
The win at Killarney would have been the Rebels' first victory at the venue in 20 years and it looked certain when Barry O'Driscoll goaled late on.
Colm O'Neill and Kieran Donaghy exchanged goals in the first-half as Kerry led 1-09 to 1-05 at the break.
Cork found the net twice in the second-half with Donncha O'Connor their other goal-scorer but they were unable to hold on and the sides must meet again.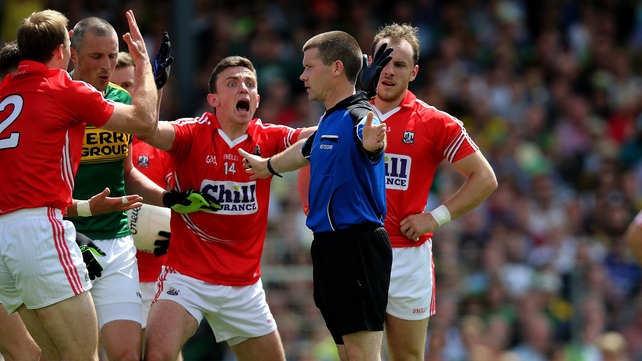 The main talking point from the game was when referee Padraig Hughes awarded Kerry a controversial penalty when Mark Collins was adjudged to have fouled James O'Donoghue. The latter slotted home the placed ball.
And with Páirc Uí Caoimh not available due to ground renovations, the replay will take place on 18 July, and once again Kerry will have the home field advantage of Killarney to fall back on.
18 July: Fitzgerald Stadium
Munster final replay: Kerry 1-11 Cork 1-06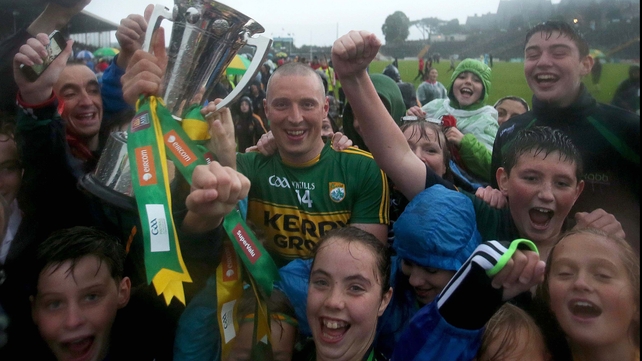 Colm Cooper came off the bench to set up the crucial score of the game as All-Ireland champions Kerry captured their 77th Munster SFC crown in a replay played in a downpour at Fitzgerald Stadium in Killarney.
Cooper dispatched a quick free which led to Paul Geaney finding the net and taking the sting out of the Cork challenge after another tough contest.
Ah here... #corkvkerry https://t.co/qsMNtG6Gc0

— RTÉ GAA (@RTEgaa) July 18, 2015
The goal pushed the Kingdom three points in front and Cork never recovered and did not score again after that.
Indeed, they managed only two points in the second-half and went scoreless from the 46th minute to the end and will now need to regroup for the qualifiers.
2 August: Croke Park
All-Ireland quarter-final: Kerry 7-16 Kildare 0-10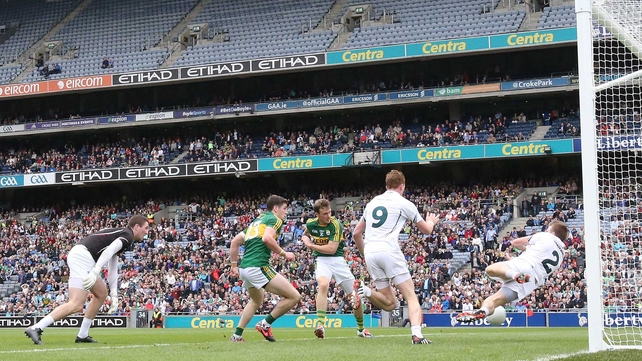 Holders Kerry made a serious statement of their All-Ireland title intentions with a seven-goal bashing of Kildare at Croke Park to cruise through to the semi-finals with the minimum of fuss.
Colm Cooper and Darran O'Sullivan both bagged a brace of goals while Donnchadh Walsh, Stephen O'Brien and sub Barry John Keane also hit the net.
The only downside for the Kingdom was the injury to James O'Donoghue, but It was all positive other than that with ex-AFL star Tommy Walsh and Paul Galvin even coming on for much needed game time.
Kerry sprung a surprise before throw-in with Cooper recalled to the team in place of captain Kieran Donaghy. Cooper started at corner-forward and Paul Geaney manned the edge of the square with O'Donoghue in the left corner.
23 August: Croke Park
All-Ireland semi-final: Kerry 0-18 Tyrone 1-11
Kerry held off a second-half comeback by Tyrone to win an engrossing semi-final contest by four points at Croke Park and book their place in the decider once again.
A 60th-minute penalty goal from Peter Harte brought the Ulster side back within a point after Kerry had pulled clear and though Mark Bradley levelled shortly after, the Kingdom's class told as they scored the final four points to secure victory and shake off the hex Tyrone have had on them at this venue.
Eamonn Fitzmaurice's side ditched a malfunctioning direct approach for the second period and that paid dividends as substitute Paul Geaney inspired them to victory, but Tyrone were left to rue a series of missed goal chances and some debatable decisions that went against them.

The sides were evenly matched in a first half that was a clear contrast of styles, Tyrone sitting deep – 14 men back when not in possession – and running the ball on the counter, while Kerry repeatedly kicked it in towards their full-forward line.
Tyrone's tactics seemed to better suit the sodden conditions and Kerry were left frustrated as their stellar full-forward line were dispossessed time and again by a swarm of defenders in white.