A hurling review has proposed that players be substituted in case of a second yellow card, rather than the traditional dismissal.
The penalty for a straight red card would remain unchanged
The GAA Hurling 2020 Review Committee says that in a situation where a player has been given a second yellow, he could be replaced by a player from within the permitted number of substitutions.
On the issue of the black card, the committee said there was "no appetite" for the introduction of another colour card in hurling.
The committee, chaired by former Tipperary manager Liam Sheedy, has already proposed changes to the penalty rules that would see just one player on the line for penalties during this year's pre-season inter-county competitions.
In such cases, the ball can be placed anywhere outside the 20m line - but struck no closer than that point. 
In tandem with the new penalty rule, the review proposes that the 20m free - for a foul just outside the rectangle - would be amended to allow just three defenders on the goal line.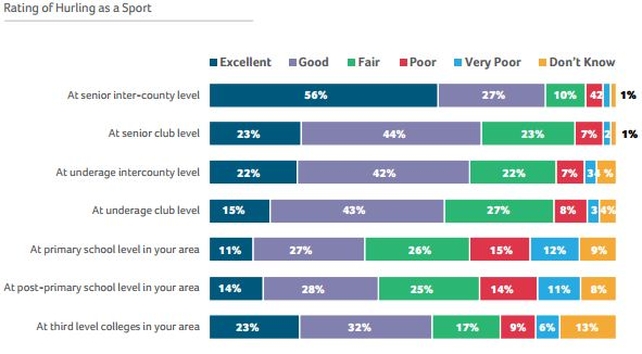 The report also proposes removing all promotion and relegation play-offs involving teams in different divisions in the Allianz Hurling Leagues.
In such cases. the top team of a lower tier would be promoted, while the bottom team would automatically be relegated to the lower division.
In line with this change, the review also suggests removing the promotion/relegation play-off between the bottom team in the Leinster Qualifier Group and the Christy Ring Cup champion. Promotion or relegation would be automatic.
The report did find " a general preference" among the general public for an eight-team Division 1 in hurling. However the committee made no firm recommendation in this area and decided to leave the current Division 1A and 1B unchanged, with six teams in each.
42% of those surveyed were in favour of using the League results as a basis for seeding in the Championship - however the current practice of making the championship draw in October - before the league is played - made this impossible.
The GAA Hurling 2020 Committee was established by GAA President Liam O'Neill in March 2014 with a broad remit to improve the game of hurling.   
One of the key recommendations was for the GAA to establish a full time Director of Hurling, in order to provide ongoing cultivation of the game.
Part of the remit of the role would be to examine the structure of the game - including the ongoing difficulty with club fixtures in many counties. The survey of members found "a considerable amount of concern" about the schedule of club games being dependent on inter-county fixtures.
Over 70% agreed that there should be a national fixtures calendar for all club and county games fixed by the CCCC and run by individual county boards
To read full report click here.