Aidan Walsh saved Cork's blushes as the Rebels edged past a valiant Tipperary for a 0-16 to 0-11 win at Páirc Uí Chaoimh this evening.
For long periods, a first championship win over Cork since 1944 looked to be a realistic possibility but a number of wides with victory in sight were costly for Peter Creedon's side.
Though Cork were not setting the world on fire with their play, they did manage to create enough openings late on for Walsh to kick three points in a row and then Barry O'Driscoll added his second point to secure the narrow victory by two points.
Brian Cuthbert, managing Cork for the first time in the championship, will know that his side avoided a massive embarrassment, however.
Tipp did almost everything right, holding on gallantly to the lead afforded them by Conor Sweeney's goal just before half-time, but down the final stretch it was Cork's greater experience – and prodigious shooting from Walsh, two with his right and one with his left – which barely saw them over the line.
From the off, Tipp showed that they meant business as Peter Acheson and Sweeney responded to Daniel Goulding's opener for Cork, and though Barry O'Driscoll tied matters, Tipp then reeled off three in a row as Cork floundered.
In front of a sparse crowd of 4,192, the Rebels looked to have got into a groove as Mark Collins, John Hayes and Paul Kerrigan impressed during an unanswered five-point period, with Goulding getting two frees.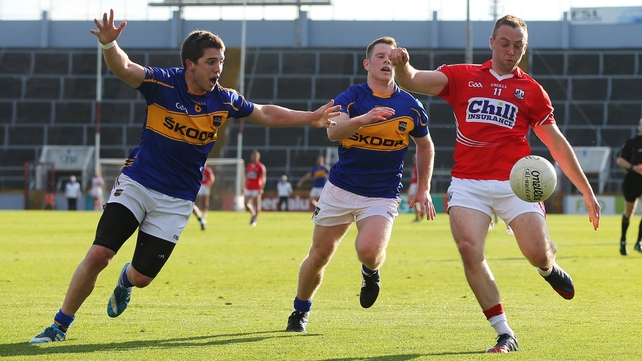 Instead of pushing on and living up to their pre-match billing as strong favourites, however, Cork couldn't get away from their opponents.
Steven O'Brien and Barry Grogan tied the game again before Cork had points from Collins and Fintan Goold, but John Hayes failed to avail of a chance to move five points clear, Acheson doing brilliantly to keep his shot off the line.
Less than a minute later, Tipp had the lead again as O'Brien found Sweeney with a lovely ball over the Cork defence and he coolly finished to leave it 1-07 to 0-09 at half-time.
With Walsh and Eoin Cadogan having been introduced before the start of the second half, Cork could have been expected to up the tempo again, but Tipp were not going to be easily overpowered.
Sweeney scored a point and then added a point from play as they possessed a 1-10 to 0-10 lead with 20 minutes left as Cork began to empty their bench, with Colm O'Neill among those brought on.
Both sides were getting anxious now, with very bad wides registered, and though two O'Neill frees had Cork back to within a point, Tipp sub Brian Mulvihill left them within touching distance of victory. Instead, Walsh would bring his influence to bear.
Cork: K O'Halloran; M Shields, T Clancy, N Galvin; J Loughrey, P Kelly, J O'Rourke; A O'Sullivan, F Goold (0-01); M Collins (0-02), P Kerrigan (0-01), B O'Driscoll (0-02); D Goulding (0-03f), B Hurley (0-01f), J Hayes (0-01).
Subs: A Walsh (0-03) for O'Sullivan (34), E Cadogan for Goulding (half-time), C O'Neill (0-02f) for Kerrigan (46), C O'Driscoll for Collins (51), D Óg Hodnett for Hurley (53), C Vaughan for Clancy (62).
Tipperary: P Fitzgerald; P Codd, C McDonald, G Mulhair; C O'Riordan (0-01), R Kiely, P Acheson (0-01); S O'Brien (0-01), G Hannigan; P Austin, I Fahey, B Fox; C Sweeney (1-04, 0-3f), M Quinlivan (0-01), B Grogan (0-02f).
Subs: B Mulvihill (0-01) for Fahey (44), J Coghlan for Austin (58), C McCullough for Grogan (60), H Coghlan for Hannigan (66), A Campbell for Mulhair (69).
Referee: F Kelly (Longford).