There's a fresh vibe to Mayo this year.
James Horan's second stint in charge somewhat petered out last summer, fading away against Kerry in the All-Ireland SFC quarter-final.
Kevin McStay and his star-studded backroom team are the latest men charged with overseeing the quest to end the Sam Maguire drought.
Lee Keegan, arguably the most influential player over the last decade, has decided to call a halt to his inter-county career - although you'll still be able to see him on RTÉ Sport - and some new faces have been tried out in the successful FBD Connacht Cup campaign.
Saturday night in Castlebar will be a truer test of Mayo's credentials this year when All-Ireland finalists Galway rock into town, eager to land a psychological blow ahead of a potential provincial semi-final in April.
From the downbeat finale in 2022, to an air of anticipation, it's the perfect start to the league says injured defender Padraig O'Hora.
"There's a really good vibe, a good buzz," he tells RTÉ Sport. "We have good characters, good craic."
While he only knew McStay to see, he has worked with Stephen Rochford previously and under Liam McHale with Ballina Stephenites.
"Liam is a good all-round guy. They are nice, approachable fellas from what I can see. It's exciting, there's a buzz in the air."
O'Hora will be forced into a watching brief on Saturday night for a game live on RTÉ2, and while he is looking forward to the occasion, he is keeping perspective given the time of year.
"I don't really think opposition rolls into it too much, it's just the first round. Every team targets that first game. We all know, you get off to a good start, it's a good feeling in camp. We are looking for a good performance on Saturday night, starting off on the right foot.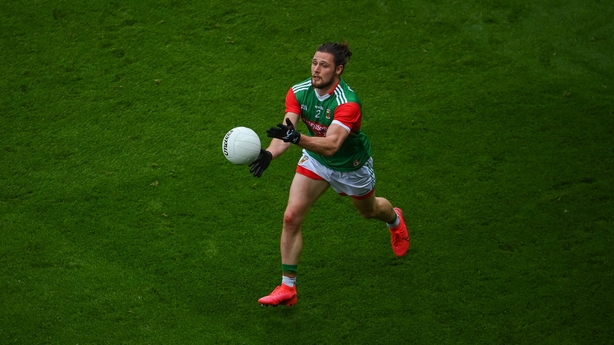 "People away from it maybe build it up a little more than those involved. We play Galway every year, in one way, shape or form.
"Usually it's very hard to avoid anybody in Connacht, you are going to see them at some stage. It's just a game for us.
"How can we perform? Can we win our first game? Can we keep getting better? It's essentially about us."
The tigerish defender has spoken previously how little football he consumes outside of his own playing duties. Before his belated introduction to the Mayo senior panel, he had stepped away from football for a couple of years, focusing on individual pursuits such as martial arts, hiking and climbing.
Even now, football doesn't occupy much time in his life outside of training and matches.
"I don't watch football really, at all. I don't watch sport at all to be honest. I am a doer. I'd sooner just be out doing something, active."
In his formative years he tried his hand at many sports, with basketball top of the pile.
"I definitely played more basketball than I did Gaelic growing up. I absolutely loved basketball up until we lost our Super League team in Ballina.
"It kind of broke away and then the basketball kind of slowed down around the place. My first passion definitely in my teen years would have been basketball. If I was asked to pick at 16 or 17, I'd have been gone playing basketball, no doubt."
Now all energies - while on the pitch - are focused on Mayo. Just how much does it mean to represent club and county given the varied sporting endeavours he has enjoyed along the way?
This wonderful county with such history, such quality and then you're fortunate enough to put on the jersey. I'm grateful for it
"It's class, I love it. It was never the be all, end all for me. I wasn't a kid that had it stuck up on the wall growing up.
"I've done individual sports like boxing, but there's nothing quite like collective success. There's nothing really like bringing a win with a team; that energy that's created and buzz.
"When you magnify that to the level of even playing for Ballina, I'm extremely proud of playing for Ballina Stephenites. I love playing for my club and then it's on a bigger level when you step into inter-county and play for Mayo.
"This wonderful county with such history, such quality and then you're fortunate enough to put on the jersey. I'm grateful for it.
"I just really enjoy it, it's class, more than you expect from it even."
Follow Mayo v Galway (throw-in 7.30pm) via our live blog on RTÉ.ie/sport or the RTÉ News app, alternatively watch live on RTÉ2 and RTÉ Player, from 7.15pm. Highlights and reaction to all the weekend's action on Allianz League Sunday on RTÉ2 and RTÉ Player from 9.30pm.
Live commentary and updates also on Saturday Sport and Sunday Sport, RTÉ Radio 1.