David Moran says he'll hold off on making a decision about his Kerry future as he puts all his focus on trying to drive Kerins O'Rahillys to provincial and All-Ireland club glory.
Moran helped the Kingdom to lift the Sam Maguire last July - his third Celtic Cross - as a year that started badly arrived at a glorious peak.
The midfielder had suffered a terrible groin injury in the Kerry SFC decider against Austain Stacks in December 2021. It left him in rehab mode for the first chunk of the new year, but the 34-year-old was firing on all cylinders for the successful summer charge.
Two weeks ago he had another setback playing for his club when he was sent off, following a second yellow card, in Kerins O'Rahillys' AIB Munster GAA Football Senior Club Championship semi-final against Éire Óg.
His heart sank, but the Tralee men rallied to dig out a gritty 1-09 to 1-08 win. They will face Limerick's Newcastle West in Saturday's decider at Páirc Uí Rinn, their first provincial final appearance since 2009 when they lost in agonising fashion to Kilmurry-Ibrickane.
Moran is desperate to get over the line this time and bag a Munster medal before mulling over his 2023 plans with Kerry.
"I met with Jack [O'Connor] a while back and I just said, 'look, I want to keep playing with the club', I'll probably take Christmas to decide and then we'll decide in the new year or whatever," Moran said on Wednesday.
"At the moment I'm with the club and I'm trying to bring that as far as I can.
"The reality of life is that it doesn't feel that long of a year because we have been winning. It's great to still be involved at this time of the year. It's a special place to be for a club."
Reflecting on his dismissal against Éire Óg, he added: "I was hugely disappointed. I felt I'd let down people. With injuries, it's out of your control. Obviously when you're sent off it isn't.
"I was worried I was going to cost us the game. I was very thankful the lads dug it out and I wasn't suspended for the final. It was major relief after the game."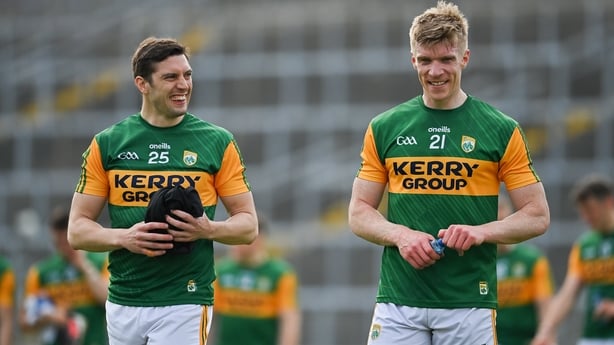 Afterwards Tommy Walsh said the Kerins O'Rahilly's players "owed it" to Moran to make the final. Walsh and Moran are lifelong friends. They've soldiered together for club and county, following in the footsteps of their fathers Seán Walsh and Denis 'Ogie' Moran to achieve great things in the game.
"Tommy missed the last [Munster final in 2009]. He was in Australia," Moran said.
"We've been in the same school, the same school since Montessori. Our parents are very close. He's been a great friend inside and outside of football all my life, so it's extra special.
"That's the nature of the club. You're playing with the people you grew up with from the very start. It's great to be on the journey with everyone from the area. We're all looking forward to going to Cork on Saturday night."
Powerhouse midfielder Moran will be key of course to the Strand Road men's hopes. He admits he's had to adapt to the sport's ever-changing landscape over the years, with teams moving away from long deliveries into the middle of the field and the obsession with ball retention heightening.
"The game is evolving hugely and it probably will continue to do so between different fitness levels, different skill sets, tactics," Moran said.
"It does go in cycles. I have no doubt at some stage there will be a new big full-forward and then everyone will be doing a big, long ball into, like a Kieran Donaghy.
"That will probably come around again. It's still comes down to the skill set. There's a huge emphasis on retaining possession now. That's probably leading itself into shorter kickouts, a more controlled way of controlling possession or trying to increase the percentages.
"It's gone ultra professional, which sounds strange for an amateur sport, but since I've started playing it is gone that way, especially [in terms of] strength and conditioning, analysis, all that kind of stuff. But the basics are still the same. The skill set is still hugely important."