The old-timers who are instinctively inclined to swoon at the thought of a Kerry-Galway All-Ireland final had been warned that they were talking hokum - and that they shouldn't be expecting anything more than the usual 'chess match'.
Worse again, they may even have to brace for an "intriguing" game. Oh no, no more intrigue. Anything but that.
Both teams were now fully in hoc to modern practices and were prone to the deployment of sweepers and even double sweepers and the like. Galway, in particular, would want to gather a phalanx of spoilers around David Clifford to stop him getting into his stride, in so far as that's possible.
It didn't quite turn out like that. While defences were on their game and goal chances were thin on the ground, the narrative that ultimately emerged was a shootout between the two most lavishly gifted forwards on show, possibly in the game.
Walsh v Clifford. Their duel for supremacy at either end of the pitch will likely endure as the defining memory of this final.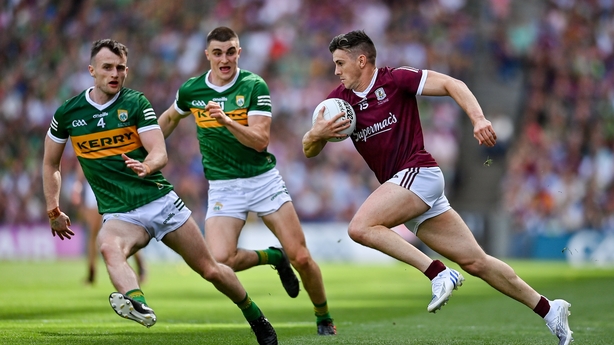 The are two of most celebrated forwards in the sport, yet Clifford was held to belong to a different stratosphere.
He was the anointed one, the boy genius from his days as a minor, with no apparent weakness in his arsenal. It was inevitable since his teenage years that he would win a stack of All-Irelands. The idea that he might have to wait too much longer was unthinkable. Hadn't he waited long enough?
Clifford is already often touted as one of the greatest to play the game while Walsh, 29 this year, hadn't even won an All-Star yet.
The Kilkerrin-Clonberne attacker was always portrayed as a more mercurial figure, electric on his day, a stylish match-winner but prone to the odd questionable decision in possession. He hadn't scored freely against Armagh or Derry.
And yet, on the biggest afternoon, the dazzling duo shared the stage equally, going tit for tat at either end.
Walsh skates across the turf like some celebrated Russian ballet dancer. There's a liquid quality to his movement. And a sense of exhibitionist joy about him in possession of a football, as if he's saying to the crowd 'Watch this!'
He scored 0-09 in total, four from play. All of his efforts from play were majestically taken, the scores on the 16th and 45th minutes being greeted with near standing ovations.
It's Shane Walsh v David Clifford and neither man is backing down in the standards being set. Sensational stuff, this time from Walsh.

📺 Watch live https://t.co/NcrNtKeU0O

📻 Listen live https://t.co/TaTvujKLTj

📱 Live updates https://t.co/zzaMYbFSSl#SundayGame #RTEGAA pic.twitter.com/Qa4yoy6Lj6

— The Sunday Game (@TheSundayGame) July 24, 2022
Clifford's big weapon in the first half was the mark, taking down two as Kerry struggled otherwise to get moving. Marks are occasionally bracketed under a similar category to standard frees. When one collects a 25 yard pass into the chest, gaming the rule's wording, that's fair enough. When one out-leaps a bevvy of defenders in heavy traffic, that's a different matter. Route 1 remained a profitable avenue for Kerry when all else failed.
Other starting forwards struggled for attention as the two boys hogged the limelight. Damien Comer, the match-winner for Galway in the semi-final, struggled to involve himself amidst the close marking of Jason Foley and had to ramble far to collect possession, rarely getting sight of goal.
Paul Geaney suffered a dose of the shooting yips and was whipped off at half-time, Jack O'Connor tossing on Killian Spillane. Paudie Clifford was retained for the second half, though presumably on the strength of his recent past work rather than his first-half efforts, where he looked nervous and ungainly, fumbling possession and losing his footing on a couple of occasions.
The tireless Stephen O'Brien, much chastised for positioning himself, incomprehensibly, in the square for the disallowed goal against Tyrone last year, was one of Kerry's most effective performers in a stuttering first 35. His best work was defensive, however, including one diving block on Paul Conroy that everyone in a maroon jersey could see coming before the midfielder had even drawn his foot back.
Clifford kicked three big scores in open play, the first a rousing effort from distance which settled the favourites, the second from the right-hand side, clipping of the far post. After swinging over the third, a point which put Kerry in front for the first time past the 50th mark, he fisted the air in exultation. In recent weeks, he's begun to match the Waterford hurlers in that department.
On the whole, Walsh's scores had more wow factor. Clifford was integral to Kerry's victory, showing superb leadership in particular in the first half but Walsh sprinkled the game with a bit more stardust. It was his points that you'd be more inclined to want replayed.
The policy and methodology around picking the All-Ireland final Player of the Match came up for discussion again.
Back before the winning banquet became increasingly snazzy and the demands of television insisted upon a victor from the winners' hotel, it was still possible for a member of a losing team to make off with the Player of the Match award (it had a more alliterative title back then).
There is no hard and fast rule written down anywhere that it can't still occur. Though it would be a bit of a downer if we had to transfer from the winners' banquet over the losers' shindig, where a replica trophy is handed over to a downcast Player of the Match. "To be honest, Jim, this yoke doesn't mean much to me, tonight..." It might also kill the mood somewhat at the winners' gala where the TV crew might be subject to some aggrieved heckling.
A Galway man was the last to claim this curious distinction, Padraig Kelly in 1993 after their hurlers fell short against Kilkenny. Regrettably, it's hard to unearth footage of him collecting his prize. (A couple of more recent players do hold POTM awards without winning All-Ireland titles, though Liam McHale, 1996, and Iarla Tannion, 2012, earned their prizes for drawn finals).
Peter Canavan, contrary to much popular belief, did not get MOTM for his 0-11 point tally in '95, Paul Curran getting the nod instead. Chris Barrett must have been close in 2017.
From 55 minutes onwards, the leading pair retreated to the shadows slightly.
Tom O'Sullivan, Kerry's normal scoring option from corner-back, was tied up trying to tie down Walsh and it was his namesake in the other corner, Graham O'Sullivan who took on the mantle of buzzing forward from deep. For Galway, Cillian McDaid took the cudgels, eventually winding up with four points, the final one to level the game at 16 apiece after he'd spent the previous minute on the ground recovering from a sandwich tackle.
Crucially, however, aside from Walsh, only one other Galway forward scored, Heaney with a point which should have been a goal.
But it was Clifford who swung over the pivotal score, after John Daly was contentiously penalised in possession at 16-apiece. From a tight angle with just over three minutes remaining, Clifford duly slotted between the posts.
"He is a remarkable man. That weight of expectation has been on him since he was 18 and he has jumped every hurdle he has come across," said Jack O'Connor afterwards. "He jumped another big one today."
Pádraic Joyce, severely agitated by the refereeing call, noted that "them frees are tap-overs for the likes of Clifford."
It was premature for sure but the idea had been floated, after Kerry's failures in the pandemic years, that Clifford may have to endure the kind of wait for a Celtic Cross that befell Maurice Fitzgerald, who made his debut after the trophy boom had ended in 1988 and didn't win the big one in 1997. But Clifford's card has been stamped now.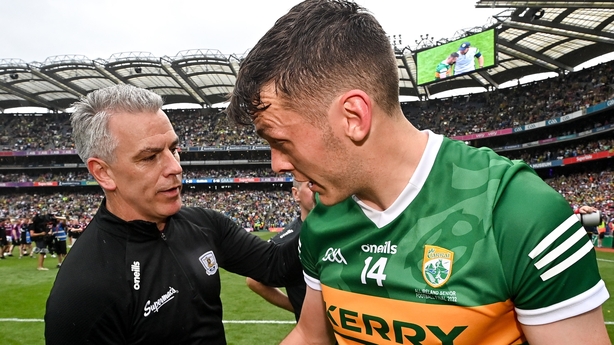 Joyce said his team were "gutted" after the loss but stressed that they'd put pride back into Galway football, noting the "brilliant support, they probably out-numbered Kerry 2:1."
Their team's progress in 2022 had carried uncanny echoes of 1998 - their exhilarating break from the pack, the escape from underneath Mayo's shadow, the opening win in Castlebar, the semi-final victory over Derry. It was even disclosed by Joyce that Pat Comer was doing more filming behind the scenes. The intoxicating prospect of 'A Year Til Sunday 2' hung in the air. There was enough clips of the original circulating around the internet to sustain their belief this week anyway.
Poor Kildare supporters, still traumatised many of them, would have been well advised to mute the words "For the week that's in it" or "Ja" from their social media feeds.
In the days leading up to the game, there were isolated reports of certain Kerry supporters engaging in uncharacteristic bouts of fate-tempting. We heard tell on one podcast of supposed 'Kerry 38' T-shirts that were already in circulation in advance of this weekend's All-Ireland final. For a brief period in the second half - after Kieran Molloy and Cillian McDaid tagged on points to push Galway two points clear - it appeared the T-shirts may have been dumped on the same pile as the 'Five in a row' CDs. They can be worn freely now, at least until next year.
Colm Cooper described Kerry as "functional" last night, a phrase that was taken as pejorative when applied to the Brazil teams post-1970, but which is meant as a compliment to a Kerry team who'd blown too many All-Irelands recently.
O'Connor was surprisingly blunt in acknowledging that Kerry were weighed down by "favouritism" in the early stages. Now that the baggage of recent defeats has been shed, they may start to play with more freedom.
In his press conference, O'Connor said he hoped "today was the start of something good." There's a warning.