Armagh will sample Division 1 football for the first time in nine years this weekend - but will do so without Jamie Clarke, who has opted out of the panel for 2021.
It was Oisín McConville who first broke the news of Clarke's decision when speaking to the media at the end of April and Armagh boss Kieran McGeeney more or less confirmed it this week.
"Jamie is in Paris, someone was telling me, so unless we're starting an international team, he's not going to be in for this year," McGeeney told reporters at yesterday's Allianz Football League launch.
Since announcing himself on the inter-county scene in 2010 with a series of stellar performances, Clarke has generally been touted as Armagh's most gifted forward in an uneven era for the county's footballers.
In latter years, he has been inclined to make himself unavailable, missing the 2016 and 2018 championship campaigns, with McConville of the view that this latest self-imposed exile could represent the final break.
The Armagh manager was in fairly jaunty and philosophical humour when discussing Clarke's decision, praising his honesty and straightforwardness about his intentions.
"Everyone has a personal choice. Jamie is an exceptionally good fella, I have a lot of time for him personally and he was always straight up when he goes," said McGeeney.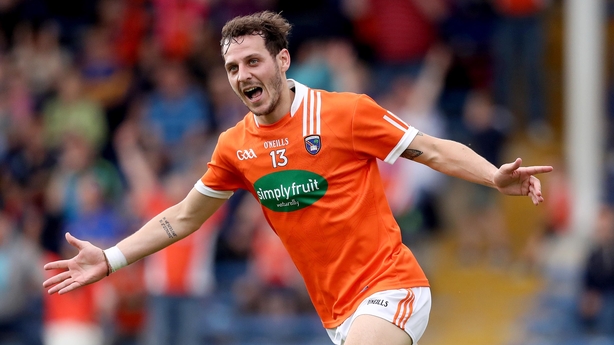 "Some people just have different passions. I don't really think it's got to do with the football or the commitment. They just tend to give commitment to other things, I suppose it depends where your cards are aligning on your particular journey."
The discussion on Clarke sent McGeeney onto a theme he's visited before, namely, his thorough rejection of the narrative that inter-county football is a more gruelling and joyless business than it was two decades ago.
"I think we're all caught in a time warp. We tend to focus in on the three/four players (who don't commit) of the 3000 who are involved with inter-county, I think it's a small percentage.
"I would actually think the opposite, I think football nowadays is far more enjoyable.
"You have to remember that when we (90s-early 00s players) were going back training/travelling home, we were going back to run. We did a pre-season in September, another one in January and another one in April/May, and all we did was run. That's all we did, run.
"The summer months were great but you still ran until a week or two before championship when you got to sharpen up with a few sprints.
I think in general, players are enjoying football and hurling
"Now it's just all football, outside of pre-season, it's all game scenarios.
"I think it's a great time to be involved in football. I genuinely do. I think it's moved on exponentially, in terms of what they're doing for their players, and even just to be able to access the different things that you can now as a footballer.
"It's not for everybody, especially when you're not getting first-team hurling or football, it's easy to get disgruntled because in everything like that, people are going to have different opinions, mine might not be right and a manager might pick different players but I think in general, players are enjoying football and hurling."
Notwithstanding Clarke's exile, Armagh remain well-stocked in the forward division, with Rian O'Neill, Rory Grugan, Stefan Campbell and the returning Ross McQuillan, back in the set-up after a year spent with the Essendon Bombers in the AFL.
Seeking to mould them into a more cohesive unit, McGeeney enlisted the help of one of Armagh's former enemies, Kerry great Kieran Donaghy, who joined their backroom team in late 2020.
"We have Kieran Donaghy, Ciaran McKeever and Ciaran McKinney. It seems to be the four Ciarans. It's a bit of craic when they're giving out to us.
"The reason I went after Kieran (Donaghy) was Kieran made a career out of bringing other people into the game and I just think that's something we were still missing in Armagh.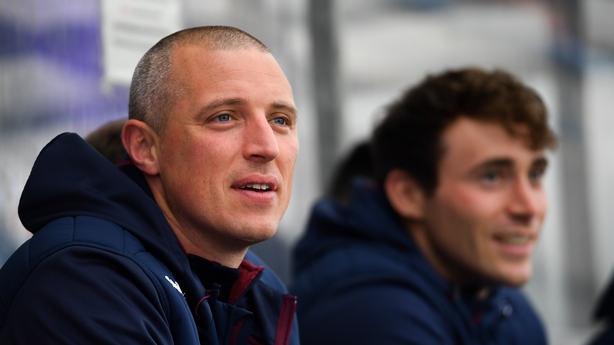 "It's sometimes hard to explain to people. Sometimes, I think you can have too many good forwards. You need people to make them tick, a bit like Kilkenny does for Dublin, like Kieran would have done for Kerry, things like that. I just thought Kieran would have that type of background in his basketball too."
McGeeney stressed that Donaghy has the personal qualities to make him a top coach.
"Kieran is a very gregarious type of character anyway. He is good fun. They (the players) find it hard to stop laughing at me all the time... It's good to have somebody else in with a sense of humour.
"I don't think it's so much where people come from. I also think the fact that although playing underage with Kerry, that he got in through the Underdogs system, he has a great humility about him as well.
Kieran has got everything but there is a great humility about him too, and a great humility about the way he does things
"He has loads of All-Irelands in the back pockets, All-Stars and things like that, International Rules. He has got everything but there is a great humility about him too, and a great humility about the way he does things.
"I don't really think it makes a difference where you are from. Your characteristics you bring to it will definitely add a different dimension. I think the three Ciarans all have their own character, but Kieran's pathway has definitely given him all the attributes to be a great coach."
Since the Allianz Football League returned to a four-tier format in 2008, Armagh, one of the most formidable sides of the noughties, have spent just two campaigns in Division 1, back in 2011 and 2012.
A three-point loss in Ballybofey on the final day of the 2012 season condemned them to relegation from the top tier and they haven't been back since.
They've timed their return for a truncated Division 1 season, with the pandemic having seen all four division bisected along north-south lines.
"Well, I say that this side of the games. Maybe if you'd have asked me after the games (against Kerry and Dublin), it would have been a different sort of reply. It's probably a wee bit incestuous. We have Monaghan, Tyrone, Donegal and ourselves.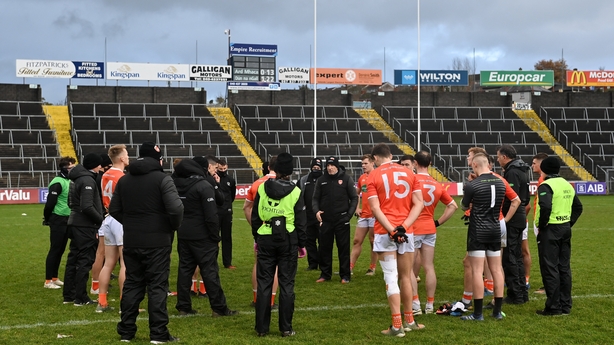 "It would have been nice to travel around and see some of the other teams but listen, we're all in the same boat as I said. There's no point in giving out or complaining. You can see why they do these things but again, it is what it is.
"It's taken us six years to bounce up there. I know in people's world, that's a long time - but it's not to try and get a team that can stay there. We would see it as paramount because in the past when the pressure has come on, we haven't responded the way we would like.
"Having those types of games, when there's pressure coming on all the time, it's something we badly need, in terms of being able to react well to it. I think we've got big players and a good squad but it's like everything else - you have to learn to win these battles if you're going to win wars. We've failed in a couple of those. So being in the first division is going to be paramount to the development of this particular squad."
McGeeney was reminded that next year sees the 20th anniversary of Armagh's All-Ireland victory. He says he doesn't think about it that much though the upcoming milestone sparked some sobering realisations.
"I've fellas I'm working with now that weren't even born then. It's funny at the start when you started using examples of different players (from that era) they could look at - and you know they're looking at you going, 'Who the f**k is he?' You know you're definitely getting old.
"The likes of Ross (McQuillan) and (Aidan) Forkers, all of them, I played with their Dads. Even saying that sentence, 'I played with your Dad' just makes you feel old.
"When you're looking out through your own eyes, you still see the world the same way you did 25 years ago. But the ones who are looking back at you just see someone who's old and grey and maybe full of shit!"
The Armagh manager had an operation at the beginning of the lockdown, which took his mind away from other matters, needing to get his "shoulder reconstructed" after "years of self abuse and self harm I suppose... I got caught with a kimura (I think) then at the end of it. That was a couple of years ago.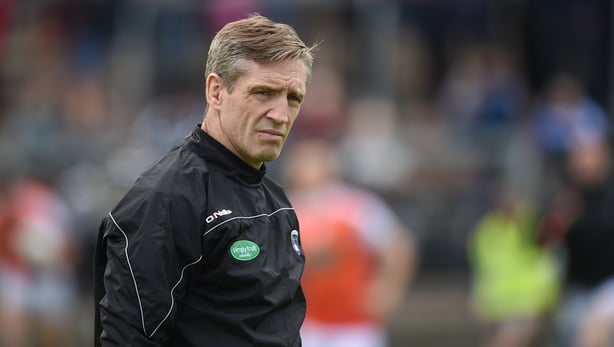 "I fell on it at training and a whole lot of different things, it was just years of taking hits and bangs and knocks and eventually it was… when I went in for the referral, some of the things were just hanging on by threads. They said they'd take them off and reattach them and that sort of stuff. It's just called getting old!"
Reflecting on the most recent round of pandemic restrictions, McGeeney wasn't too forthcoming with his thoughts on GAA losing its elite status for the early months of 2021, though he hinted that he drew some conclusions from reading acres of coverage on soccer and rugby.
"I suppose one thing the pandemic has shown us is we all have opinions and maybe one of the sad things about that is we're all dressing our opinions up as facts. The answer is I don't know. I have my own strong opinions about whether we're at the same level as other sports or not, but that's just an opinion. That's all it is.
"Over the last four months all we could read about was rugby and soccer, we've seen no Gaelic at all apart from a couple of stories here and there. It's been interesting to watch how other sports talk about themselves compared to us.
"There's probably a couple of headlines in that one, but I think I'll keep them to myself."
"Inter-county football makes its long awaited return on May 15th with the commencement of the Allianz Football League. This year marks the 29th year of Allianz' partnership with the GAA as sponsor of the Allianz Leagues, making it one of the longest-running sponsorships in Irish sport. In attendance at the Allianz Football League 2021 launch is Kieran McGeeney (Armagh) and Michael Quinlivan (Tipperary)."