It is little wonder that Corofin chairman Michael Ryder describes the current period in the club's history as a "beautiful time".
When he joined the committee in 1989, the club was casting a somewhat envious eye towards their neighbours in the county final.
Thirty-one years ago, Tuam cemented their place at the top of the county's club roll of honour with a 24th Frank Fox Memorial Trophy, with Annaghdown, fifth in the pecking order, settling for three county titles in the decade.
Corofin on the other hand, were very much in the shadow.
A first county title was achieved in 1932, but 14 years later, a cloud hung over their second success when a young star of the team – Joe Mannion – passed away a couple of days later as a result of an accidental collision early in the game.
From there the club drifted, dropping down to junior, linking up with Kilconly for a period, before matters improved once again, culminating with a third county title in 1977.
We just couldn't get the job done
County final and semi-final heart-break however quickly became par for the course.
"We went close," says Ryder, "but we just couldn't get the job done."
The club's trajectory since has been nothing short of incredible.
In the 30 years since he joined the committee, Ryder has seen the club crowned county champions on 18 occasions. By contrast, Tuam Stars and Annaghdown have added just one more title each in the same period.
Ten Connacht tiles and four All-Irelands highlight the national impact the club has made and now Kilcoo stand in the way of a history-making three-in-a-row.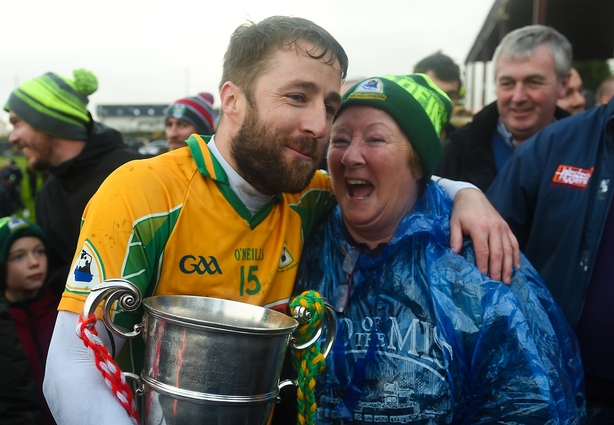 The respect is perhaps greatest from those in closest proximity having witnessed, to their cost, the fruits of Corofin's labour.
"You'd have to admire them for the position they are in," says Annaghdown club secretary Gerry Coen.
"Some people ask, what is Corofin's secret? It's their coaching structure. We won three senior titles in the 1980s, and the rivalry would have been pretty even, you wouldn't fear playing them.
The senior team isn't the secret, it's the underage
"But they came along and put an underage structure in place and Frank Morris has done Trojan work over the years. All their underage teams play in a similar manner to their adult team. The senior team isn't the secret, it's the underage."
While a range of coaches have contributed to Corofin's rise, Morris' imprint is perhaps the most visible after taking an underage coaching role; the set-up suddenly had more structure, skills were prioritised and they were working with kids at a younger age than some other clubs.
In 1992 Paul McGettigan took over the minors. Having only ever won a single county title at that age grade previously, he led them to nine county titles in a row. In 1994, current senior stalwart Kieran Fitzgerald was part of a All-Ireland Féile winning side.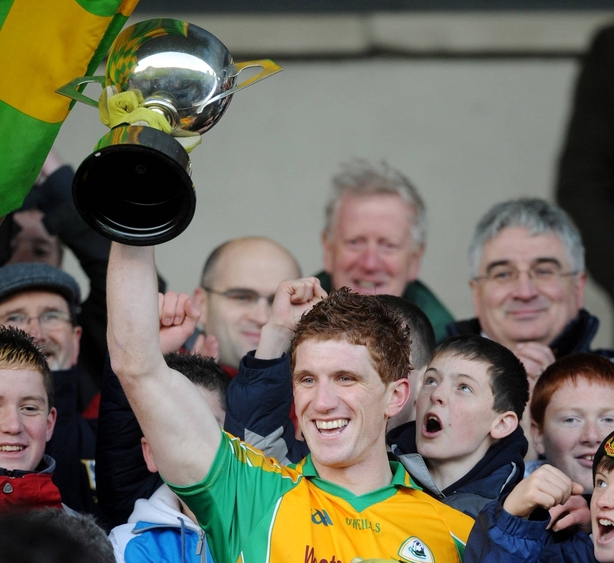 The 39-year-old is the proud owner of 14 county medals and is bidding for a fifth All-Ireland club title. Only Crossmaglen (6) and Nemo Rangers (7) have won the Andy Merrigan Cup more than the stylish defender.
"Paul was a great influence on those minors obviously, but when they came to him they had been coached under Frank before that. All of today's senior panel have honed their skills, at one time or another, under Frank," says Ryder.
"Even if he isn't the manager, he watches teams to make sure they are doing the right things, making sure they are catching the ball right, not keeping it too far from their body. He still loves it. He's an unbelievable man."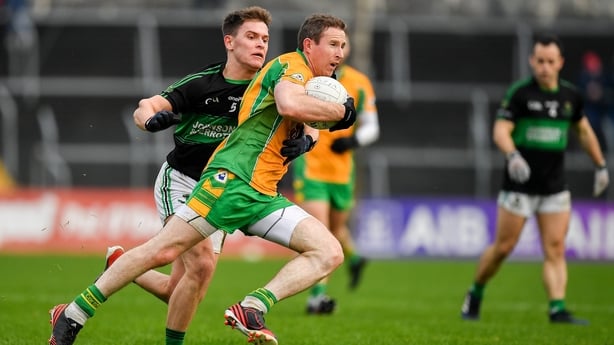 That well of minor success has run a little dry in terms of medals, but the presence of the 2012 vintage, the last Corofin side to win at that age grade, is keenly felt. Six started against Nemo Rangers earlier this month, and a seventh, Dylan Wall, was introduced off the bench.
"That's an incredible retention rate," admits Galway's 1998 All-Ireland winning captain Ray Silke.
"It will be interesting to see who fills the shoes when some of the 'golden generation' players decide to go."
Two-time All Star Ja Fallon experienced battles against his neighbours during his playing career – Tuam and Corofin broke even from their 1994 and 1995 county final duels – but the intervening years have seen the clubs move in opposite directions.
"That was the end of our great team and Corofin have really had a stranglehold since then," he says. "They are a fantastic club and the way the players hold themselves is second to none."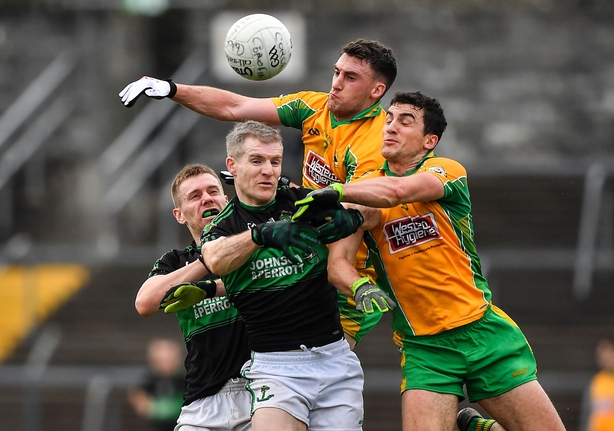 Tuam pushed the holders as close as anyone this season, taking the county final to a replay, but over the years, the men clad in saffron and green have more often than not come out the right side of any close encounters.
Three years ago, a Damien Comer-inspired Annaghdown came within a whisker of causing ripples in Galway.
For 50 minutes, the holders appeared jaded and somewhat disorganised, their title defence looking set to end at the semi-final stage. Everything was thrown at the champions and still they stood tallest.
"It's not alone physical fitness, you have to be very alert, the entire panel and sideline," adds the Annaghdown secretary Coen.
"Even if we had beaten them [in 2017], Mountbellew would have won the county final because we had given our all in that game. It would have been a hard recovery."
A year later, Mountbellew fell in the final replay, the same fate which befell Tuam two months ago, Gary Sice rescuing a draw from the jaws of defeat the first day with two late pressure frees.
For some observers, Corofin's weakness was one which has dogged Mayo on occasions, that deficiencies up front had to be made up by dynamic defenders willing to attack.
It was a stick used to beat them with when they came up short at the business end of the season, but those criticisms have died away given the variety in attack manager Kevin O'Brien is now able to call upon.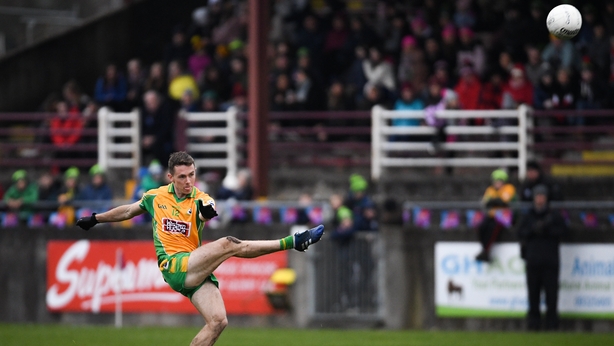 The graft and tracking back from captain Michéal Lundy, Gary Sice's vision and scoring efficiency, the distribution and selflessness of Ian Burke, the accuracy of Jason Leonard (above) and the finishing and poaching ability of the Farraghers, Martin and Michael, has made them a cut above all challengers for the guts of three years.
"The danger can come from anywhere," says Alan Burke, who hung up his boots after clinching back-to-back All-Irelands last St Patrick's Day.
"They haven't set the world alight this year, they have played within themselves, but when they get to Croke Park they seem to thrive."
A sentiment that Galway legend Fallon readily concurs with.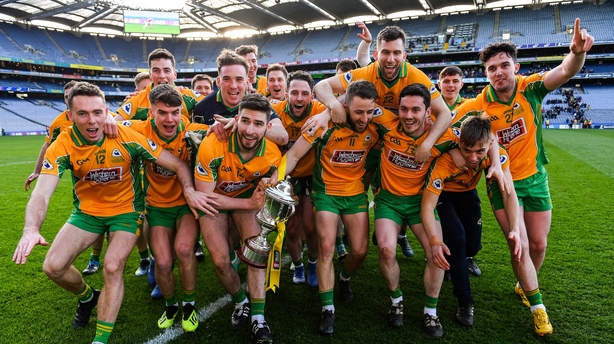 He took over Tuam in 2017, memories of past glories getting hazier with each passing year. Avoiding relegation to the intermediate grade was how Fallon's tenure concluded, and he watched on as Stars went within a whisker of ending a 25-year wait for a county title only for the holders to take care of business at the second time of asking.
"Corofin are tailor made for Croke Park, they are flying fit and they have the football. They are like Kerry of old, they go for the jugular straight away, and if they get you, it's lights out."
Nemo Rangers can testify to a fast start, victims of an outstanding first-minute goal that showcased everything that has served Corofin so well in recent years; a commitment to attack, kick-passing accuracy, movement and taking the correct options in attack.
Micheál Lundy scores within a minute for @CorofinGAA !! pic.twitter.com/6l3m1H5B4y

— The GAA (@officialgaa) January 4, 2020
After 33 seconds, the game already appeared beyond the decorated Cork champions.
Kilcoo will need little reminding of how Crokes were similarly put to the sword in last year's showpiece with an exhibition of attacking thrust; skills and decision making honed from day one in club colours.
A second top class goal for Corofin! Gary Sice the scorer!! pic.twitter.com/fUoLvPJyfF

— The GAA (@officialgaa) March 17, 2019
The defence however remains the cornerstone. Since conceding first time out against Tuam, Corofin have given up an average of just four points from play in their subsequent outings.
Vital to this rearguard showing is the presence of Ronan Steede and Daithi Burke offering protection around the middle.
While Steede has chipped in with scores along the way, including 1-01 against Salthill in the county semi-final, the Galway hurler plays a more disciplined role, providing for those ahead of him and acting as a valuable outlet from defence.
It was English novelist George Eliot who stated that great things are not done by impulse, but by a series of small things brought together, and Corofin are the embodiment of that.
The underage coaching structure was the vital foundation they required to improve, but there are many variables. It is a football only environment, and as Silke stresses, whose only underage medal came with Sylane hurlers, success breeds success.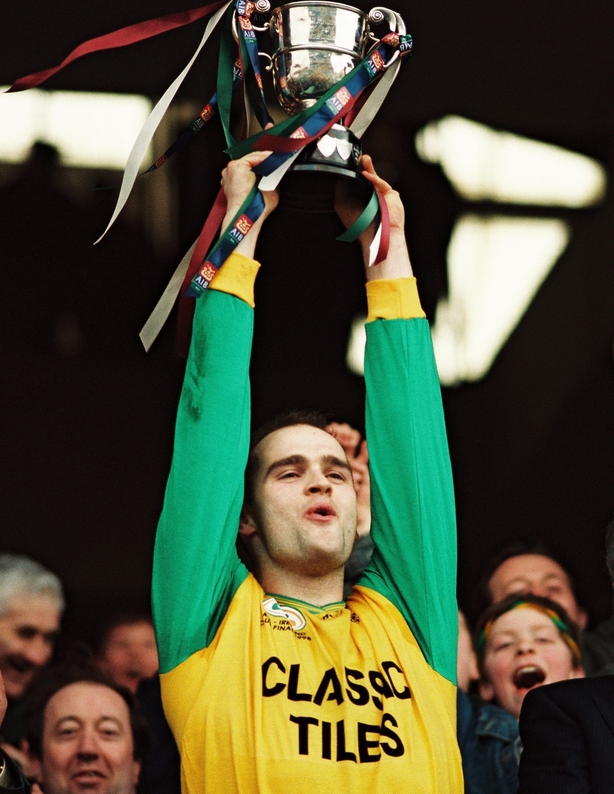 Only the Silke brothers Cathal, Liam and Darragh, plus Ian Burke, are based in Dublin.
"I know from my own experience that trying to get past players involved is hard," says Fallon. "They tend to go away from it, it's often only when their kids come into the system they get involved again, and at that stage, it is often too late."
And there is the bond that has been fostered. The 2012 minor contingent that backbone the team have grown up playing together.
"They are great friends," says Silke. "They play cards together, socialise together, go on trips together. I think they went to New York last year. There is a real strong bond in that set-up. I'd always say you are much better friends with the lads you win with rather than the ones you lose with.
"They are playing with smiles on their faces."
All focus is on Kilcoo and Mickey Moran's latest attempt to foil the Galway men. In 2015 Slaughtneil were 10 points off the pace in the decider, and how the Down club react to their first final remains to be seen.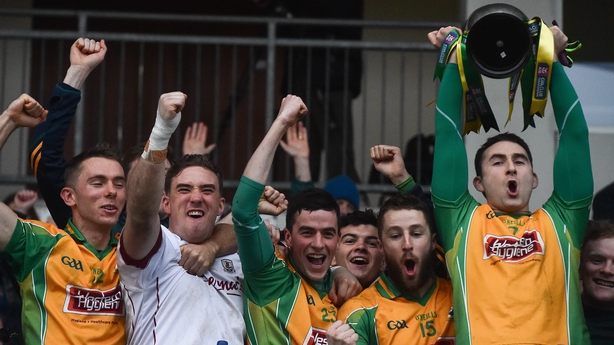 It could also be a swansong for some of Corofin's most loyal servants. Twelve months ago Burke knew in advance he would be bowing out after final regardless the result, with work and family commitments becoming the priority.
Does he expect anyone to follow suit this time around?
"It's hard to say. They will know themselves what they want to do.
"I imagine they have made up their minds, but they will keep that to themselves. It's hard to say."
Burke has kept some level of distance from his former team-mates as they gear up for their shot at history, but the day job at Burke's Bus will draw him closer.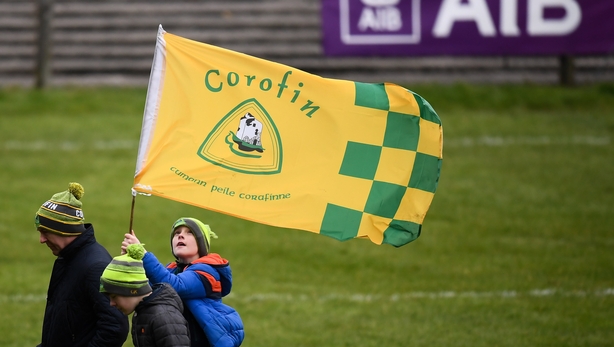 It's likely his uncle will drive the team bus, but Alan will be at the wheel for either the second team bus or for the supporters descending on Dublin.
And as for what pain the men from Down can inflict, Burke casts his mind back to 2005. Fifteen years ago, he captained a Galway Under-21 team from corner-back to All-Ireland success as Michael Meehan and Sean Armstrong terrorised Down's defence, the 'terrible twins' plundering all but two points of Galway's 6-05 tally.
The third top scorer from play that day was Conor Laverty, Kilcoo's joint-captain on Sunday. The evergreen Gary Sice was part of a Galway half-back line that struggled to get to grips with the lethal attacker.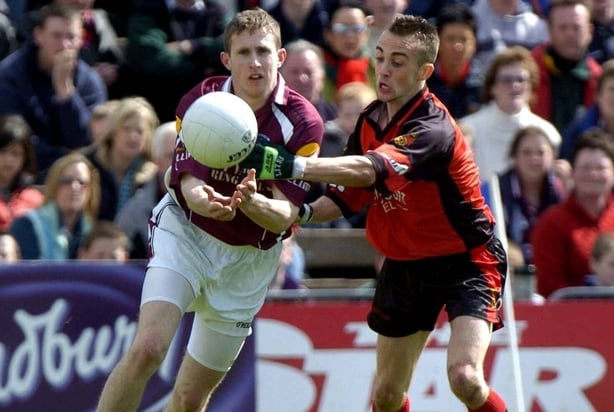 "Those two lads crossed paths back in 2005 and here we are in 2020. I remember Conor because he scored 1-02 and was almost unmarkable... I don't think Gary was on him though!"
Fallon argues that the gap in Galway is narrowing, while Silke admits that the team has looked more flat than in other seasons, with tiredness perhaps preventing them from reaching the dizzying high standards they have set.
"It's hard to keep it going for 36 months," he says, while still backing his team to maintain their unbeaten track record in All-Ireland finals.
"These are unbelievable times."
Regardless of what happens on Jones Road on Sunday, the men from Galway have elevated Corofin to a level even the staunchest supporter could not have predicted.
"We are very lucky and blessed," adds proud chairman Ryder. "This is our fourth All-Ireland final in six years. These are unbelievable times.
"There is a lot of work involved, but we are enjoying it because nothing lasts forever. We are going through a beautiful time."
Follow the All-Ireland club finals with our live blog on RTÉ.ie and RTÉ News Now from 2pm and listen live on RTÉ Radio 1. Watch highlights on RTÉ 2 and the RTÉ Player from 11.10pm.