And so the quest goes on. 1951 and all that. That year still has a resonance with Mayo football supporters - the last time that Sam Maguire entered the borders of the Connacht county.
Journalist Keith Duggan wrote wonderfully about Mayo's quest in 'House of Pain' - a period of near-glory and ultimate despair.
Next Sunday at Croke Park, Mayo stand 70 minutes away from making it an eighth All-Ireland final appearance since 1989. Dublin are the opposition. It's a pairing that has given us no shortage of drama in recent seasons. This upcoming renewal promises to be another blockbuster in light of the many talented players on view.
For Mayo captain Keith Higgins, the prospect of facing the Dubs for third time in four seasons is an occasion to savour.
"Playing Dublin in front of 80,000 is as big as it gets"
Speaking to RTÉ Sport, he said: "Playing Dublin in front of 80,000 is as big as it gets. You think of that game and you get that adrenaline rush. It's something to look forward to and embrace and it's where every player wants to play. We're lucky we're in that position now.
"We've played Dublin a good few times in the last few years between league and championship. There is a rivalry developing, but it's a healthy one and it brings out the best in both teams.
"People will say that Dublin had an easy path to get this far, but they are a quality side. For both teams, it's an All-Ireland semi-final at Croke Park and it's big stakes."  
When asked what Dublin player he would like to see in the Mayo ranks, Higgins singled out one Diarmuid Connolly.
"The way Diarmuid is going in the last year to 18 months, he has to be the standout player that any county would want," he said.
"He has everything, he can do anything with the ball and is very good at tracking back. He is the obvious choice."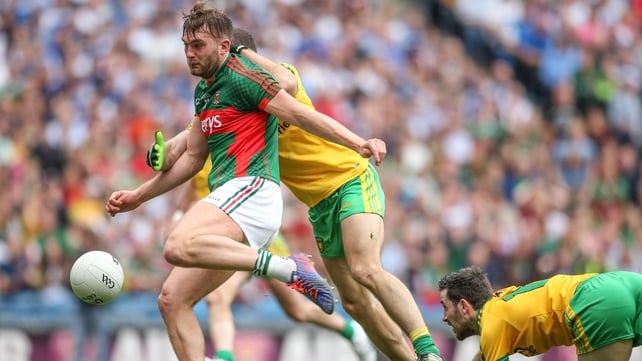 Aidan O'Shea's deployment at full-forward has worked well for the westerners so far in this championship.
There is no doubt that the Breaffy player will be used as the go-to man at the edge of the square on Sunday, but Higgins is keen to stress that Mayo will have to "mix it up" if they are to reap a real dividend against the Dubs.
"If we rely on bombing a long ball into Aido, Dublin are smart enough and good enough to snuff that out," he added.
"You can't be relying on one option. The challenge for us is to try to mix it up at times. The long ball is there for us and we're going to use it. The days of having one way of playing are long gone now."
"For all of us, management and players, the ultimate goal is still the same"
In further emphasising his point, the 2014 All Star made reference to the two goals scored in the quarter-final win over Donegal.
He said: "I thought we mixed it well against Donegal. The first goal came from putting it in long to Aido and the second saw Lee [Keegan] coming through the middle. You can't therefore be predictable against a team like Dublin."  
This year saw Pat Holmes and Noel Connelly take charge of the Mayo seniors and Higgins feels the duo have brought something different to the set-up as the county strives to land that elusive All-Ireland title.  
Higgins said: "I think they've got lads out of their comfort zone a bit. With James [Horan[ there this last few years we were used to his set-up and style of doing things. The new management came in and they changed things a small bit. They have their own way of doing things and this keeps lads thinking and on their toes.
"For all of us, management and players, the ultimate goal is still the same. We're in an All-Ireland semi-final again, fifth time in five years, and that's a great position to be in."
Higgins also gave a brief insight into what it's like in the Mayo dressing room prior to big games.
"The days of roaring and shouting seem to be gone," he revealed.
"It's all about laying down the key principles about what we want to do and reminding lads of their roles.  There's a lot of leaders in that dressing room and a lot of lads who are able to talk. Reinforcing what jobs have to be done out on the pitch."