Cork 4-11 Donegal 0-19
Cork are through to the Allianz Football League final after being Donegal 4-11 to 0-19 in Croke Park.
Donegal went four ahead with four Michael Murphy points and three from Paddy McBrearty, but a Tom Clancy goal sent Cork in level at the break at 1-08 to 0-11.
Colm O'Neill (2) and Brian Hurley added second-half goals as the Rebels took control, and Murphy's eight points tally was not enough to rescue the Ulster men. 
Both sides implemented their tried and tested defensive systems, but this semi-final lacked intensity, and both sides found ways to create and execute scoring chances while confronted by lines of defenders.
Donegal had three points on the board inside the opening five minutes, Anthony Thompson, Michael Murphy, with the assistance of Hawk-Eye technology, and Paddy McBrearty all on target.
Cork went level through Fintan Goold in the seventh minute, but needed a smart save from Ken O'Halloran to deny Colm McFadden, who took Ryan McHugh's return pass to get his shot away.
Odhran MacNiallais and youngster Hugh McFadden were getting plenty of ball around the middle, helping the Ulster men open up a four points lead, McBrearty and Murphy on target again, before MacNiallais swept over an eye-catching score.
But Donegal's rigid system, with attackers dropping back to add layers to the defensive blanket, back-fired, when defenders Conor Dorman and Tom Clancy found space to push forward for scores.
Dorman landed a point, and in the 18th minute, Clancy accepted Colm O'Neill's pass to fire home a levelling goal.
Donegal responded with another volley of scores, including a Murphy gem, but those were cancelled out by a Cork flourish.
Hawk-Eye was called into action again to confirm Goold's third point, before Colm O'Driscoll equalised on the half-hour.
O'Neill had the sides level for the fifth time in stoppage time, sending the sides in tied at 1-08 to 0-11 at the interval.
Cork struck two goals in the opening five minutes of the second half to take a grip on the game, and never looked like losing once Brian Hurley collected Eoin Cadogan's long delivery to smash the ball to the roof of the net on 40 minutes
Two minutes earlier, O'Neill had punched home the first of his two goals, reacting quickest when John O'Rourke's effort dropped back off a post.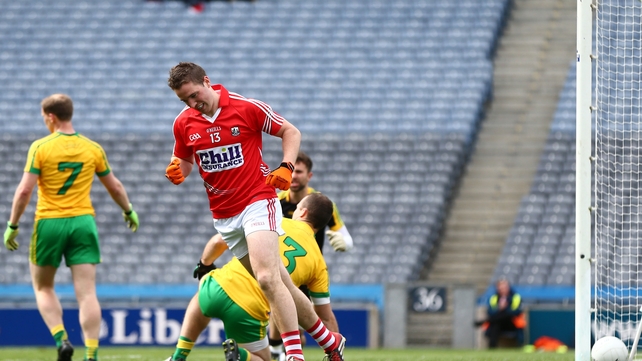 Now seven points behind, Donegal needed to step up the work-rate and intensity, but it just didn't happen, and while they did turn over possession on a number of occasions, they failed to capitalise, but McBrearty did have a goal chance well saved by Ken O'Halloran.
Murphy swept over a couple of scores, and McFadden landed a fine effort as they closed the gap to three points.
But Cork were able to find gaping holes in a normally well-organised rearguard formation, and punished yet again in the 57th minute when Hurley broke away on the left.
He had options, but chose the right one, picking out O'Neill, who finished low and accurately to the net past Michael Boyle.
Cork were afforded a glut of scoring chances, and their winning margin would have been significantly greater had they not shot eight second half wides.  
Donegal finished with a modest flourish, with McBrearty kicking his fourth point and Murphy bringing his tally to eight. 
Cork: K O'Halloran, Tom Clancy (1-00), M Shields (0-01), J Loughrey, C Dorman (0-01), Brian O'Driscoll Tomas Clancy, E Cadogan, F Goold (0-04), C O'Driscoll (0-01), J O'Rourke (0-01), K O'Driscoll, C O'Neill (2-02, 0-1f), M Collins, B Hurley (1-01).
Subs: P Kerrigan for Shields, D Goulding for K O'Driscoll, Barry O'Driscoll for Brian O'Driscoll, J Hayes for Hurley, D Og Hodnett for O'Rourke
Donegal: M Boyle, P McGrath, N McGee, E McGee, F McGlynn, K Lacey (0-01), A Thompson (0-01), O MacNiallais (0-01), H McFadden, E McHugh, M McElhinney (0-02), R McHugh, P McBrearty (0-04, 1f), M Murphy (0-08, 3f, 2 '45), C McFadden (0-02).
Subs: E Doherty for Thompson, M O'Reilly for E McHugh, C Toye for McGrath, S Griffin for C McFadden, D McLaughlin for H McFadden
Referee: M Duffy (Sligo).