By Martin Carney
Many expected that Mayo and Donegal would be locking horns in an All-Ireland semi-final, but their meeting a round earlier doesn't lessen the sense of anticipation, with the men from the west aiming to make amends for last September.
Their respective journeys haven't gone altogether as planned. In Donegal's case, after hitting the high notes against Tyrone, they appeared sluggish in disposing of Down before they crashed under the force of the Monaghan juggernaut. Against Laois last weekend they took their first steps towards footballing rehab.
Mayo expected, but didn't get, a severe examination of their credentials in Connacht. Galway were beaten by half time - as were Roscommon two weeks later in McHale Park.
The London challenge was honest but sub-standard allowing Mayo waltz off with a bloodless provincial title.
This Sunday's top billing will be an edgy affair. This year Donegal have seemed flat and unable to summon the intense levels that were an integral part of their performances in 2012.
Injuries haven't helped. Karl Lacey's absence has left an unplugged gap in their central defensive area and robbed Donegal of his leadership qualities that are so vital. Monaghan exploited this to great effect in the Ulster final and most of their rewards came from attacking the middle of the Donegal defence. Lacey, however, is deemed fit enough to start on Sunday.
Neil Gallagher's introduction broke the Farney's midfield stranglehold and brought about a degree of stability. Tir Conaill fans will hope that his presence and influence will negate the threat of the O'Shea brothers as well as provide good ball to his inside line.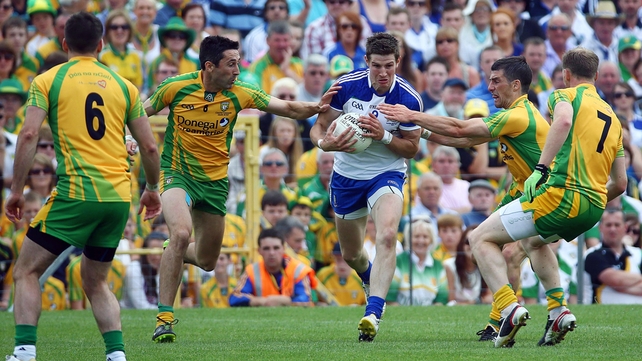 The game time both have managed to get over the past couple of weekends will probably guarantee that they start on Sunday.
One man who will definitely not start is Mark Mc Hugh and there is no doubt that his loss will be keenly felt. Of all the Donegal players he seems to have the greatest understanding as to how their defensive system works and what his role is in ensuring its smooth implementation.
How often have we seen him hoover breaks in the McGee sector of the defence and initiate deadly counterattacks. Younger brother Ryan may be handed his role and though a better footballer in many ways I doubt if he is ready just now to fill his brother's boots.
There is a sense that a return to Headquarters will provide Donegal with the spark that up to now has been absent. Murphy, McFadden and McBrearty thrived in its open spaces last year but only fleeting glimpses of their undoubted ability has been evident so far.
The task of neutralising this sector and curtailing the supply of ball there will have preoccupied James Horan in the last six days. Mayo cannot concede early scores if they hope to win. A similar start to that of last September would be disastrous.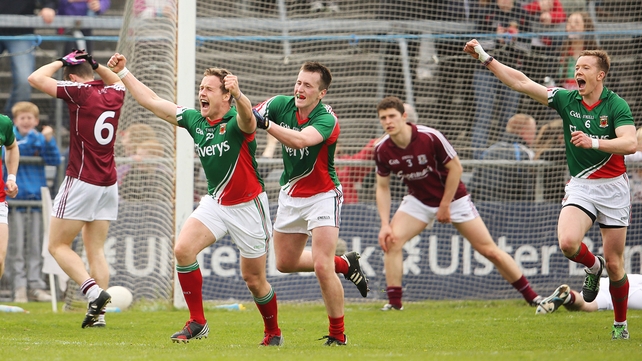 Since 9 March their defence has only conceded one goal and this has been due to the excellence of Ger Cafferkey and his defensive colleagues.
Their tackling and ball retention has improved and the return of Cillian O'Connor and Andy Moran has been a boost.
Mayo are primed and determined to overturn last September's result. Aidan O Shea has excelled and the squad appears to have greater substance and depth to that of Donegal's.
The absence of a real competitive outing may come back to bite but teams have long memories and the prospect of revenge is sweet. Mayo to succeed by a narrow margin. 
Mayo: Robert Hennelly, Tom Cunniffe, Ger Cafferkey, Keith Higgins, Lee Keegan, Donal Vaughan, Colm Boyle, Aidan O'Shea, Seamus O'Shea, Kevin McLoughlin, Richie Feeney, Alan Dillon, Cillian O'Connor, Alan Freeman, Andy Moran (capt)
Donegal: Paul Durcan, Paddy McGrath, Neill McGee, Eamon McGee, Frank McGlynn, Karl Lacey, Anthony Thompson, Neil Gallagher, Rory Kavanagh, Ryan Bradley, Ryan McHugh, David Walsh, Paddy McBrearty, Michael Murphy, Colm McFadden.