By Martin Carney
Today sees the completion of Round 7 of the National Football League with games of real importance in all of the four divisions.
Issues of promotion and relegation are still to be finalised with only Dublin, Tyrone and Kildare in Division 1, Westmeath and Longford in Division 2, and Wicklow in Division 3 certain of the fate that awaits them.
Every other team, with the exception of the bottom four in Division 4, has something to battle for: survival for some and promotion for others.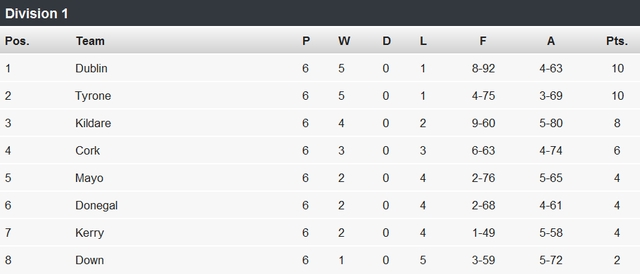 I sometimes think that the Football League is the unloved pet of the GAA.
We tolerate it, put it out in awful weather, show it much less respect than its beloved brother 'The Championship', and even when it offers quality, we dismiss its worth with unfavourable comment and comparison with what will follow in summer.
Nevertheless, games in all of the four divisions have been, for the most part, well contested. Levels of preparation have been very thorough and gone are the days when teams in the League were half-fit and half-interested.
It is to the credit of players and managements, allied to the growing input of sports science that all counties have repeatedly raised their standards.
In the recent game between Mayo and Kildare, I was impressed by the mobility, speed and stamina of both teams so early in the year. Mikey Sheehy, who knows a thing or two about standards, expressed his admiration and amazement as to what he has seen on his return to the dugout having spent some time watching the game from a remove.
The idea of lads "wintering well", which was a feature for players of his era is now a thing of distant memory, and players who think they can indulge unwisely will be found out very quickly.
One team that hopes it won't be found wanting is Kerry. The trip to Omagh for their final outing against Tyrone will require all their experience and character if they are to garner anything from the encounter.
On the plus side, they have steadied a listing ship with wins in their last two outings against Down and Cork. Eamonn Fitzmaurice will be encouraged by the display of Mark Griffin at full-back against Cork, but it is the availability once again of Declan O Sullivan, Colm Cooper and Paul Galvin that will reassure Kerry folk.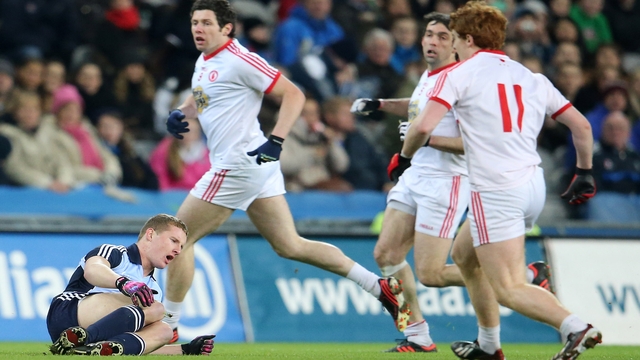 Their Easter training stint in Portugal will have had Championship in mind, but I'd hazard a guess that their visit to the land of the Red Hand will have been mentioned once or twice! I'd imagine that Mickey Harte is relishing the prospect of hosting them.
The last Sunday of May in Ballybofey is looming, yet the prospect of continuing to be a thorn in Kerry's side and condemning them to life in Division 2 next season has its attraction, I'm sure.
Whither Donegal? The All-Ireland crown appears to be weighing somewhat heavily on their shoulders over the last few weeks and I got the impression from watching their displays against Cork and Mayo that last year's edge and intensity are absent at the moment.
Their passing accuracy from both hand and foot is well below the standards they set themselves and they appear surprised at the levels of aggression that they have encountered in some of their games.
The visit of Dublin to Ballybofey presents them with a formidable challenge. Without doubt the form team in the Division, Dublin arrive in rude health having already secured their place in the semi-finals and to date they have started 28 different players.
Jim Gavin will probably use this occasion as his last opportunity to experiment. I expect Michael Darragh MacAuley to start at midfield against the land of his father but who will partner him there is still uncertain.
I'd say it's the make up of the spine of the team that exercises Jim Gavin's mind most of all.
He is spoiled for choice elsewhere, with many dynamic and exciting youngsters augmenting the experienced core at his disposal. In the circumstances Donegal's need is more urgent and I'd anticipate a home win.
"Kildare have franked their return to the top division with some excellent displays"
Kildare have franked their return to the top division with some excellent displays and at times their promising newcomers have eclipsed many of the more established starsin the team. Daniel Flynn, Niall Kelly, Paddy Brophy and Fionn Dowling collectively possess a chemistry that has added a freshness.
Flynn has size, pace and drive and Kelly is an outstanding orchestrator of forward play.
Kieran McGeeney will have a welcome selection headache later but at present his team should be too good for a disappointing Down outfit who remain defensively brittle and, in truth, have struggled to compensate for the loss of Marty Clarke.
The impending departure of three squad members, including regular player Paul McComiskey, will further erode the morale of the squad. I expect Kildare to prevail.
The game in Páirc Uí Chaoimh is a repeat of last year's League final when Cork had little trouble in disposing of Mayo.
Both teams would benefit from the extra outing that a League semi-final would provide. James Horan has still to decide where best to place Aidan O'Shea in order to maximise his worth.
In their win over Donegal, Mayo found the net for only the second time since their quarter-final win last summer over Down and the goal scoring drought has coincided with Andy Moran's absence since then.
A semi-final outing in my opinion would help their development, but a win I think is unlikely.
Cork are working hard on improving the defensive side of their game and an improvement in this area has assumed greater importance now that Colm O'Neill and Ciarán Sheahan are out for the foreseeable future.
They have won the last three Division 1 titles. How many can recall that fact? Whether these wins proved a blessing or a burden remains a topic for debate.