It's a big week for Ireland's vast army of Italophiles.
Not even the experience of Giovanni Trapattoni as Irish manager could kill this country's ardour for Italian football and its strangely intoxicating pleasures.
And now they have the chance to head off what many regard as the apocalypse.
Of course, they have Spain to get by first. But Spain played most of the Switzerland game with the air of men past their bed-time and only roused it after the dodgy sending off.
On the other side, the Danes are enjoying an emotional summer to remember and are playing with otherworldly exuberance since Christian Eriksen's cardiac arrest and subsequent survival. The portcullis will probably come down at Wembley though.
Naturally, the Irish media has played host to a couple of 'Why we should support England' and 'Why I support England now' articles, as it has done every second year since 1966 (1994 and a couple of other 'even years' excepted).
While the pandemic makes it slightly harder to test the temperature out there, this neighbourly spirit does not seem to have survived this deep into the competition. Out there in the beer gardens of Ireland, makeshift and otherwise, the sense of dread is mounting.
England failed so relentlessly, and so humiliatingly, for so long that people had blithely assumed that this trend would only continue, in much the same way that Fianna Fáil believed the Celtic Tiger couldn't possibly end.
But past performance is no guarantee of future results, as the English public is learning to its delight.
The loss to Iceland five years ago perhaps represented the final comic crescendo of that story. For connoisseurs of England tournament shambles, it was one of the great nights.
We can all remember Steve McClaren reassuring the masses that England only had to worry about "the big boy up front Sigurdsson." Former BBC DJ and one-time Gazza hanger-on, Danny Baker reacted to the match by calling the England players a "disgrace to working people" and attempted to get the hashtag #F**KENGLAND trending - without the asterisks, needless to say.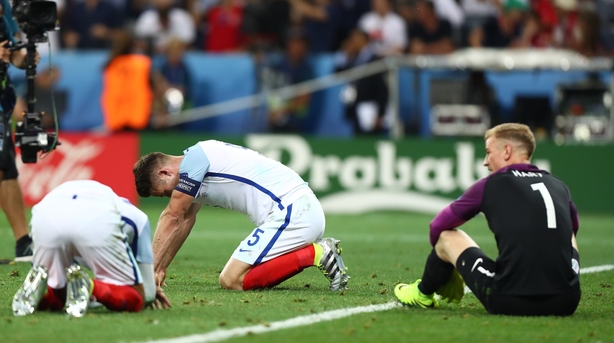 Maybe, in retrospect, Iceland was too much. In the midst of it, there was a queasy sense that we had feasted too much on England's pain.
Afterwards, the footballing gods clearly decided they'd suffered enough. England were left with no choice to embrace humility at that point, not a trait they'd ever been keen on.
There were still further moments of hilarity. Purists' bete noire - and former Limerick FC man - Big Sam was handed the job and despite amassing a 100% win record, he was sacked after one game following a Daily Telegraph sting in which he was caught wining and dining with fictitious Asian businessmen while coaching them in various irregularities.
Following that and just three months on from their worst football humiliation, the FA evidently decided to throw their hat at the whole thing and simply installed as manager the bright young chap who seemed to want it most.
In a less apathetic era, the red-tops might have ripped into Gareth Southgate's somewhat unprepossessing CV. The English football authorities would have felt obliged to scour the globe for a hot-shot. But at a time when every international break was greeted with an ostentatious show of social media led whining and cribbing, the FA probably felt they didn't have to bother.
And so it has come to this pass. After five years of studious and conscientious planning, Southgate has England on the cusp of glory.
Worst of all, both management and players are going to great lengths to maintain the run of themselves. All this suggests that, in the words of Pat Shortt's teacher character, they may "have the stuff to do it."
After England's last couple of goals against Ukraine, when the camera zoomed in on Southgate, he was chatting conspiratorially with his backroom staff, like primary school teachers talking Irish at the top of the classroom, not a flicker of triumphalism on his face.
The fans naturally haven't been so circumspect.
Already, we're seeing racehorses named after Southgate, Richard Madeley is going all Zonal Marking on Good Morning Britain, Alan Shearer is penning emotional odes to the manager, telling him he does not blame him one ounce - not one ounce, I tell you - for missing the decisive penalty in Euro 96. Out of consideration for those weak of stomach, I shall not hyper-link.
Rio Ferdinand is upping the ante on the bullishness with each passing game. He's on the brink of petitioning UEFA to simply dispense with the rest of the matches so that England can be declared winners and the party can commence.
The politicians are jostling to associate themselves with the nation's joy, even Priti Patel, which took a fair degree of neck, though that quality is not in short supply.
From a selfish point of view, an England win could be good for native broadcasters, what with so many people likely feeling the need to disable the UK channels on their telly.
It was when England won that penalty shootout against Colombia three years ago that it dawned on people that something was happening here. It wasn't even that they'd beaten the South Americans to reach the last-eight. Colombia, as was made plain throughout, weren't even good shakes, never mind great.
It was more witnessing the strange spectacle of England players happy after a penalty shootout as opposed to crying into their teammates' shoulders. For many fans here, their sense of serenity that England would always make a hames of major tournaments was disturbed. Suddenly all bets were off.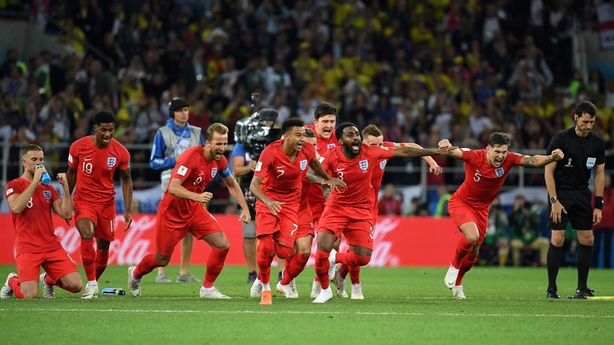 There again, Southgate's methodical thoroughness had shone through. Analysis had shown that penalty takers who took longer over their kicks were more successful so English players were urged to slow down.
In this competition, they've overcome their German hoodoo, albeit against a rather muddled and leaden German team, whose manager passed his sell-by date several years ago.
They haven't conceded a goal in aeons. Jordan Pickford, a social media punchbag when he plays for Everton, is a rock of solidity for England, behind their imposing defence.
It really feels like only the charismatic and glamourous Italians can do anything about it now.
John Foot, the author of Calcio, once said that "most of the time" over the past 50 years, Italy, contrary to popular belief, haven't been defensive - they have simply been "better at defending" than other teams. There is, he pointed out, a distinction between those two things.
That typifies the current Italian team, who've only conceded twice in 12 matches and repelled a Belgium side clotted with attacking talent. But you could hardly call them defensive, their glorious midfield and attack carving open Turkey, Switzerland and, in the first half, Belgium in three of their games.
Italy did Ireland a major favour four years ago by sending out the reserves in the final group game. According to Foot, the Italians are scandalised if a team tries hard in a game where they have nothing to play for, a tendency which came in handy for Martin O'Neill and co in Lille.
They've scalped England a few times in big tournaments and it'd be just like them, the magnificent party-pooping cynics, to do it again.
Save for the few 'mature' ones amongst us, the majority will be hoping Italy can do us a favour again.