Former world track champion Martyn Irvine has retired from the sport following a frustrating year trying to find his form.
In 2013, the Newtonards man made history by winning the scratch race gold medal at the world championships in Minsk, as well as securing silver in the individual pursuit.
And while Martyn claimed another sliver medal a year later, the 30-year-old has struggled to find his best form ahead of this summer's Olympic Games.
Speaking to RTÉ Sport, Martyn explained his reason for calling time on an illustrious career, which also included European, World Cup and Commonwealth Games medals: "I'm a bit older these days and I've had a few bumps and knocks and broken a few things. And the last year, anyone who follows cycling will know that I have been under-performing.
"Physically, I'm still there, I'm not any weaker and I can still do the job but honestly my head is just drifting off, and the way I used to race, it was tearing me apart and I don't like doing that anymore.
"So for the last six months, it's been creeping into my mind and I think I just bit the bullet and just made the decision, and I'm happy about it. I'm not scared stiff; it just feels right."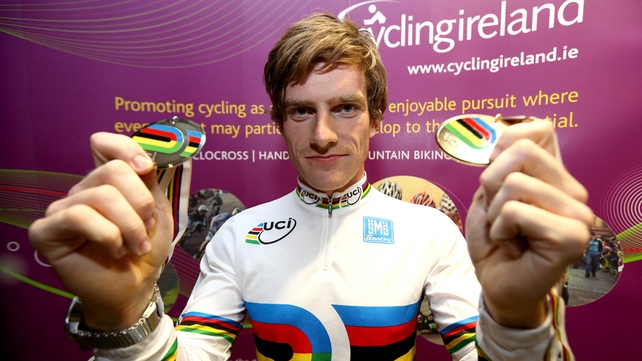 Irvine's loss of form meant that this year's Olympics were out of reach and the 30-year-old admitted that it was not a difficult decision to make.
"It's not really that hard when you're in my boots. If you're not in a top tier professional team or in an Olympics discipline, it's kind of a natural end."
The Newtownards native didn't take up competitive cycling until he was 19, but within a couple of years was competing at the highest level. The highlight, of course, when he became the first Irish male rider to win medal at a worlds since Harry Reynolds back in 1896.
"I came in kicking and screaming and it was fun when I think back," said Martyn. "Even in the races that I won, they weren't shiny wins, they were horrible bloodbath races. I always said they took a few years off my life and maybe my career.
"I have got three worlds medals, and obviously the world championships in 2013 was the one that capped it off, I could have stopped there and would have been happy. And I got a European bronze medal in the Olympic event that I was doing that year.
"So a lot of world cup medals, Euros medal and a few worlds medals so I am happy with what I have done."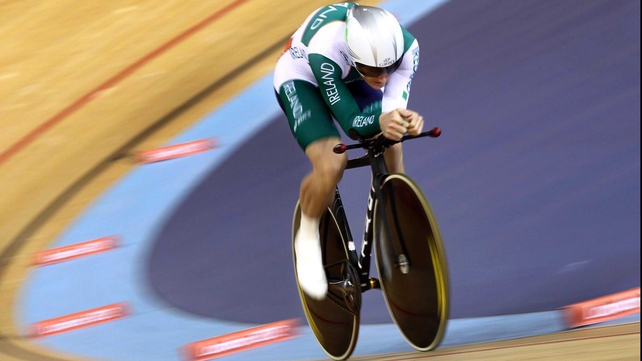 Irvine also released a new post on his personal blog this morning where he explained his reasons for calling time on his career.
"Well, I never actually thought this day would come," he said. "As I sit here here now typing this it just feels right. Don't get me wrong though, this decision I have not taken lightly.
"Something has just happened to me over the last 1-2 years and I can't really pin point it. I mean, I won a European medal six months after breaking my hip! It doesn't take a rocket scientist to work out that its a mental thing.
"However, its not that simple. I really miss racing, even now when I've barely stopped. It just feels like a natural end though. For the last year I've been racing and under performing across the board. Frustration has been setting in all year and I'm sick of just turning up to bike races. 
"I set my own bar by winning seven medals in a row. World Championship, European, World Cup and Commonwealth Games medals all hang up in my house somewhere. At the time, every single one of them was taken for granted. I never appreciated how cool it was to be winning medals. Since then I've just stopped winning and stopped enjoying it.
"Cycling has changed my life over the last decade. I stumbled upon the sport through a series of coincidences that you could never have predicted. I just kept rolling with the punches and it took me from a little town in Northern Ireland to every corner of the Globe and back to a little town in the Republic of Ireland.
"Hopefully this isn't the last time you hear from me and just to let you know I'm not stopping cycling, I'm just stopping putting cycling first in my life. I'm retiring from International competition. I was trying my best to not use the word "retiring" but it's probably what's happening to me."