Maria Cooney played through pain to help Sarsfields claim the Galway camogie title last month - and the sacrifice took a toll.
She may not be fit enough to play a part in Saturday's AIB All-Ireland Senior Club Camogie final semi-final against St Vincent's of Dublin, but resilience is a key part of Cooney's makeup.
The Athenry-based secondary school teacher says the Covid-19 pandemic threw up professional and personal challenges that showed her a different side other people - and a side to herself she wasn't fully in tune with.
"It does show you how much resilience you would have as a person," Cooney told RTÉ Sport.
"I can see it in the students, and I would see it in myself as well that I'm actually a lot more resilient than I thought it would be.
"Covid had huge challenges. It was a massive curveball, nobody knew what to expect or where we were going to go. It is great that we're all able to get back together, the championships are going on like they would have before.
"A resilience was built up and we're kind of reaping the rewards of it. You know when you put your head down and you have to do something that you can do it."
Mental resilience is one thing, physical resilience is another. Cooney showed tremendous heart to twice play through an ankle injury but the toll those exertions took caught up on her.
"In our county semi-final against Athenry I did damage to the inside and outside ligaments of my ankle," she added.
"I played in the county final and that probably set me back a good bit - anything I had in it, I used up the reserves in that game.
"The last couple of weeks for me have been kind of slow. I've been trying to do a lot of rehab, focusing on trying to get back on the pitch. It has been tough.
"I'm hoping I might be able to play some part in an All-Ireland semi-final but that's why you have a panel. We're lucky we have such depth in our panel that any one of those girls could step up."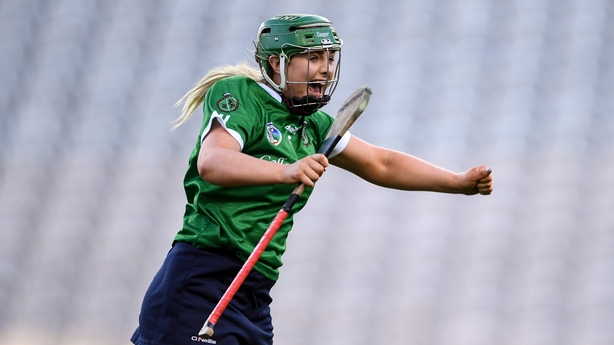 Sarsfields are the reigning All-Ireland champions. They are desperate to go all the way again but Cooney consistently highlighted just how tough it is to be the best in the land as standards rise across the board.
"We're back in an All-Ireland semi-final, which is absolutely amazing to be a part of that. You're never guaranteed to be there. Any time you are there you have to grab it with two hands and try to make the most of it.
"Each team is there to knock you off your pedestal and that can be done fairly quickly. We do have a hunger and a drive. We're here, there's a game to be won.
"Hopefully we can match the desire and the work rate that St Vincent's have shown in their last couple of game. They've set a standard that we have to try and beat.
"We know how much of a huge challenge we have ahead of us. We're going to have to give everything we can and hope that's enough."