All-Ireland champions Kilkenny unsurprisingly dominated the PwC 2022 Camogie All-Stars, taking eight spots, while full-forward Miriam Walsh was crowned Player of the Year at a ceremony in Croke Park this evening.
Kilkenny claimed their 15th All-Ireland crown in August, edging out Cork in the decider thanks to a late goal from substitute Sophie Dwyer.
The forward-line, in particular has a heavy black and amber bent, with Walsh, Julianne Malone, All-Ireland final Player of the Match Katie Nolan and regular free-taker Denise Gaule - the latter winning her fifth gong - being selected up front.
Further back, Aoife Norris in goals earned her first award, joined by another first-time winner Laura Murphy at half-back. Elsewhere in defence, Grace Walsh, at full-back, and Claire Phelan, at wing back, took home their third All-Stars.
The All-Ireland final runners-up took four spots in the team. Defenders Libby Coppinger and Saoirse McCarthy were selected, while indomitable midfielder Ashling Thompson also earned inclusion. Up front, Katriona Mackey, who hit 0-04 from play in the final was named at corner-forward.
Waterford, who reached an All-Ireland semi-final since 1959, were rewarded with two spots on the All-Star team, midfielder Lorraine Bray and centre-forward Beth Carton being honoured.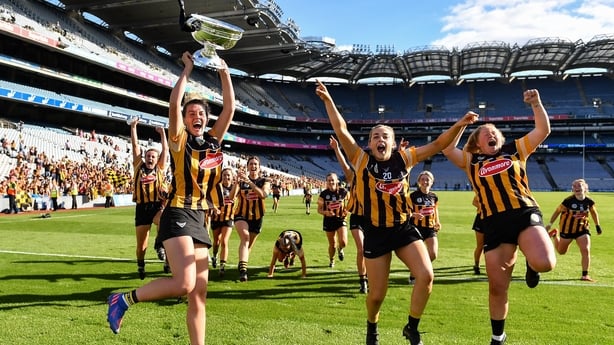 Full-forward Miriam Walsh, who hit 0-03 from play in the tense final, was named Senior Player of the Year.
2021 All-Ireland champions Galway, whose title defence ended with a semi-final defeat to Kilkenny, earned one All-Star, corner back Shauna Healy earning a place for the fourth successive year.
Lisa Casserly of Galway the recipient of the Intermediate POTY award, whilst Antrim's Dervla Cosgrove was chosen for the Premier Junior Player of the Year. All three were selected after voting by intercounty players through the GPA.
⭐️2022 PwC Camogie All-Stars ⭐️#PwCCamogieAllStars @PwCIreland pic.twitter.com/wMlPdD1fhD

— The Camogie Association (@OfficialCamogie) November 26, 2022
Victorious Kilkenny manager Brian Dowling was named PwC senior camogie manager of the year, having already guided the Cats to the title in 2020.
2022 PWC CAMOGIE ALL-STARS
1. Aoife Norris (Kilkenny)
2. Libby Coppinger (Cork)
3. Grace Walsh (Kilkenny)
4. Shauna Healy (Galway)
5. Laura Murphy (Kilkenny)
6. Claire Phelan (Kilkenny)
7. Saoirse McCarthy (Cork)
8. Ashling Thompson (Cork)
9. Lorraine Bray (Waterford)
10. Denise Gaule (Kilkenny)
11. Beth Carton (Waterford)
12. Julianne Malone (Kilkenny)
13. Katie Nolan (Kilkenny)
14. Miriam Walsh (Kilkenny)
15. Katriona Mackey (Cork)
PwC Soaring Stars 2022
1. Áine Graham (Antrim)
2. Ciara Hickey (Galway)
3. Ciara Donohue (Galway)
4. Ashling Moloney (Cork)
5. Katie Manning (Galway)
6. Lisa Casserly (Galway)
7. Gráinne McNicholl (Derry)
8. Jennifer Hughes (Galway)
9. Emma Laverty (Antrim)
10. Joanne Casey (Cork)
11. Katie Gilchrist (Galway)
12. Aoife Minogue (Meath)
13. Dervla Cosgrove (Antrim)
14. Niamh McPeake (Galway)
15. Lauren Homan (Cork)