When Kilkenny manager Brian Dowling assessed his squad ahead of the championship campaign, he could have been forgiven for wondering what was possible for the season ahead.
Davina Tobin and Collette Dormer had called time on their inter-county days, Meighan Farrell went off travelling while sisters Kellyann and Aoife Doyle were both struck down with cruciate injuries.
It forced some reshuffling – the versatile Grace Walsh slotted in seamlessly at full-back – while others such as Tiffanie and Steffi Fitzgerald, Laura Murphy and Michaela Kenneally stamped their mark on the first-team.
They end the league and championship unbeaten – the Cats missed out on a league final appearance by virtue of points difference – but it was a couple of the stalwarts that ensured the O'Duffy Cup is spending the winter on Noreside.
Miriam Walsh strengthened her claim to be crowned Player of the Year with another all-action display, while a player who has won that personal accolade on two occasions, Denise Gaule, capped a resilient display with a match-winning free.
Cork full-back Libby Coppinger was handed the task of keeping tabs on Walsh, but the Tullaroan woman was a constant menace as both a provider and a scorer. Her two first-half points under the Cusack Stand set the tone, but she was a focal point throughout.
She opened the scoring after the break and was fouled on a number of occasions, including for the winning score by Gaule.
"We always want to keep Miriam close to the goal because she's a goal threat all the time, but we felt we had to bring her out.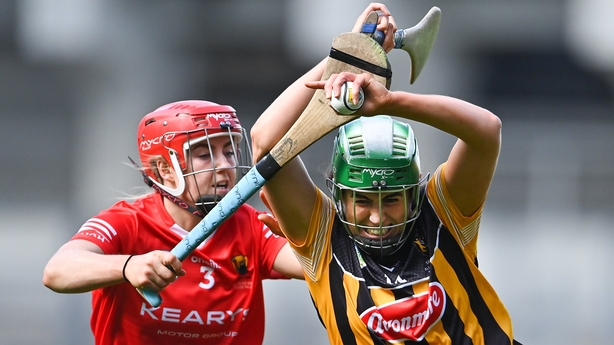 "I actually said, 'Look, she might win frees' and that's what she did.
"Miriam is in the form of her life this year. She's been unbelievable, she's been so consistent for us. Delighted for her."
The damage Walsh was causing in the full-forward line was replicated by Gaule further out.
The Building Services Engineer also finished with 0-03 to her name, including a a first-half brace to send the Cats into a strong early lead. Meabh Cahalane gamely stuck with the half-forward, but her high-fielding and pinpoint distribution had the entire Cork defence creaking.
Kilkenny fans will care little that her only successful free of the game was the one that mattered.
A sliced effort in both halves – including a 56th minute strike that seemed to suck energy from the team – didn't deter her for the decisive moment when called upon.
"I suppose Denise had a bad day the last day (against Galway in the semi-final), her confidence was a bit low on the frees, but she has been practicing a huge amount for the last two weeks.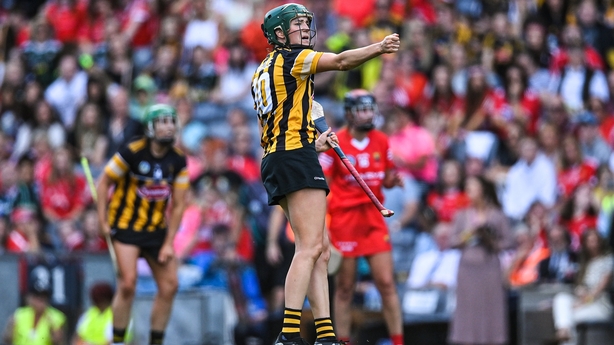 "Her first one went wide but it's amazing, she only got one free in the first half and it went wide, put her confidence down.
"She's a leader, has always been a leader for us. But the one thing she's done this year more than ever before is her work-rate. It's just unbelievable."
And on the backfoot Gaule was even more impressive according to team-mate and wing-back Laura Murphy.
"She was unbelievable. She might have missed a free or two but at one stage over on the right-hand side she got two blocks in a row. She just epitomises everything we believe in."