In the aftermath of Cork's comeback victory over Waterford in the Glen Dimplex All-Ireland semi-final, manager Matthew Twomey was asked for his thoughts on their sluggish start.
The Rebels took 25 minutes to register their first score of the afternoon with Waterford reeling off five points on the spin.
"You just couldn't comprehend it, I was stunned with us," he admitted afterwards.
The slow start had been discussed at length by management players, yet when Denise Gaule banged over two points in quick succession in the 14th minute of today's All-Ireland decider, Cork trailed by half a dozen points and in danger of being completely overrun.
A strong sense of déjà vu .
Cork's 20th minute goal, their first score of the contest, started a recovery that led to the sides being deadlocked at the break and after swapping the first 10 scores after the interval, it seemed Cork would push for home after engineering a two-point cushion.
Sophie Dwyer's goal however swung the momentum again before Denise Gaule decided the game with a 62-minute free.
Speaking after the match, Twomey just couldn't put his finger on why Cork chose the biggest two games of the year to give themselves such mountains to climb.
There is no logical reason because we thought it was a freak thing against Waterford
"In the 54th I looked up at the clock and we were two points up, and you are kind of saying, is this our day," he said.
"Fair play to Kilkenny they are an awesome team when they get into a position like that. We just find it very disappointing.
"I can't understand the start to go 20 minutes without scoring, there is no logical reason because we thought it was a freak thing against Waterford.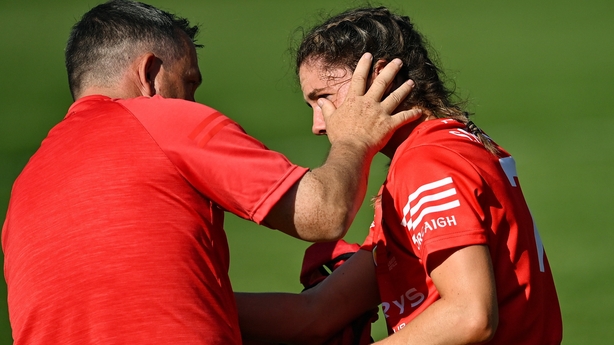 "The thing we can't fathom ourselves is the start again. I don't know, we didn't do it all year and to do it in a semi-final and All-Ireland final is just unreal."
It's two final defeats on the spin for Twomey and while they will receive plaudits for their displays in defeat to Galway (2021) and Kilkenny, it matters little to those involved.
"It's no consolation. We were told this last year and we're here again.
"We don't know what we have to do to get a flipping win. The players, they are just immense and I am so proud of them. I'm extremely proud to be their manager."
When you're name is on the cup, it's on the cup. That's it
Dwyer's late goal swung the pendulum back in Kilkenny's favour with the clock ticking down, with Twomey describing it as a "bad break" when goalkeeper Amy O'Connor's batted clearance fell kindly for the Kilkenny substitute to pull first-time to the back of the net.
"Amy was backtracking just to bat it out and it just happened to fall to a Kilkenny player. When you're name is on the cup, it's on the cup. That's it."