Kilkenny edging Cork with a last-gasp score in an All-Ireland final goes against the grain of recent encounters.
Having lost five finals in the last decade, the Cork scars have arguably been the deepest, striking late in 2017 and 2018 to continue their stranglehold of the O'Duffy Cup.
Manager Brian Dowling wasn't on the line for those defeats, and his first year in charge of the Cats was notable not only for ending the Covid-hit campaign with ultimate honours, but ending the interest of their Leeside foes at the penultimate stage a significant marker.
Given the Rebels returned the favour last year by snatching their semi-final joust at the death, it was with good reason that there were jittery moments in the Kilkenny camp when Katrina Mackey levelled matters for Cork in the final minute.
This time however it was Kilkenny and a nerveless Denise Gaule, who overcame earlier missed frees to secure victory.
As far as Dowling was concerned, it was a fitting finale.
"Coming up the home stretch, it looked like it was going to a replay but in fairness to these girls, they always find a way somehow," he said.
"It's not good for my heart, but they got there in the end.
"You have to believe, there's no point in being out there if you don't believe. I know the character that's in these girls, we've been saying it all year, the girls are sick of me saying that we're going to get a bit of luck somewhere along the way and we just have to be there to take it.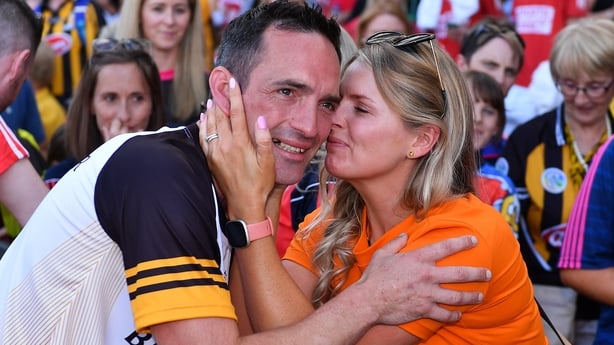 "We got it and we know that. In the past maybe we didn't but today we got the luck and Cork didn't and that was the difference in the day."
There was still time for Ashling Thompson to take aim deep into injury-time, but the midfielder's strike was right off the posts.
In a game that ebbed and flowed, the gripping finale had everyone guessing and second guessing the outcome.
Cork's running game was instrumental in coming back into the contest after finding themselves six points in arrears, though at the back, the likes of Katie Nolan, Denise Gaule, and in particular Miriam Walsh had the Rebels resorting to fouls.
Unfortunately from a Kilkenny perspective, not all the placed ball opportunities translated on the scoreboard. Gaule was uncharacteristically off-target in both halves, while Nolan too was wayward.
Ultimately, Gaule, just minutes after slicking a closer free, decided the game with a nerveless strike into the Hill.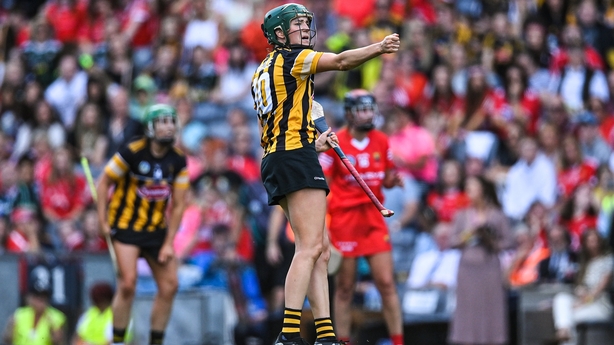 "I suppose Denise had a bad day the last day (against Galway), her confidence was a bit low on the frees, but she has been practicing a huge amount for the last two weeks.
"Her first one went wide but it's amazing, she only got one free in the first half and it went wide, put her confidence down.
"Denise Gaule, you don't have to mention character. She's a leader, has always been a leader for us. But the one thing she's done this year more than ever before is her work rate."
"She just epitomises everything we believe in"
Team-mate Laura Murphy, an influential presence from wing-back, said the contribution of Gaule, a two-time Player of the Year, was as positive for her work off the ball as on it.
"She might have missed a free or two, but at one stage over on the right-hand side she got two blocks in a row.
"She just epitomises everything we believe in. Hard work and it's never over until the final whistle goes."