There was simply no beating Kilkenny when it mattered in 2020.
In the All-Ireland semi-final, the Cats found themselves six points down against arch-rivals Cork before they mustered their first score of the day.
After coughing up three goals to Galway in the 2019 decider, the perceived wisdom was that unless the Cats tightened up at the back, a sixth final defeat in seven years lay in store.
When Orlaith McGrath goaled for the Tribe coming up the break to put daylight between the sides, it seemed like a familiar script was being written.
"We were panicking when we went into the dressing room," Aoife Doyle told RTÉ Sport.
"The management team calmed us down, and told us what to do, pointed out things we couldn't see on the pitch. They were relaxed."
The wing-forward, along with fellow forwards Mary O'Connell and Katie Nolan, looked pretty relaxed in her first final appearance.
Top scorer from play, Doyle scooped the player of the match award with an assured performance. Two points in the opening half saw Galway captain Sarah Dervan shadow her movements, though the Piltown forward repeated the trick after the interval.
Player of the Match Aoife Doyle speaks to @rtesport immediately after Kilkenny win the All-Ireland camogie title for the first time since 2016 #rtegaa pic.twitter.com/5HwyFIRPzi

— The Sunday Game (@TheSundayGame) December 12, 2020
O'Connell and Dalton also made the scoresheet, though it was their all-round industrious play that was equally as crucial in victory.
"Maybe that's what we needed, that freshness," full-back Claire Phelan said afterwards. "The younger girls have driven things on, they have been absolutely brilliant.
It's brilliant for a back to see those turnovers, it drives you on even more
"In the second half it was unbelievable. Katie Nolan turned over so many balls, she stood out a mile. Aoife Doyle too. The forwards just ran themselves into the ground.
"It's brilliant for a back to see those turnovers, it drives you on even more."
For a team with such a poor track record in finals, it is a testament to manager Brian Dowling and his backroom team, including coach Tommy Shefflin and selectors Ray Challoner, Philly Larkin and Pat O'Neill, that the confidence never wavered.
"It's all based around belief," said Doyle. "We have so much belief in the lads [management]. They have so much belief in us."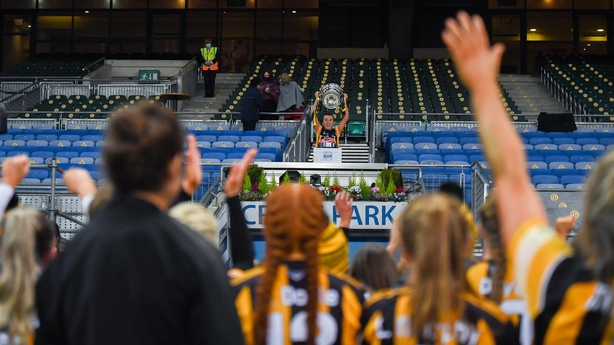 An edge that perhaps had been missing on other occasions was evident in spades. Work-rate too was a non-negotiable according to Doyle, with all but one of their points in the first half coming from turnovers.
"You can have as much talent in the world as you like, but at the end of the day, if you fight like dogs, you can come out the winners in the end."
On another day Doyle would have finished with 2-02 rather than four points, but twice her efforts flew higher than intended. It highlighted an ambition to go for the jugular when the moment presented itself, while a 71% scoring conversion rate (Galway's was 60%) demonstrated composure under pressure.
"We ran at them and they couldn't really handle us. I probably should have got a few more goals than points.
"That's another thing team management have brought in this year, to be ruthless in the forwards. You could go the whole match and get two balls into the full-forward line and you just have to take your chance."
After so many years of falling just short, Kilkenny took their chances.