Kevin Sheehy's tragic and untimely death has left a "huge void" at St Francis Boxing Club and has devastated the city of Limerick.
The 20-year-old Olympic hopeful, who was set to become a father in five weeks, was killed on the outskirts of the city centre in the early hours of Monday morning.
Long-term coach Ken Moore has paid tribute to Sheehy, who was on a high heading into his summer break, having landed the Hull Box Cup in England just a week previous, before taking a six-week break ahead of a planned return to training in August.
"Kevin was the heart of the boxing club," said Moore. "A huge void has been left in the club.
"As good as he was, what I keep hearing from people is that he was a lovely guy, mannerly, respectable, and only then do they say he was a hell of a good boxer.
"And that shows what type of man he was."
Sheehy proved "the perfect fit" when the 14-year-old walked through the doors of St Francis, which was also home to former WBO middleweight champion Andy Lee.
Having trained at two other clubs around Limerick, the teenager would soon become immersed in the city centre club, striking up an excellent relationship with trainer and mentor Moore.
Having landed three national youth medals, a 17-year-old Sheehy won the Under-18 Irish title, before going on to represent Ireland at the 2016 World Youth Boxing Championships in St Petersburg.
Ireland secured two medals at the Russian championships as Gabriel Dossen and Michael Nevin took home bronze, and the experience proved a catalyst for Sheehy to really pursue his Olympic dream.
The developing teenager would go on to win the Under-22 national title in 2018 and reach the final of the national Elites the same year, as the focus turned to prepare for the Paris Games in 2024.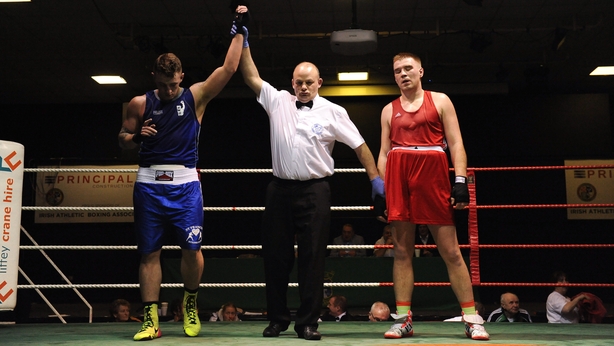 Sheehy had been earmarked by Bernard Dunne and the high-performance boxing unit for the Paris Games, but recent performances in Hull and at the Southside club against a senior champion gave the 20-year-old the belief that he could potentially make the Tokyo Olympics next summer.
"I'm good enough, I'm strong enough, so why not," Sheehy told Moore last week when they were looking at the qualifying route to Japan.
"Unfortunately that chance has gone," said a devastated Moore.
And Moore recalls his first meeting with Sheehy as trainer and fighter began their journey together at the Limerick gym.
"He was a lovely young fella, a big young lad at 14 and a very nice lad. We hit it off straight away, it was the perfect fit.
"He was very quick for a heavyweight and his determination and single-mindedness were second to none.
"The World Youth Championships was the catalyst and after that he really put the head down as he knew he wanted to make it in boxing."
Sheehy signed off for the summer in style, securing the Hull Box Cup, beating a formidable Scottish opponent, Jamie MacDonald, in the final.
"I told him to recharge the batteries and he planned to work on his strength and conditioning – use the summer to bulk up and go back to work on 12 August.
"But that won't happen now," said Moore, who is named on Sheehy's IABA profile as having the biggest influence on his career.
"Every now and again it dawns on me. I'm still in disbelief but unfortunately…
"We had a very close bond. He looked up to me and we had a great relationship."
St Francis boxing club opened their doors last night to allow members and mourners to pay their respects and talk about the tragic event.
"It was tough but sometimes it's best to be around people who are going through the same thing as you are going through," added Moore, who admitted that it will be very difficult to pick up the pieces and get the club up and running again.
"In theory, the best thing we can do is plough on, but it's hard."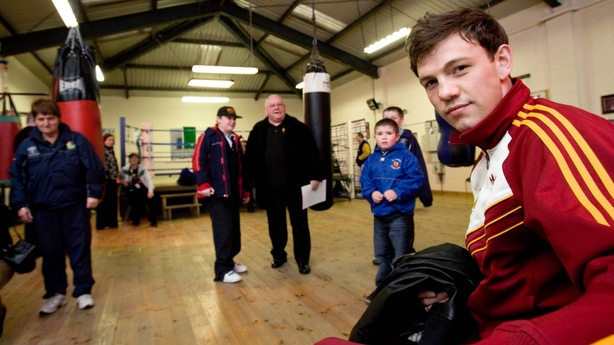 Treasurer of St Francis Boxing Club Anna Moore has known Sheehy since he began boxing at the Limerick club and said that the entire community are devastated following the tragedy.
"This is just so hard for us to take," said Moore. "It's just unreal. I'm heartbroken because this club is like a family. Limerick is devastated.
"You would not meet a nicer young man. He was just a lovely guy. He was a gentle giant.
"We have had phone calls from all around the world offering condolences, from Botswana to the Philippines to Australia."
With the Gardai investigating whether there was foul play involved in Sheehy's death and following the arrest of two suspects, Moore said that there is real outcry around the city, which has not been seen since the murder of Garryowen rugby player Shane Geoghegan in 2008, who was killed in a case of mistaken identity amidst a criminal gang feud.
"We went down to the club last night and I looked across to the open door and I said 'Kevin would never walk through that door again'," said a tearful Anna.
"And that is so hard for us to take. It's just unreal. We're devastated.
"Speaking as a mother and treasurer of the club, he was one of our own. Everyone who comes in the door is treated the same – even when Andy Lee was there.
"And his father always kept him involved in sport. Whenever he was fighting in Dublin, his family would run a bus up to support him.
"He was just a lovely guy. I'm not sure how we will bounce back, but we will have to for the kids coming through."