Former Irish professional boxer Christina McMahon believes that promoter politics are preventing Katie Taylor from securing world title bouts with fellow female champions Delfine Persoon and Rose Volante.
Bray native Taylor currently holds two world title belts, the IBF and the WBA, while the WBC and WBO are held by Belgian Persoon and Brazillian Volante respectively.
Taylor successfully defended her world straps on Saturday night at the iconic Madison Square Garden, defeating Eva Wahlstrom by a unanimous decision, and now she had set her sights on becoming undisputed champion.
However, making the fights with the other two champions is proving more difficult than expected with manager Brian Peters revealing that huge money has been offered but they have yet to get a commitment.
Monaghan fighter McMahon, who twice fought and lost world title bouts believes that conflicting reports from various camps suggest that there is a certain amount of false information being reported in the media.
"Katie is 100 per cent right," said McMahon, speaking on 2fm's Game On. "If you are world champion, step up to the mark. However, we all know politics in the pro game and we can't believe everything that we are hearing.
"So it would be nice to hear all the promoters being interviewed at the same time, and leave the girls out of it.
"And see who is telling the truth. Because the articles are saying that Katie is making six figure numbers and what [the other fighters] are saying is that either she is being overpaid or we are being underpaid."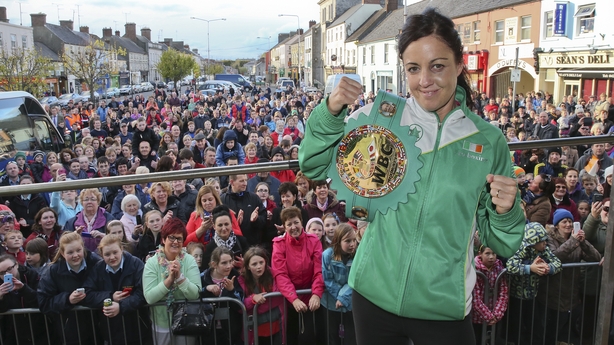 Volante has held the WBO world title since December 2017, however, all but one of her 14 professional fights have taken place in her home country, Brazil.
Persoon has been in possession of the WBC belt for over four years and has only lost once in 43 professional fights, a defeat to Zelda Tekin over eight years ago.
Remarkably, Persoon has also only fought once outside her native land, defending her belt against Nicole Boss in Switzerland back in 2015.
And McMahon explained that it has been the norm in women's boxing in recent time, where challengers would always travel to fight for the belt, while she also welcomed the spotlight that Taylor is now shining on the women's fight game.
"She's in a better position that us women have been in the past.
"For example, I had to go to Mexico, where the WBC was born. The girl that I fought had 54 wins and had never fought outside Mexico, except once and the only time she fought outside Mexico, she lost.
"So that is what we have been up against for years and we are banking on the likes of Katie Taylor to come up to the table now and get the public talking about it.
"The politics side, the money side of things, let them tell the truth as to why this is happening and why aren't they fighting outside their own country."