Very few professional boxers make history in their fifth fight in the paid ranks, yet Monaghan teenager Aaron McKenna will enjoy such a scenario on Saturday night as he fights Rolando Mendivil in Hollywood.
Not necessarily a fight that will define the young Smithborough man's boxing legacy in years to come, but certainly one that will allow him to showcase his skills in front of an audience a boxer at the fledgling stage of his career can only dream of.
McKenna has no regrets about not following the traditional route of aiming to box for Olympic glory before taking the professional route to world titles.
And already the decision appears to be reaping dividends as the 19-year-old appears to be destined for true success under the watchful eye of the top promoters in world boxing, Oscar De La Hoya's Golden Boy Promotions.
As we sit midway through one of the four golf majors, the PGA Championship, which is not currently available on traditional television platforms in Ireland this weekend, the world of boxing is following suit as tomorrow night's card at The Avalon in Hollywood, California, becomes the first collaboration between Golden Boy and Facebook, which will host the night's boxing live and worldwide for the first time.
McKenna is first up, fighting on the undercard of the WBA World Featherweight title encounter between Jesus Rojas and Joseph Diaz, and while the welterweight prospect is fully expected to make it five straight wins in the professional ranks, 'The Silencer' is primed to put on a show.
"I'll be the first fight ever, so it will be brilliant to be live on Facebook as there are going to be a lot of viewers," McKenna told RTE Sport.
"I'm really looking forward to this one. My training camp has been going brilliantly and I have been getting a lot of great sparring with [highly rated trio] Fabian Maidana, Lenny Zappa [Zappavigna], and former world champion, Sergey Lipinets who just lost his world title to Mikey Garcia.
"I've also been sparring with my brother, [2016 Irish amateur senior champion] Stephen, and I need to be razor sharp when I'm sparring him because he is razor sharp too.
"I've had a busy start to my pro career, four fights and three KOs, and I feel like I am improving all the time. Everything is going well and I feel very strong at the minute.
"I'm starting to hit a lot harder now and my pro style is getting better and better and I just can't wait for the next fight."
Weighed in at 146.8. Best shape of my life💪🏻 Ready to complete the job👊🏻🥊🇮🇪☘️ pic.twitter.com/pCpLn4rBIy

— Aaron Mc Kenna (@Aaronmckenna99) August 10, 2018
Boxing since the age of six, McKenna always had his eye on the professional game, and spent recent summers sparring Stateside, where the then 16-year-old came to the attention of Golden Boy who were ready and waiting to offer him a contract when he turned 18.
The 2020 Olympics in Japan appeared a long way away and subsequently McKenna was convinced that the intervening years would be best spent mastering his trade in the paid ranks.
The farcical scenes at the Rio Olympics in 2016, most memorably involving Ireland's Michael Conlan also cemented McKenna's professional intentions and now, even as the 2020 Games appear a lot closer, there are no regrets about the decision to hang up the singlet.
"I have no regrets," said McKenna, speaking from his home in Woodland Hills, about 20 miles from downtown Los Angeles.
"I've always wanted to be a pro and the longer fights suit me better as I get better as the fight goes on. I've always wanted to be a world champion.
"The 2020 Olympics were too long for me to wait. You could be in the qualifiers for the Olympics and then get a cut and that's you out of the tournament and then you would have to wait another four years for the next Olympics.
"And you can see what can happen to you. One fight like that [Conlan's] and you're out, so I had no hesitation turning pro.
"After all those years, I'll have lots of professional experience and loads of pro fights."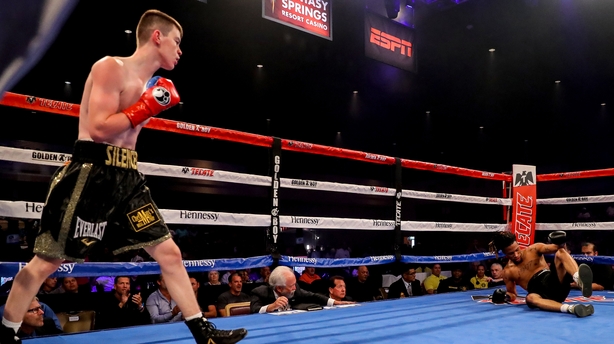 McKenna's professional career is less than nine months old, only kicking off last December in a four-round bout against Travis Conley.
And while this was a whole new world of boxing for the former European schoolboy champion and European Youth silver medallist, McKenna took all of three minutes to find his feet in the pro game.
Remarkably, McKenna had never fought a competitive fight without a head-guard going into that maiden bout in Las Vegas.
"As an amateur, I never fought without a head-guard, so my pro debut was my first ever fight without a headguard," explained McKenna.
"That was a bit of a difference, and the eight ounze gloves make a massive difference. Once you hit someone with those gloves and you hit them on the chin, you know they can feel it.
"In the first round, I was just getting used to everything and by the time the second, third and fourth rounds came, I opened up and that's were my [amateur] experience shone through and I gave him a boxing lesson and won convincingly."
McKenna fights at 147lbs as a welterweight and standing at over six foot tall, the Smithborough man has the potential to become a formidable fighter in the division.
And while McKenna is set to come up against older and more experienced fighters, the plan is to remain on the front foot.
"I'm not afraid to box anyone. I'm very strong for this weight, 147lbs, and I don't let anyone bully me, I do the bullying in the ring, that's my style.
"I'm a long rangey boxer, but I can fight on the inside too if I have to, but I like to keep at my range to suit me.
"I'm an aggressive fighter and the Mexicans and the Americans over here are starting to take to my style, particularly the Mexicans because I have a Mexican style, being aggressive, hunt my opponents down and go for the knock-out.
"But if it comes to it, I can box on the back foot too."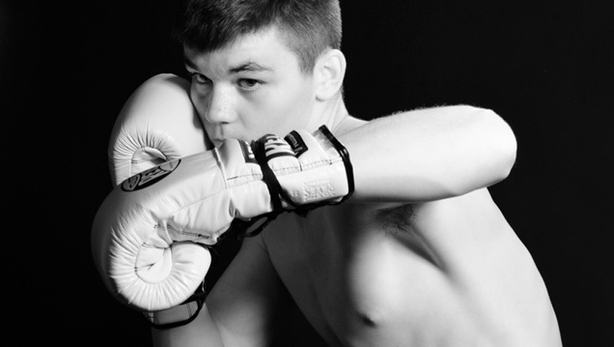 Even this early in his career, the comparisons are starting to be made, and in a recent meeting at the gym with renowned brawler Mickey Ward - the man who was involved in the great trilogy of fights with Arturo Gatti - was full of praise for the up and coming Irish man.
Ward, of course, was renowned for his bravery in the ring and his willingness to take a punch in order to land one, however, he offered some other advice to McKenna.
"'Hit and don't get hit', he told me.
"Mickey said to me that he was very impressed with my boxing, in that I am like Thomas Hearns, get good leverage behind my punches and I am very strong.
"So I was delighted to hear that from Mickey as he was an unreal boxer."
McKenna lives in California with his soon-to-be professional brother Stephen and his father, which prevents any pangs of homesickness derailing this most exciting journey.
"I love it over here. I love training over here and getting the good quality sparring. I enjoy the great weather and I am enjoying every minute of it."
The family McKenna supporting @MonaghanGAAFans @monaghangaa from LA! pic.twitter.com/ZE6G2lknVp

— Rachel Charles (@PitchInk) August 10, 2018
And while McKenna's remarkable journey continues to gather momentum - being beamed worldwide on Saturday night (2am Sunday, Irish time) - expect the celebrating McKenna clan to be part of a different type of audience on Sunday afternoon as they join the diaspora around the world to watch their beloved Monaghan take on Tyrone for a place in the All-Ireland final.
McKenna spent a lot of time in his youth playing Gaelic football before packing it in to concentrate on his boxing career, and while the novice professional boxer is still taking advice about his own career, he was more than happy to offer some to the Monaghan men ahead of Sunday's decider.
"They should have finished off Kerry when they had a chance the same way a boxer should finish their opponent," said McKenna, speaking about an earlier game this summer.
"When they have them hurt, go for the knock-out."