Katie Taylor will be thinking of the Muhammad Ali poster she had on her wall growing up between now and the Rio Olympics - where she is still setting her sights on gold.
The boxer simply known as The Greatest died last week, leading to an outpouring of emotions from people inside and outside of the sport.
London 2012 gold medallist Taylor faces one of the toughest periods of her career in the build up to August's Rio Games, though Ali will provide inspiration just like he did when she was a child.
"He was someone who absolutely transcended the sport," the Bray fighter told RTÉ Sport.
"He was bigger than boxing, wasn't he? He was the biggest sports star we'll ever see and no-one will ever come close to him.
"I had a poster of him on my wall growing up with one of his quotes. I looked at it every day; I looked at his words every day growing up.
"The quote was: 'The fight is won or lost far away from witnesses - behind the lines, in the gym, and out there on the road, long before I dance under those lights'.
"It's so true, the fight is won or lost in the gym, and those words really stuck with me throughout my career."
Like Ali, Taylor has transcended her sport and is widely acknowledged as the greatest female amateur boxer of all time.
However, she failed in her recent bid for a record sixth consecutive world championship lightweight crown in Astana when she lost to France's Estelle Mossley in their semi-final.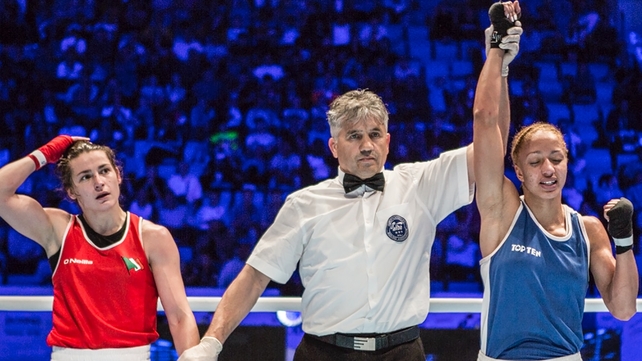 Her quarter-final win booked Olympic qualification but she will be travelling to Brazil under something of a cloud and, for a change, won't be the pre-competition favourite to take gold.
The Astana defeat came on the back of her shock semi-final loss at the semi-finals of the European Olympic qualifying tournament in April.
"I was obviously very disappointed not to come away with a gold medal," she reflected. "I had a chance to make history over there and it didn't happen for me.
"At the same time, I'm very grateful to have Rio to look forward to. It could have been a lot worse if it had happened in the fight before - I wouldn't be going to Rio.
"I think I do well in staying positive in these situations and going into these Olympic Games with the same mindset I've always gone in, and with the hope of coming home with a gold medal.
"People go on about the rise of women's boxing since I've had these two losses but women's boxing has always been very strong. From London to now, nothing much has changed.
"No world championship has been easy for me. Every fight has been hard, every world title I've won has been hard fought and every European title I've won has been hard fought as well. When you look at those losses, it opens people's eyes.
"It's not going be an easy task in Rio. London was very, very tough, dealing with the pressure and those fights.
"It's great to have that experience behind me, and it is going to be tough to win the competition, but when I'm at the top of my game I'm going to be very, very hard to beat.
"I'm going in with the same mindset and I'm going in to win the competition. It doesn't matter who other people are saying the favourite is, I'm still going in to win the gold medal."