Anthony Joshua has vowed to "walk through Tyson Fury" after winning the IBF world heavyweight title following a second-round knockout of Charles Martin at the O2 Arena.
English Olympic gold medallist Joshua needed just one minute and 32 seconds of the second round to end the American's reign.
A powerful right hand sent Martin to the canvas midway through the round and even though Martin beat the count, he was immediately put down again and failed to regain his feet.
26-year-old Joshua told BBC Radio 5 live: "The promoters are going to do their promoting, the fighters are going to do their fighting and the public are going to do their talking and I'm going to keep on walking.
"I'm going to walk through Tyson Fury when's he's ready. I'm not messing around believe you me.
"Scrap all this 16 fight nonsense. I'm training hard and I mean business. I'm here to stay and I want to make some real noise in this division.
"That belt. I got big respect but I want to do more. If I get too carried away I feel that I'll get complacent. So let's put that bad boy away.
"Let's put that with the Olympic medal and let's go on and get more and keep entertaining these boxing fans.
"That's what I'm here to do. I'm young, I'm fresh and honestly I'm looking forward to getting back in the gym.
"I have got skill. I'm not just some beach body boxer. I train hard and this is just the results. IBF champion and I'm very, very happy. I'm happy for the UK as well."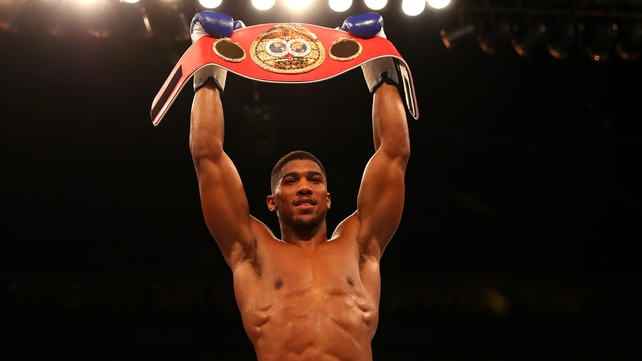 Martin's finest chance came in exposing the 26-year-old Joshua's inexperience and the fact he was yet to fight a southpaw throughout his professional career.
Instead he appeared what most had long suspected: a limited fighter who may never have become champion had Vyacheslav Glazkov not suffered a serious knee injury in the third round the January evening he won the vacant title.
The attempts to counter the one-dimensional style Joshua has previously shown which Martin had promised never materialised, owing to the fact the challenger's speed and reflexes were superior.
A cagey opening minute was followed by Joshua landing with rights to the body, and while Martin remained composed, his opponent grew in confidence and pursued him with greater intent from the second.
His swift and destructive finish did little to demonstrate whether he had learnt from the mistakes that almost cost him victory against Dillian Whyte in December, and only to highlight the devastating power he retains.
The suspicion remains that without further time to develop he will struggle when matched with one of the division's rangier, smarter or more mobile fighters, and as the new champion time is one of the few things which he will be short of.
As had long been expected, he arguably becomes the active fighter with the greatest earning potential given likely future fights against WBO and WBA champion Tyson Fury or David Haye likely in the coming 12 to 18 months.
The pressure will intensify on his promoters Matchroom, however, to deliver opponents worthy of challenging for a world title while not overlooking the patience he requires to progress.