Katie Taylor has said "the best is yet to come" after securing her sixth successive European Championship title in Bucharest, Romania today.
Taylor put in an impressive performance to beat France's Estelle Mossely and win the the 60kg lightweight division title on points.
She had little trouble in overcoming her opponent with the Bray woman getting the decision from all three judges.
Speaking to RTÉ Sport after the fight, Taylor said that all week she had "wanted to make history" and indicated that she was now looking forward to the next challenge.
"I'm absolutely delighted, and the best thing about it is that the best is yet to come. I have the world championships this year as well, I have the Olympics, hopefully, in a couple of years, as well. I plan to defend all those titles."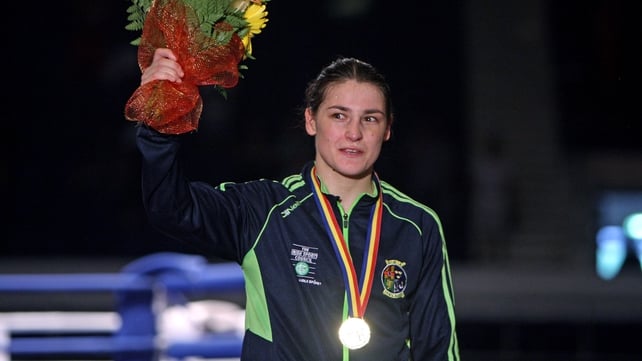 The win was her 16th major tournament gold medal and adds to her impressive and unmatched haul of one Olympic, four World, five European and five European Union titles to date.
Taylor thanked her coaching team and fans for their support, and said she could not have done it without them.
"Zuar [Antia, assistant coach] and my Dad [Pete] are the best coaches in the world, and Billy Walshe [IABA High Performance Team head coach] is here as well," she said.
She also heaped praise on the rest of the Ireland team that travelled with her to Romania.
"My team-mates are absolutely brilliant," she said. "They produced amazing performances this week, and I'm so, so proud to be in the same team as them, and their support this week has been outstanding as well."