By Hugh Cahill in Bucharest
Over the past few days, an Irish Olympic gold-medallist has repeatedly stunned an international championship with displays of brilliance. A Bucharest audience has watched the best in the world.
At London 2012 Katie Taylor, the dominant female boxer on the planet, was the pride of Ireland.
Her march to victory at the Olympic Games captured the hearts of a nation as adults and children all over the country took inspiration from her bravery.
Less than two years after, though, it's difficult to make the case that women's boxing has realised the potential that the London Games seemed to present.
This week, at the European Championships in Bucharest, Katie boxes for a sixth consecutive European gold medal in front of an empty vacuum. There are no chants of Olė Olė Olė; no tricolour flags hoisted in confirmation of yet another stunning victory. No one outside of her team-mates and coaches has come to support her.
It's difficult to understand. In a country where sport is next to godliness, and with an Olympic champion in her prime, boxing only a short flight away at a major tournament, you would expect even a handful of those who screamed her name in the Excel Arena two years ago to have made the journey to cheer her on. None have.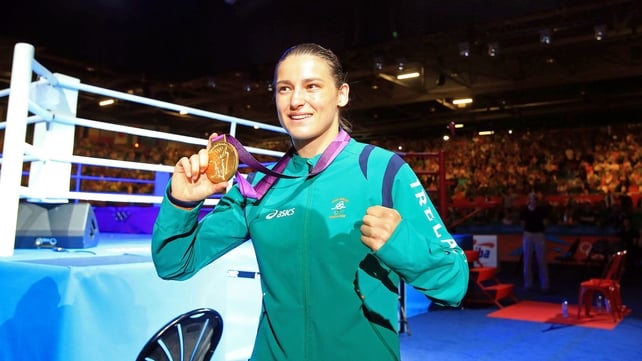 Perhaps it's a reflection of the lack of publicity generated in the run-up to these championships, or maybe Ireland is still not entirely comfortable with women participating in a combat sport.
Whatever the reasons for Ireland's disinterest, the silences that have greeted Katie's raised hands this week have been depressing to witness.
She deserves more for her efforts; so too does the rest of a remarkable Irish team.
Ireland's willingness to accept women boxers - and all that that acceptance entails – appears to extend only to the lip service and sensationalist triumphalism that roar over the Olympics every four years.
We like to think that we are an open, equal and all-inclusive society. But the small whispers that encourage gender division, from the earliest age right through to work place discrimination, the lack of female leadership in politics and dismissive attitudes towards feminism are probably a truer reflection of where we are really at.
With this five-strong Irish women's boxing team, it wouldn't take a lot of effort to appreciate the brilliance of what they are doing in an international sporting arena.
This week, Katie, Michaela Walsh, and Joanne Lambe, Clare Grace and Ceire Smyth have all displayed outstanding ability in achieving varying degrees of success.
There is nothing barbaric or crude about women's boxing. To see the competitors in action this week has been to witness first-hand the wonderful combination of skill, speed, strength and bravery required to compete at this level.
Those that dismiss it as 'improper' or 'not right' have probably never set foot inside a boxing hall.
This attitude seems to be born of fear: fear of the unfamiliar, a fear ingrained in our subconscious. Maybe it's the result of too many cautionary boundaries during childhood, where strangers are kept at arm's length and new experiences are met with scepticism and trepidation.
But as we grow, we learn that the most effective way of conquering a fear of the unknown is to meet it head on; get to know it, understand it, embrace it even.
How much effort would it take to go and watch a bout, to witness the reality of what it takes to step inside a ring and perform at the level at which these athletes do? Why not reach out and find out for yourself?
If and when Katie bows her head to accept a sixth consecutive European Championship medal in Bucharest this weekend – and on current form, no one will stop her winning gold – she will smile and wave to the small crowd of applauding Romanians who have turned out to watch the finals.
But I wonder, after all her hard work; after all the blood, sweat and tears needed to make it this far, how much the absence of even one cheering Irish fan will hurt her.
Such is her grace and dignity, we will probably never know.
Soon, when age dictates that Katie will no longer be able to continue, she will be gone from the canvas for good.
When that happens, the opportunity to watch the best female boxer on the planet will be lost forever. Only a handful of people may ever be able to say: I was there, I saw her; she was incredible. And that would be a real shame.