Tuesday's child is fair of face. That was until Paddy Barnes got a hold of him. The Ireland captain's unanimous victory over Welshman John Williams started a brilliant run of victories in the camp, with Tommy McCarthy, Jason Quigley and John Joe Nevin all following suit.
Adam Nolan gave it everything against a tough Ukranian but just came up short. Even with Nolan's exit, it was a brilliant day for the Ireland squad and the four victories did much to banish the bitter memories of Monday's disappointment.
It's a tough business, amateur boxing. Nevin was last of the Irish to fight on Tuesday evening and no sooner was he out of the ring with a 3-0 victory under his belt, than he was already planning a late training session at the team hotel to shift a couple of kilos for Wednesday's weigh-in.
When the draw came in, Nevin was the first name out of the hat. Last to fight on Tuesday, first in on Wednesday. No time to complain.
As it turned out, Nevin gave a master class. Picked his man off with ease and completely dominated the fight from start to finish. The closest round was the second, with the judges scoring it 30-27 in John Joe's favour.
Nevin the first man through to the semi-final with a medal in the bank. He fights for guaranteed silver in the semi-finals on Friday, which also happens to be his birthday.
According to Kenneth (Egan), "nothing tastes as good as skinny feels"
Barnes opponent this afternoon probably slept very little on Tuesday night. Istvan Ungvari got a hiding the last time these two faced each other, but this fight was a lot closer than many in the Irish camp expected.
The Hungarian had clearly learned a few things from their last bout and while Barnes looked far more aggressive, he suffered a bloody nose midway through the fight which needed some attention. The judges gave it to Barnes on a split decision 2-1, with the Argentinean going against him 30-27 in the last.
Not the way most people saw it here, but a win is a win and Ireland had their second semi-finalist in as many fights. I'm sure Barnes will be relieved to have tomorrow's rest day before he gets back in the ring.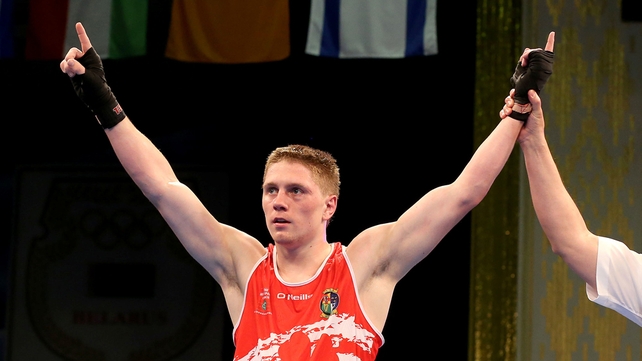 Jason Quigley was out to avenge Darren O'Neill's Olympic 2012 defeat to Stefan Haertel in the middleweight division. The Donegal man is lightening quick around the ring and wasted little time setting about his task, throwing the jab and getting out of harm's way before the German could find his range.
Haertel had the physical advantage over his Irish opponent but Quigley was in inspired form as he chose his shots and avoided most of the German's big swings. Both men battled like dogs in the last round and when an exhausted Quigley was eventually pronounced the winner, you could see the emotion in his face.
This is his first medal at senior level, which aside from an increase in funding from next year, will open a lot of doors for him ahead of the World Championships in October. It was a really gutsy performance.
Tommy McCarthy needed the fight of his life to come through his quarter-final. The Belfast heavyweight was drawn against the defending European champion from Azerbaijan; a strong competitor, described by Kenneth Egan as "as tough as nails". McCarthy's punching power has never been in doubt but the question remained over whether he could get through on enough occasions to hurt the Azerbaijani.
There was no faulting his effort but the defending champ was just too good winning 3-0 on the judges' cards. Tommy bowed out without a medal but with plenty of positives to take from it.
This evening, Michael Conlan goes in against a local Belarusian. The home support has swayed a few decision here already and I just hope Conlan gets a fair crack. On form, this should be another Irish win and a fourth medal for Billy Walsh's squad.
The breakfast in the hotel looks a bit like one of those all-you-can-eat Chinese buffets - lots of miscellaneous meats thrown into steel containers with an illegible sign on the front.
I haven't been brave enough to try any of it. The last time I got food poisoning I missed out on commentating on the 2007 rugby World Cup final in Paris. That experience will stay with me for the rest of my days, so I'm quite happy to pass up on the exotic looking stews on offer every morning.
We stumbled on a decent steakhouse near the Sport Palace where the championships take place. It serves food until 11pm, which works out great because we don't get out of the arena until after 10pm most nights. Kenneth Egan is watching his figure now that he's retired so he chewed away on a few tic-tacs while the rest of us got stuck in.
I offered him a bite of my steak but he wasn't for turning. According to Kenneth, "nothing tastes as good as skinny feels". He might be right but I'll never find out.
Minsk is very safe. Walking around at night there isn't the remotest hint of trouble and the zero tolerance approach from the police here seems to do the trick. Statistically, Minsk has the highest crime rate in Belarus but so far we've seen little of it.
There was one small incident on Tuesday night that ruffled a few feathers. One local gent who had had a few too many squared up to Kenneth while we were walking back to our hotel. He started shouting and swinging his fists around as Kenneth covered his eyes and screamed "not the face, not the face, I've to go on television in the morning!" Luckily, I managed to step in and defuse the situation before it got nasty. Kenneth owes me. Big time.