DCU Mercy solidified their place as the dominant force in the Women's Super League with a definitive 96-71 victory on home turf against an in-form Fr Mathews side this Sunday afternoon.
Clearly satisfied with the win, coach Mark Ingle praised his charges after the final whistle.
"The first quarter we came out with all guns blazing, but in fairness they had a big win last week so there was a little bit of noise about Fr Mathews coming up here on a mission.
"We know they're a good team, but we also know that we must take care of our own business."
There was another huge performance from Meredith Burkhall who finished the game with 34 points.
Mercy came out of the gates on fire, and sprang out to a 56-33 half time lead. Fr Mathews tried to regroup at the half, with Shannon Brady and Grainne Dwyer starting to find their way into the game.
But it wasn't enough as Sarah Woods and Burkhall had an impressive second half for Mercy, and kept the scores coming in. The defensive performance was just as impressive for Mercy as they hung on to the first half lead, to win out by 24 points in the end.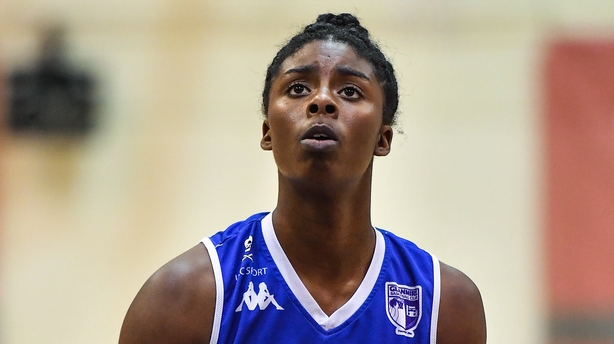 Ambassador UCC Glanmire were also impressive on Sunday, taking home an 85-71 point win over Leixlip Amenities Liffey Celtics in Cork. Shrita Parker was outstanding for the Cork side, tallying 38 points in the contest. Tatum Neubert Aine McKenna also contributed heavily for Glanmire on both ends of the floor.
After the contest, coach Mark Scannell paid tribute to both sides while setting his sights on a tough run in for his team.
"We have to work hard now going forward and try to finish the season strong. There's some big games coming up over the next 5 weeks. Fair play to Liffey they kept going and gave us loads of problems especially second half."
Maree also kept the pressure on the league leaders, winning 87-52 on their home court. Maree dominated from the start, with scoring from Claire Rockall and Carly McClendon to see them lead 36-26 at the half.
Wildcats had big scoring players of their own with Cathy Kavanagh, Jasmine Walker and Stephanie O'Shea all hitting double figures.
Maree head coach Joe Shields said: "It was probably our best team performance so far this season.We knew we had to be at our best against a good Waterford side. It's the business end of the league now so every win is vital."
Elsewhere in the league, Singleton SuperValu Brunell got the win in a thrilling game over Marble City Hawks in Kilkenny on Saturday afternoon, winning by just one in the end, 57-58.
Pyrobel Killester were impressive on Saturday afternoon, taking home an 68-87 point win over IT Carlow in Carlow.