C and S Neptune caused the big upset in the Men's Super League on Saturday evening when they ran out 82-66 winners over reigning league champions UCD Marian in Cork.
Lehmon Colbert was the star, scoring 22 points to gain a result that meant a lot to head coach Paul Kelleher and the Cork club after a rollercoaster opening few weeks to the season.
It was Neptune's third consecutive victory, following on from successes over Maree and Keane's SuperValu Killorglin.
"We worked really, really hard this week," Kelleher said afterwards.
"It's still an early time in the league, we still have so many more improvements to make but today is a day we will enjoy for a few hours and then we'll get back to work on Monday."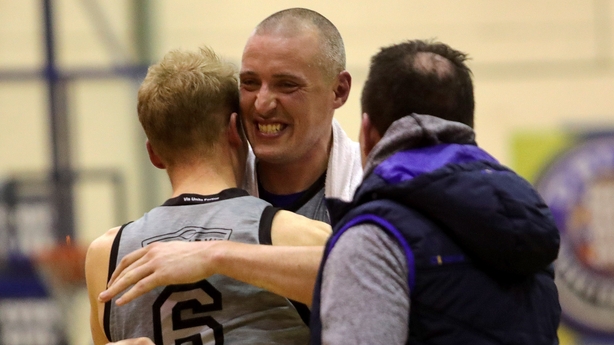 Garvey's Tralee Warriors were celebrating the whole way back to Kerry on Saturday, as they won out in a big battle with Templeogue, 93-99.
It was a hugely-anticipated affair, after Tralee had pipped the holders in the opening round of the Cup in Dublin a few weeks ago.
While revenge may have been on the cards for the Dubliners, Tralee had other ideas, with Paul Dick the stand-out performer on the night – vital at both ends of the court throughout the game.
New American signing Keith Jumper also slotted in nicely to Pat Price's set-up and speaking afterwards, coach Price aired his delight with the win.
"Templeogue are terrific," he said. "They made everything difficult for us, they were really well prepared and this win was earned. I'm very proud of the guys in how we responded in the second half, I think we were more assertive on offense and Paul Dick made some great plays."
Elsewhere, Maree came agonisingly close to pulling off an upset over Pyrobel Killester in Oranmore, losing out in a thrilling overtime battle, 86-91.
Maree came back from a 19-point deficit to force overtime after a miraculous three-pointer from Sean Sellers who finished the game with a massive 43 points.
Ciaran Roe dealt the death blow to Maree's hopes though, as he shot home two free throws at the end of overtime to put the game beyond their reach.
UCC Demons played out a thriller against an in-form DCU Saints team in Cork meanwhile. They snuck it by a point in the end, 85-84. Going down early by nine in the first three minutes, Colin O'Reilly's side were slow to get back into the game and it took a late fourth-quarter surge, led by their talisman Kyle Hosford (27 points) to help Demons edge out their Dublin opponents.
Belfast Star remained top of the Men's Super League after they notched a seventh win in a row, taking a thrilling 88-78 arm wrestle with Keane's SuperValu Killorglin.
Elsewhere, Moycullen are now bottom of the table after their 108-88 loss at the hands of Griffith College Swords Thunder.
Moycullen were led by Isaiah Harris-Winn who had 27 points but it was not enough as a superb 33-point effort from Thunder's Elijah Mays guided his team to victory.
Over in the Women's Super League, Fr Mathews lost out to high-flying Courtyard Liffey Celtics in Leixlip on Saturday, 67-56.
Shannon Brady continued her fine form leading the visitors with 14 points, but Allie Le Claire (16) was fantastic as usual for the league leaders to help see them home to victory.
Ambassador UCC Glanmire meanwhile ran out comfortable 78-40 winners against WIT Wildcats in the Mardyke Arena. L'mani Davis was the standout for Mark Scannell's side, notching 27 points in a game that never looked out of the home side's reach.
Singleton SuperValu Brunell were also comfortable victors in the Parochial Hall on Sunday afternoon, fending off IT Carlow 81-62.
Brunell did all of their work in the first half, shooting the lights out to go into the break up 54-30. The win comes after a tough loss last week away to WIT Wildcats.
Marble City Hawks won their bottom-of the table clash with NUIG Mystics on Saturday night, 60-34.
DCU Mercy meanwhile got the better of Pyrobel Killester on Sunday afternoon in a big Dublin derby, running out 81-60 point winners.
Huge displays from Irish internationals Sarah Woods and Rachel Huijsdens proved the difference for the hosts as they fended off a tough and determined Killester.