Ambassador UCC Glanmire maintained their perfect record in the Women's Super League today, defeating Fr Mathews in the newest Cork rivalry 76-60.
Fr Mathews came out strong, with Niamh and Grainne Dwyer leading the way against their former club as they took an 18-10 lead at the end of the first. It was neck-and-neck though, as some big threes for Glanmire in the second and decent work inside from I'mani Davis sent the hosts into a 37-31 half time lead.
Shannon Brady was integral for Fr Mathews in the post, notching a game high 27 points, but an impressive on-form Casey Grace, supported by good displays from Delany Junkermier and Annaliese Murphy gave Glanmire the momentum and they saw home a 16-point win in the end.
"It's another game for us," said Glanmire's Mark Scannell afterwards. "We know very little about what other teams are going to do in the league. You have to win on your home court and that's all that we did today."
Courtyard Liffey Celtics also made it three wins from three on Saturday night, as they stormed their way to an 89-45 point win over Marble City Hawks. A standout display from Allie LeClaire for the hosts was the big talking point of the game as she bagged 22 points and some big defensive stops in an all-round solid display. She was assisted by a strong supporting cast in Breana Green – who also finished the game on 22 points - and stalwart Karen Mealy, who finished with a 16-point tally.
A tough weekend for Marble City Hawks culminated in delight though, as Sunday saw their first ever Women's Super League win as, after a hard loss to Liffey Celtics, the Kilkenny side bounced back in style against Pyrobel Killester, winning out 80-64. A huge performance from Hawks' saw them take the lead from early on, and they didn't look back once, with Mia Hopkins driving her side over the line to victory with a whopping 31-point display.
IT Carlow Basketball also got their first win of the season on the board on Saturday afternoon, winning out 67-50 over NUIG Mystics. Another big display from Courtney Walsh (28 points), helped Carlow into a 35-19 point lead at half-time and they kept momentum for much of the second half to see home the win.
Elsewhere, Singleton SuperValu Brunell lost out on the road to DCU Mercy on Sunday afternoon. Tim O'Halloran's side fell to the strong Dublin outfit 71-52 having trailed for large periods of the contest.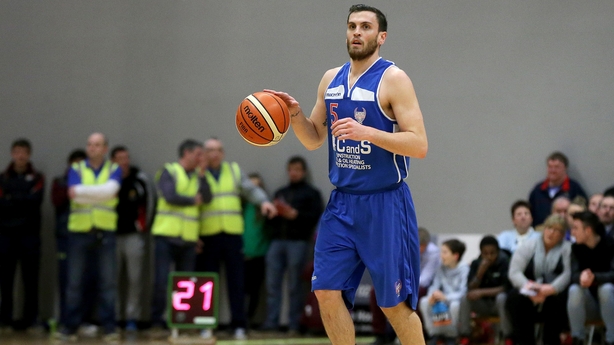 Over to the Men's Super League and it was two losses for the Cork sides, with C and S Neptune and UCC Demons each losing their battles this weekend.
Neptune fell to Moycullen 90-111 at home on Saturday evening, with Lehmon Colbert doing the most damage for the storied club, putting up 22 points in the loss. The game sees Neptune continue their search for their first win after making the return to Super League this season.
UCC Demons also came up short, losing an 86-90 point nail-biter at home to Maree on Sunday. Kyle Hosford was once again outstanding for Demons, but even his 38 points weren't enough to help his team over the line. Maree's Sean Sellers was tough to stop from beyond the three-point line, finishing with 28 points and helping his side home to their first win of the season.
Templeogue, meanwhile, made it four wins from four on Saturday evening as they ran out 82-88 point winners over UCD Marian in a big clash at the university.
A huge opening quarter from the visitors that saw Neil Randolph drop five three-pointers, saw them into an 11-32 point lead at the end of the first. With a mountain to climb, UCD began to chip away at the margin, with a big second quarter seeing them close the gap to 36-42 at the half and fans knew they were in for a huge finish. A big third quarter followed with Templeogue still keeping some distance on the scoreboard, leading 58-67 going into the last, but UCD weren't done yet. A fantastic shooting display from Marian's Conor Meany, coupled with big baskets from Barry Drumm suddenly tied the game level as the fourth ticked down, but Templeogue's new signing Dee Proby, stepped up to the challenge in style, and with the game in the melting pot, hit some big scores to stretch the margin out once more and ultimately, see his team home to an 82-88 point win in the end.
Elsewhere, Keane's SuperValu Killorglin shook off last weekend's loss to Templeogue, overcoming a strong Pyrobel Killester side 67-64 in Kerry on Saturday evening.
A solid team display saw Pierre Newton, Marin Brzica, Adam Donoghue and Daniel Jokubaitis all chip in with double digitals on the scoreboard and the hosts held off a late comeback from Killester to see home a three-point win in the end.
Garvey's Tralee Warriors also stormed to a big home court win on Saturday evening, as they ran out 90-81 point winners over Griffith College Swords Thunder. Trailing by four at the break, a huge third quarter from the hosts - with big scoring from Jordan Evans and Paul Dick - saw them drive into a 64-55 point lead going into the last, and they held off a late Swords' comeback to win out by nine in the end.
Belfast Star sailed home to victory in Dublin on Saturday evening, winning out 55-96 against DCU Saints to bag their third consecutive win. Belfast's Mike Davis was again the stand out star, with a whopping 39 points on the night, with Mark Berlic also making a big impression for the visitors.
Basketball Ireland Results 20/21 October
Men's Super League
CD Marian 82-88 Templeogue
C and S Neptune 90-111 Moycullen
DCU Saints 55-96 Belfast Star
Keane's Supervalu Killorglin 67-64 Pyrobel Killester
Garvey's Tralee Warriors 90-81 Griffith College
Swords Thunder UCC Demons 86-90 Maree

Women's Super League
IT Carlow Basketball 67-50 NUIG Mystics
Courtyard Liffey Celtics 89-45 Marble City Hawks
Ambassador UCC Glanmire 76-60 Fr Mathews
DCU Mercy 71-52 Singleton SuperValu Brunell
Marble City Hawks 80-64 Pyrobel Killester