Men's Final: C&S UCC Demons v Dublin Inter, NBA 8.45pm
Demons will enter the final as significant favourites over Dublin Inter, who have very much upset the odds to reach this stage, defeating last year's finals pairing of UL Eagles and Bord Gais Neptune en route.
"It is supposedly a big favourite against a so-called lesser team but that is for people on the outside looking in to say," said Demons' Shane Coughlan.
"In a final, it doesn't matter if you are top or bottom of the league and in this competition, Inter have proven themselves. We will try and embrace being favourites but very much focus on what is needed."
As Demons hope to embrace the status of being favourites, Dublin Inter will certainly relish in that of underdog, having served them so well to this point.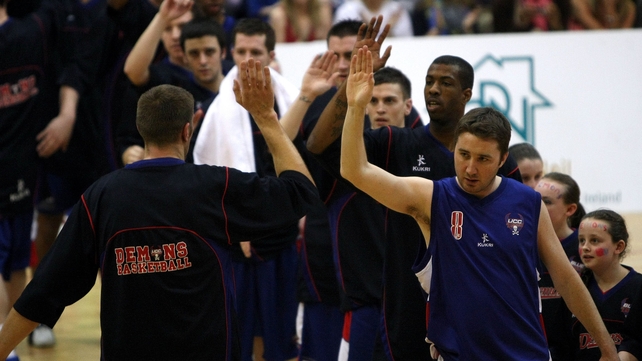 "I think that it is an advantage to us to be underdogs," said Inter guard Romas Eidukas.
"We really have no pressure and can go out and enjoy, relax and win hopefully. All the pressure will be on Demons."
Coupled, perhaps paradoxically, with that sense of freedom for Inter, is the burning desire to win for their tragically departed club founder, Toomas Ilves. Toomas died while coaching a training session in June of last year.
"Definitely this game is will be dedicated to Toomas," said Eidukas.
"He would have wanted us to be here always and he would have been proud of us for where we are at this moment. We can't let him down."
Women's Final: UL Huskies v Team Montenotte Hotel, NBA 6.45pm
Team Montenotte Hotel take on UL Huskies in the Women's National Cup Final at the Tallaght venue on Friday night.
This year's finale is a rematch of 2013, which Huskies won by ten points, yet there is no clear favourite of this year's clash.
Part of the reason for this is the result of the side's most recent Premier League encounter, which Montenotte won by ten in Limerick.
The two sides will know each other's strengths and weaknesses inside out, setting up for what promises to be a superb and close affair.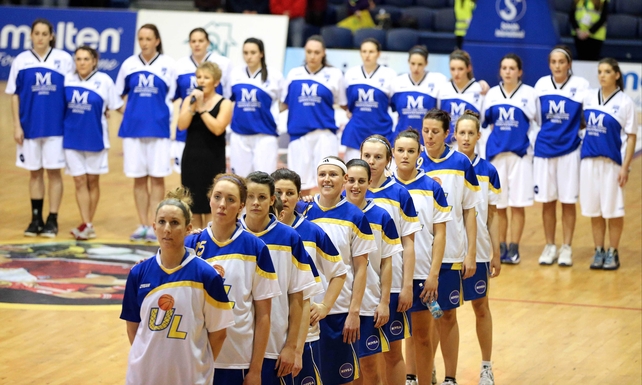 "There have been a few changes from last year obviously but it is the same core of players for us and the same core for Glanmire (Team Montenotte)," said Huskies centre Aoife McDermott.
One of the most notable changes this time around will be the absence of 2013 cup final MVP Michelle Fahy from the Huskies' line-up. Fahy retired at the end of last season, finishing her career as one of the greatest Irish players of all time.
Filling the role vacated by Fahy this season, McDermott has enjoyed her own personal best campaign and will need to be on top form to counter Montenotte's inside threat of Emilee Harmon.
"I wouldn't say we have replaced Michelle because she was such a great player that she can never be replaced but what has happened is a number of different players have stepped up.
"Playing a final is a totally different experience to any other game. The cup is the biggest game of the year, the arena is packed and everything and everyone just seems more excited," said McDermott.
"The intensity of the game has that extra edge as everyone wants to win it so much."
While all basketball fans will want to see that level of intensity, expected in any final, Niamh Dwyer of Team Montenotte Hotel is hoping her side can still find their offensive rhythm such as they had when defeating Huskies earlier this month.
"It is hard to get that balance in the Arena with the atmosphere that brings, but it would be brilliant for both teams if they could play with that free-flowing style that made the game in Limerick so good," said Dwyer.
"Both teams will have made adjustments since then though," she added.
Saturday and Sunday Finals
There are plenty of other National Cup finals on Saturday and Sunday at the National Basketball Arena.
First up on Saturday morning are the Men's and Women's U18 National Cup finals.
In the women's match-up, there is a repeat pairing of the 2013 final as Singleton SuperValu Brunell and Boardwalk Bar & Grill Glanmire meet once more.
Brunell's Edel Thornton will be aiming for back-to-back U18 National Cup finals winners and MVP awards.
The men's final features an all-conquering Letterkenny Blaze squad with the Hickey twins of Cian and Tadhg the outstanding stars against a Sean Flood led Templeogue side with the former the slight favourites.
Later in the day it is the turn of the U20 men's and the meeting of KUBS from Dublin and Cork powerhouse Neptune. While the KUBS squad includes several international players, it is Neptune who have the better known names nationwide as they boast Premier League regulars Roy Downey and Mati Rudak in their roster.
The last final on Saturday is the meeting of men's Division One sides JM&L Auctioneers Titans and Team Left Bank Kilkenny in the men's National Shield. Seperated by some ten points in the league table, Titans will be heavy favourites but will be fearful of a dangerous Kilkenny team that includes the high scoring Puff Summers.
Two finals take place on Sunday with the U20 women's National Cup and the senior women's National Cup (for non-Premier League teams) taking place.
The U20 Women's final will see Brunell and Glanmire meet once more. Brunell will add Premier League regulars Megan O'Leary and Amy Waters, which has seen them installed as early favourites. Local Cork city rivals Glanmire will have little fear however, boasting as they do a number of Premier League players themselves.
The last game of the weekend is the final between women's Division One leaders Portlaoise Panthers and second placed Tralee Imperials in the senior women's final.
The sides have played twice already this season, with each winning and losing one game making this final too close to call.
Portlaoise did look the more impressive in their semi-final win over Fr Mathews (Tralee defeated Oblate Dynamos) but their good form may be cancelled out by lack of experience, this being their first final while Tralee were here and lost last season.