Men's Premier League previews
Bord Gais Neptune v Templeogue, Friday, 8pm in Neptune Stadium
Neptune will be hopeful that a return to the friendly confines of Neptune Stadium will help them rediscover winning ways when they play Templeogue.
Key to this will be the health of veteran guard Ger Noonan (recovering from a partially torn ACL), whose absence was evident throughout the side's loss to Killester.
"Last weekend's game was a 100 miles an hour at times and that is when Ger usually takes over for us and puts the ball up his shirt so to speak just to calm everyone down," said Neptune swing man Ian McLoughlin.
"Templeogue are new to the league, but this year, every team has been really competitive so there are no games off. They have lost three games yes but managed to get two bonus points in those losses so haven't been very far off."
The frustration of those close losses has been keenly felt by Templeogue captain Shane Homan, better known in basketball circles as 'Sharkey'.
"In a sense it has been a fantastic start but it has been quite frustrating to not get those wins after coming close to beating teams that have been at the top of this league for many years.
"Everyone is looking forward to our first trip to Cork and it will be a big challenge. Luke Thompson and Phil Taylor are injured so there will be big pressure on the rest of our guards to carry a heavy load."
UCD Marian v UL Eagles, Sunday at 3pm in UCD Sports Centre
Defending champions UL Eagles bounced back from their first loss of the season at the hands of Demons to see off Dublin Inter comfortably last Saturday. Eagles captain Neil Campbell isn't ready to say that all has been righted however.
"It was nice to get back to winning ways but we still have a lot to work on and with this being our first away game of the season, we will know a lot more about ourselves come Sunday evening.
"With the couple of personnel changes from last season, we have young guys who are starting to see that there are opportunities there. We just need everyone to put together more consistent performances."
Eagles will be well tested this weekend, as UCD Marian, coming off the back of a convincing win in Galway, will pose an extremely tough challenge at home.
One of the stars of that performance was big man Kevin Foley who contributed 13 points while shooting a superb 75 per cent from the field.
"The Moycullen game was a good win for us and while we lost to Killester the week before, it came right down to the end and we feel that both teams played well on the night and the result could have gone either way, they were just slightly better at closing out.
"Eagles are the champs and they know how to win. With guys like Steve King, Neil Campbell and Scott Kinevane they are a really solid team. If you play them tough you have a chance but if you don't it will be a 20 point loss and we know that."
Dublin Inter v C&S UCC Demons, Sunday at 2pm in Mountview Y&C Club
C&S UCC Demons were many people's pick to win it all before the season started and they have not disappointed early, notching two wins from two games while getting used to new player coach
Colin O'Reilly. Sharp-shooting Demons' guard Ciaran O'Sullivan puts it down to a lengthy pre-season that has them well prepared for the grind of the Premier League season.
"We had a 13 week pre-season, in which we played 8 or 9 games so by the time of the first weekend we had a lot of our own questions answered.
"Dublin Inter this weekend provide a really difficult challenge. They are an excellent shooting team so we have been working in training on keeping the tempo up and forcing them away from the basket as much as possible.
Obviously (Mindaugas) Tamusauskas and (Aurimus) Statkus are excellent players and we have to limit their touches."
Dublin Inter head coach Sarunas Cesnakaus meanwhile is expecting a big turnaround from his side who, after getting their first win a week earlier, were comfortably beaten by UL Eagles last Saturday.
"We need to change our tactics and we are working hard on it all week. We cannot give up as many rebounds or commit as many fouls as we did against Eagles if we hope to win this weekend," said Cesnakaus.
"Also, we are working hard on moving the ball better ourselves as the way we played last week will not be good enough for us."
Belfast Star v SSE Renewables Moycullen, Sunday at 3.30pm in Methodist College
One of the brightest storylines from the early days of the 2013/14 season has been the outstanding start from newcomers Belfast Star who have won three of their first four games.
This weekend, they welcome Moycullen to the Methody Hall in Belfast brimming with confidence.
"The vibe is very positive within the team," commented Star guard Paddy Mc Gaharan.
"Jose (Star's coach) is a perfectionist so we still feel like there is a lot of work to be done and we certainly aren't taking this weekend's game lightly.
"Moycullen always have a lot of young Irish guys who are hungry and we know that they will give us a really difficult challenge."
Indeed, Moycullen's turnover of players from last season has left them once again the youngest team in the league. As such, a player such as Dylan Cunningham has been forced to step into a leadership role despite being just 22.
"Everyone is still fairly positive despite the early losses," said Cunningham.
"We have played really well in patches but just need to put together a performance for a full game. So far we have played well but then let our concentration slip and before we know it the game is decided.
"We have a lot of young guys who have never played a major role at this level but it has made for great trainings with a lot of guys pushing one another searching for more minutes so hopefully that starts to show on the court this weekend against Star."
DCU Saints v Killester, Sunday at 4pm in DCU Sports Arena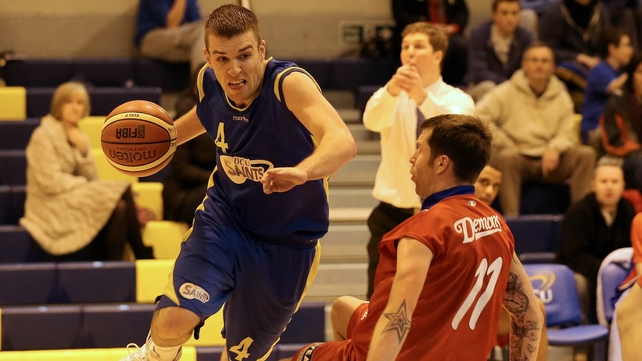 Killester travel to neighbours DCU Saints on Sunday looking down on the rest of the league from atop the table after three eye-catching wins to start the season. Saints would like nothing more than to knock their Dublin rivals back down into the chasing pack.
"They are a very well balanced team with the guards they have plus the size inside but like every team in the league they are beatable," said Saints guard James Donnelly.
With a new look Saints team this season, Donnelly has seen his own role increase, averaging 15 points per game, the sixth highest in the league amongst Irish players.
"My minutes have gone up for one," explains Donnelly who adds, "I have been consciously trying to take on more of a senior role in the team now."
That leadership will be needed Sunday if Saints are to trouble league leaders Killester, whose star point guard Isaac Westbrooks has been terrorising defences so far this year, averaging 19.7 points per game.
"It is great to be putting on the Killester jersey again and I am excited to be back playing in the top league," said Isaac who spent several seasons playing in Division One recently.
"Saints have some really good guards in Eoin Darling and James Donnelly and it will be key for us to try and restrict them. James has been scoring well so we need to limit his chances.
"Last weekend we had five players score in double figures so if we can reproduce that type of team play we'll have a great chance at getting another win."
Women's Premier League Game Previews
Liffey Celtics v Ulster Rockets, Sunday at 12pm in Leixlip Amenities Centre
Both Liffey Celtics and Ulster Rockets will be disappointed by their win loss records three weeks into the season and will be keen to find a winning touch Sunday.
For Liffey Celtics stalwart Ailbhe O'Connor it is a simple as win at all costs mentality this weekend.
"We have to get the win. Last week against Killester we were terrible and know we didn't perform, especially on defence, which is really disappointing."
While not as drastic, Rockets' forward Helena Fairbairn, is anxious to see a positive result on Sunday.
"We've steadily been improving as a team after integrating some new young player so we hope to come back home with a win.
"Liffey always give us a tough game. They are a good 3 point shooting team which we have been conscious of this week in training."
WIT Wildcats v Meteors, Sunday at 1pm in Mercy SS
After making play-offs last year, WIT Wildcats have hit the ground running in 2013/14 with two wins from two to start the season. Next up is a dangerous Meteors team searching for its top form.
"We are just trying to stay focused on the games as they come up," said Wildcats point guard Sinead Deegan.
"The league standard seems to really be up this year and every team has improved. For the Meteors game, we have to be wary of their scorers who can put points up in bunches."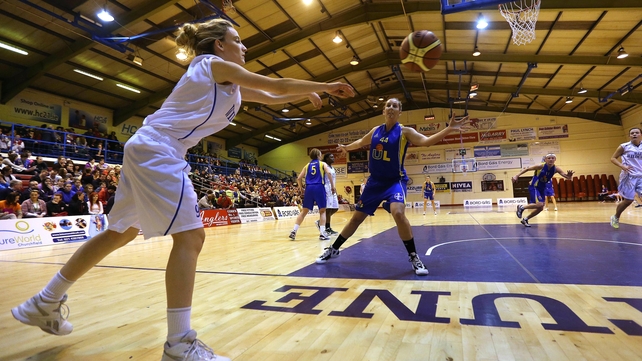 One of Meteors most prolific scorers in recent years, Rebecca Nagle, will miss this weekend's game however, leaving head coach Nabil Murad with an even greater task.
"We have lost games early but morale is still high as we can all see the team improving each game and coming together," said Murad.
"We have injuries but all the players know their roles for the weekend and what they are expected to do."
DCU Mercy v Team Montenotte Hotel, Sunday at 2pm in DCU Sports Arena
The stand-out tie for the weekend in the Women's Premier League is undoubtedly DCU Mercy v Team Montenotte Hotel. Both suffered tough losses to defending champions UL Huskies in recent weeks, battles from which they will have learned plenty.
"It was a very disappointing result on reflection, as we made some basic fundamental errors," said Mercy guard Lindsay Peat.
"Sunday will reignite a battle that has been burning over a number of seasons between us and Glanmire, with the pendulum of success swinging from one side to the other.
"This is a very healthy rivalry which brings the best out of both teams - mistakes have to be few and far between otherwise we'll be punished by a team full of experience and talent."
Team Montenotte star Niamh Dwyer expressed similar sentiments.
"I can't see it being anything other than a close game because it always is between us.
"It will be a really interesting game because while we both know each other so well, there are a number of new players in for both teams and I'll be curious to see how that brings a different dynamic."
Killester v WIT Wildcats, Monday at 3pm in the IWA Centre Clontarf
Wildcats complete a busy weekend with their second game in as many days on Monday by travelling to Dublin and taking on Killester.
However, Wildcats guard Sinead Deegan isn't ready to make any excuses.
"It will be tough to play a second game after battling with Meteors for 40 minutes the day before but we have focused on fitness a lot this year so if we aren't up to it there will be a lot of questions to answer on Tuesday at training."
Whether facing a fatigued opponent or not, Killester head coach Mark Grennell experience of losing to Wildcats in pre-season has his side ready for a substantial challenge come Monday.
"Wildcats do a great job of exploiting what we don't have and that is size. We have been working on trying to counteract that all week at training so hopefully we can be successful come game time."