It's the penultimate weekend of the season in Irish basketball with some mouth-watering semi-final match-ups taking place around the country.
While the teams from the Nivea For Men's SuperLeague turn their attention towards the new National Champions Trophy, a Nivea Women's SuperLeague champion has yet to be crowned with this weekend's semi-finals set to trim the field to two.
The Mardyke Arena in Cork was announced earlier in the month to host the inaugural National Champions Trophy Semi-Finals night with SuperLeague champions UL Eagles, perennial contenders DCU Saints and bitter Leeside rivals Bord Gais Neptune and UCC Demons all set to descend on the venue Friday night.
The first game of the night is between those old Cork rivals Bord Gais Neptune and UCC Demons and another bumper crowd is expected to pack in and witness the latest twist in the tale between the clubs.
The sides have meet four times already this season with Demons winning all three league encounters by single digits while Neptune emerged from their titanic cup semi-final bout the victors.
"That doesn't really matter come Friday. Form goes out the window in a derby," said Neptune head coach Mark Scannell, who has seen plenty of derbies in his 30 years involvement with the club.
"Form goes out the window in a derby" - Mark Scannell
"Our lads are fired up and I think we have proved that we are good team preparing for these one-off cup type games, but Demons are a proud bunch of players and they won't be taking us lightly.
"There has been nothing really between us all year and there is a final spot on the line so it'll be a huge game."
Indeed, the season has left little to separate the sides and both finished the SuperLeague campaign with identical records of 13 wins and eight losses.
Despite neither side being able to catch UL Eagles, who ran away with the league title, both teams enter the game in similar form, having achieved tight wins against Moycullen and DCU Saints to end the regular season last weekend.
"While the end of the season hasn't gone the way we wanted for everyone concerned, the performance we gave [last] Saturday night is very encouraging and we look forward to Friday night," said Demons head coach Paul Kelleher.
Following the Neptune v Demons battle, SuperLeague champions UL Eagles take to the court to face the in-form DCU Saints, who surged late to secure the fourth and final place in the Champions Trophy.
Despite the new competition, UL Eagles head coach Mark Keenan is expecting a familiar challenge Friday night.
"We are prepared for nothing different than usual when we play DCU, a tough physical battle. We have to make sure that meet that and finish through it but at the same time can't let ourselves get too caught up in it either.
"This would be a superb way to finish the season and become the first winners of the Champions Trophy so we are totally focused for the game."
Any thoughts that Eagles would be content with just the SuperLeague title were quickly squashed with news that four players, namely inspirational guard Scott Kinevane, influential swing men Stephen King and Eoin Quigley and team captain Niall Campbell, are all willing to play through the pain barrier and are set to line out Friday night despite carrying notable injuries.
It is a sign of a battle waiting to happen that has given notice to Saints head coach Dave Donnelly.
"Our match-up against UL Eagles at the weekend won't be easy but we are coming into that game off a good run," said Donnelly.
Saints finished the regular season with four wins on the trot including a dog-fight against Demons last weekend where they edged out a two point win.
"It's a good sign that we found a way to win it" - Dave Donnelly
"I am proud of the lads at how well they came back and turned it around. It's a good sign that we found a way to win it."
Donnelly knows that his Saints will have to "find a way" come Friday night also, as they face a UL Eagles team that has dominated the trophy haul in Irish basketball over the past two seasons.
For the final four teams left in the Nivea Women's SuperLeague, a win this weekend puts them in the League Finals Day showpiece on 23 March and a step closer to etching their names alongside past Superleague champions.
For defending champions UL Huskies that sense of history must be edging into their minds as a title this season would be the club's sixth, placing them alongside Waterford Wildcats as the most successful club in the history of Irish women's basketball.
Huskies play Ulster Rockets Saturday night in Limerick after Rockets saw off WIT Wildcats in their quarter final in Waterford last weekend.
"We aren't thinking about history or anything like that and we won't have our minds anywhere other than Ulster Rockets and Saturday.
"We can only go out and win the games and we can't dream of history or anything like that if we don't win the semi-final," said Huskies head coach James Weldon.
"We can't dream of history or anything like that if we don't win the semi-final" - James Weldon
"I watched Rockets last weekend and they are a much changed side from the start of the season and were probably even better than their ten point win suggests," said Weldon, who learned this week that influential guard Loretta Maher will miss the remainder of the season with a cruciate injury.
"It was a super win for us but it really was an excellent game of basketball too," Rockets head coach Breda Dick said after that win.
"Our goal after Christmas was to finish in the top four and we achieved that. I believe the girls are peaking at the right time and feel prepared to take on UL Huskies."
The other semi-final sees old rivals DCU Mercy and Team Montenotte Hotel Cork square off at the famous Neptune Stadium in Cork.
"Every game between us so far this season has been a physical and tough game and we are expecting nothing less this weekend," said Montenotte head coach Andrea Congreaves.
When the sides last met in this venue, the ladies from Glanmire in Cork came out victorious after a thrilling cup semi-final bout. Congreaves dispelled any notions that that result has a bearing on Saturday's game.
"We played really well that day but no way are we going to be complacent at all this weekend. We are all ready to go and that's about it," she surmised.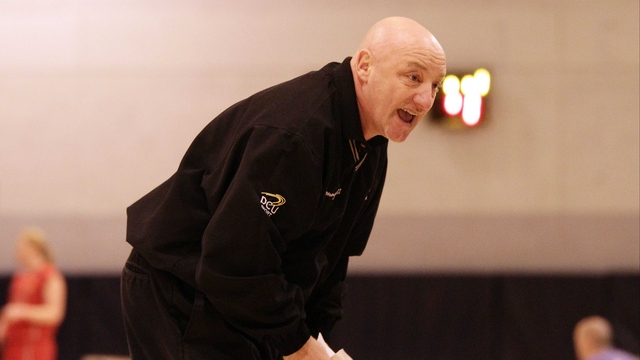 Meanwhile, DCU Mercy head coach Mark Ingle (above) was keen to point out his team's excellent offensive showing in seeing off Meteors in the all-Dublin quarter final last weekend, noting that while Montenotte will be a "tough game", the women from DCU will need to maintain the "flow" they had on that occasion to advance once more.
Friday 15 March
National Champions Trophy Semi-Finals
UCC Demons v Bord Gais Neptune, Mardyke Arena, 18:45
UL Eagles v DCU Saints, Mardyke Arena, 20:45
Nivea Women's SuperLeague Plate Semi-Final
Killester v Liffey Celtics, Leixlip Amenities Centre, 19:45
*Winner plays Singleton SuperValu Brunell
Saturday 16 March
Nivea Women's SuperLeague Semi-Finals
UL Huskies v Ulster Rockets, UL Arena, 17:00
Team Montenotte Hotel Cork v DCU Mercy, Neptune Stadium, 19:00
Basketball Ireland Men's Division One Semi-Finals
Ulster Elks v Blue Demons, UUJ, 15:30
Matt O'Flaherty Chemist Titans v Templeogue Azzurri, Renmore, 19:00
Basketball Ireland Women's Division One Semi-Final
NUIG Mystics v Oblate Dynamos, NUIG, 13:30
*Winner plays Tralee Imperials