In the last weekend of action in the Nivea For Men's SuperLeague before teams take a break for the cup there were tight but crucial wins for Cork sides UCC Demons and Bord Gais Neptune with UL Eagles and DCU Saints also securing wins.
In the Nivea Women's SuperLeague, Team Montenotte Hotel briefly moved to the top of the table Saturday night before a UL Huskies win on Sunday re-established the ladies from Limerick atop the table. There were wins also for DCU Mercy, Ulster Rockets and WIT Wildcats.
The most dramatic moment of the weekend occurred in Dublin on Saturday night where UCD Marian were on the verge of a spectacular upset win against UCC Demons before Ciaran O'Sullivan converted a last-second basket to steal victory for the Cork outfit.
Marian were playing without any American after deciding to part ways with John Galvin and came out playing like a team with nothing to lose, taking an early 13-point lead mid-way through the second quarter.
Demons edged their way back into the game, however, and going into the fourth quarter actually held a one-point lead over the home side.
With the contest ebbing back and forth, Conor Meany was almost the hero for Marian, netting a huge basket with 23 seconds to go to give his team the lead.
It was not to be, however, as Demons ran a smooth offensive that found Ciaran O'Sullivan an open driving lane which he attacked and got fouled as he scored.
By converting the subsequent free throw for the three-point-play, O'Sullivan secured the win for Demons, improving them to 11 wins for the season.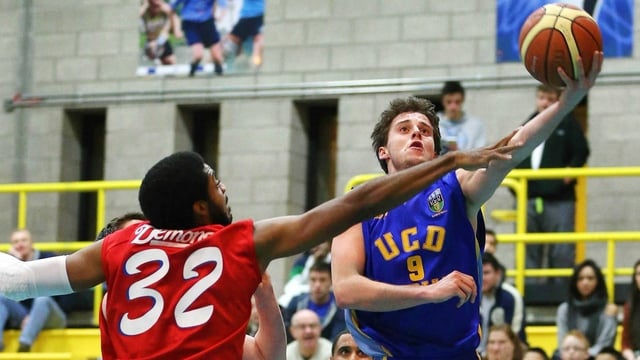 "The fact that they played with five guards caused us a lot of matchup problems," said Demons head coach Paul Kelleher afterwards.
"They got a lot of easy penetrations against us and we let them out and run in transition. Eventually we tightened up and came back into it but they are a tough team to play and we're delighted to get out of here with a win."
Meanwhile in Cork, Demons' oldest rivals and opponents in this Friday's National Cup semi-final, Bord Gais Neptune, survived a tight game of their own against Dublin Inter.
Speaking after their 77 to 65 win, Neptune head coach Mark Scannell stressed that the double-digit gap was not reflective of the tight game.
"Inter always play you tough. We held a small lead all game but we never managed to stretch it, not until the final minutes," he said.
"They are dogged and they shot the ball extremely well. What turned it for us was the job our big guys did securing our boards, which was a great effort considering the size of the Inter fellas. It put Inter in foul trouble too."
It was a tight affair also in the DCU Sports Complex as DCU Saints edged out Killester in a low-scoring defensive battle, 65 to 61.
"It was a close one all the way throughout. Both teams played really good defence," said Saints head coach Dave Donnelly afterwards.
"I was a little bit disappointed with our offensive execution and I thought we missed Martins (Provisors) a lot tonight."
"I was a little bit disappointed with our offensive execution" - Saints head coach Dave Donnelly
When Saints needed it however, their veteran scorer Pat Glover was on hand and his clutch shooting down the stretch proved the difference between the teams in the end.
"Pat came up with some huge shots at the end for us, even though he hadn't been making them all game, he got them when we needed them," said Donnelly.
In Galway, defending champions UL Eagles rediscovered their winning form against Moycullen with a convincing 73 to 91 victory.
Central to the Limerick men's win was the play of inside centre Jason Killeen who caused consistent problems for the Moycullen defence that struggled to handle his size.
Forced to send two and three players to contain him, Moycullen left open Eagles shooters that punished the home side throughout the contest.
A week ahead of their cup semi-final matchup with UCD Marian, Eagles head coach Mar Keenan was delighted with his team's road win.
"We definitely played with a greater intensity than we had in recent games and we're very happy to leave Galway with a win. We let our concentration slip late in the game and let Moycullen back into it but overall very happy with how we played," he said.
One concern for Keenan will be the health of star guard Robert Taylor who came up slightly limp after a drive to the basket late in the game.
Speaking afterwards Keenan said that it appeared to be just a slight knock and that the Eagles coaching staff would monitor Taylor's progress over the coming week.
Meanwhile in the Nivea Women's SuperLeague, Team Montenotte Hotel rose to joint top of the table on Saturday night after they comfortably saw off the challenge of Killester in Cork 71 to 38.
At the top of her game for Team Montenotte was the Croatia-born and Iona College graduate Tomica Bacic who contributed 25 points in the effort, a stat line that is right around her 24-point per game average that currently leads the league in scoring.
Team Montenotte's existence at the top did not last long, however, as UL Huskies were in action the following day in Dublin where they convincingly saw off Meteors 40 to 68.
The weekend also saw a big win for Ulster Rockets in Belfast as they prolonged Liffey Celtics winless start to the 2012-2013 season, while DCU Mercy proved too strong for WIT Wildcats, 67-53.